TL54
Series
Lifting Columns
The TL54 is the latest advancement in TiMOTION's medical column series. Specifically designed and developed for tension loads, it is ideally suited for pull applications such as the suspension of medical equipment. The TL54's three-segment outer tube ensures safe and stable movement, while also offering a minimal installation dimension with a wide range of stroke options.
General Features
Max. load: 2,000N (push/pull)

Self-locking force: 2,000N

Max. dynamic bending moment: 250Nm

Max. static bending moment: 500Nm

Max. speed at max. load: 12mm/s

Max. speed at no load: 21mm/s

Retracted length: ≥Stroke+150mm

IP rating: IPX6*

Dimension of outer tube: 121.4*169.4mm, rectangular

Stages: 3-stage

Stroke: 250~600mm

Output signals: Hall sensors

Voltage: 12/24V DC, PTC

Color: Matte silver, black

Operational temperature range: +5°C~+45°C

*Note: Available in upside down rectangular appearance, only.
Standard Dimension (mm)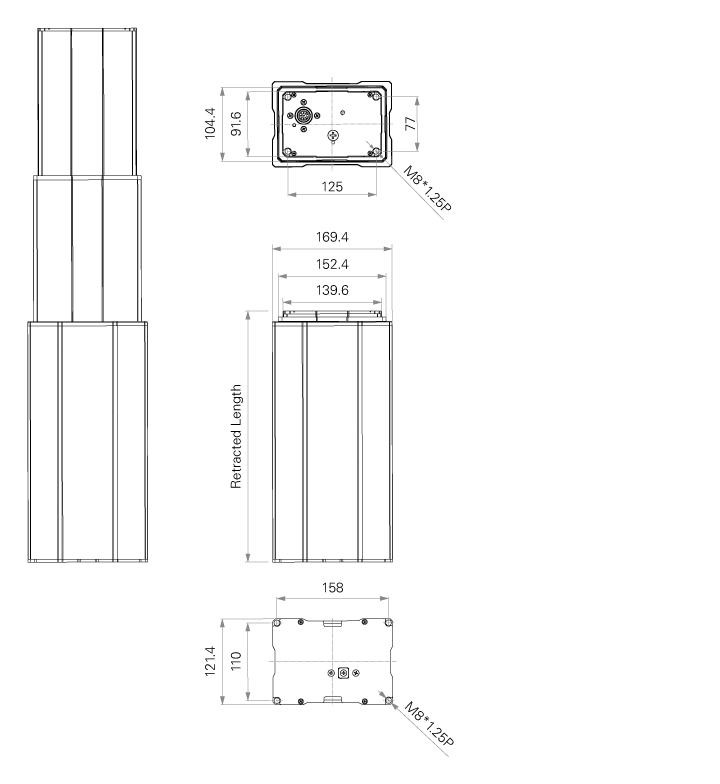 Document Downloads