Serie
TL54
Columnas elevadoras
The TL54 is the latest advancement in TiMOTION's medical column series. Specifically designed and developed for tension loads, it is ideally suited for pull applications such as the suspension of medical equipment. The TL54's three-segment outer tube ensures safe and stable movement, while also offering a minimal installation dimension with a wide range of stroke options.
Caracterísiticas generales
Carga máxima: 2 000 N (empuje/tracción)

Self-locking force: 2 000 N

Momento de flexión dinámico máximo: 250 Nm

Momento de flexión estática máximo: 500 Nm

Velocidad máxima con carga máxima: 12mm/s

Velocidad máxima sin carga: 21mm/s

Longitud de montaje: ≥ Carrera + 150mm

Clase de protección IP: IPX6*

Dimensión del tubo exterior: 121.4*169.4mm rectangular

Etapas: 3 etapas

Carrera: 250~600mm

Salidas de señales: Sensores Hall

Tensión del motor: 12/24V DC, PTC

Color: Plata mate, negro

Rango de temperatura de trabajo: +5°C~+45°C

*Note: Available in upside down rectangular appearance, only.
Dimensiones estándar (mm)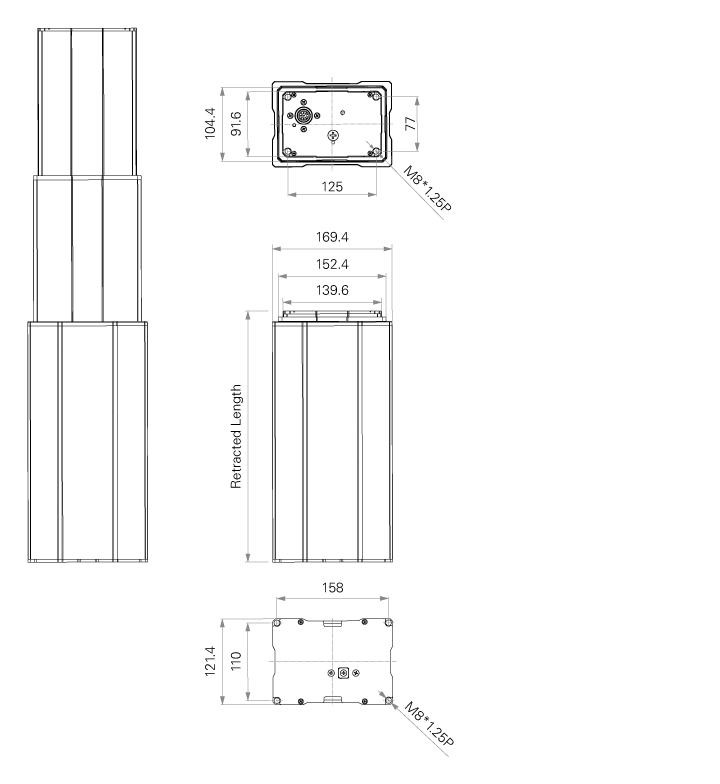 Descargas de documentos