The TL54 is the latest advancement in TiMOTION's medical column series. Specifically designed and developed for tension loads, it is ideally suited for pull applications such as the suspension of medical equipment. The TL54's three-segment outer tube ensures safe and stable movement, while also offering a minimal installation dimension with a wide range of stroke options.
Algemene kenmerken
Max. belasting: 2 000 N (Duwen/Trekken)

Self-locking force: 2 000 N

Max. dynamisch buigmoment: 250 Nm

Max. statisch buigmoment: 500 Nm

Max. snelheid bij maximale belasting: 12mm/s

Max. snelheid in onbelaste toestand: 21mm/s

Ingeschoven lengte minimum: ≥ Slag + 150mm

IP klasse: IPX6*

Afmeting van de buitenste buis: 121.4*169.4mm rechthoekig

Delen: 3-delig

Slag: 250~600mm

Uitgangssignalen: Hall sensoren

Spanning: 12/24V DC, PTC

Kleur: Mat zilver, Zwart

Bedrijfstemperatuurbereik Operationeel temperatuurbereik: +5°C~+45°C

*Note: Available in upside down rectangular appearance, only.
Standard Dimension (mm)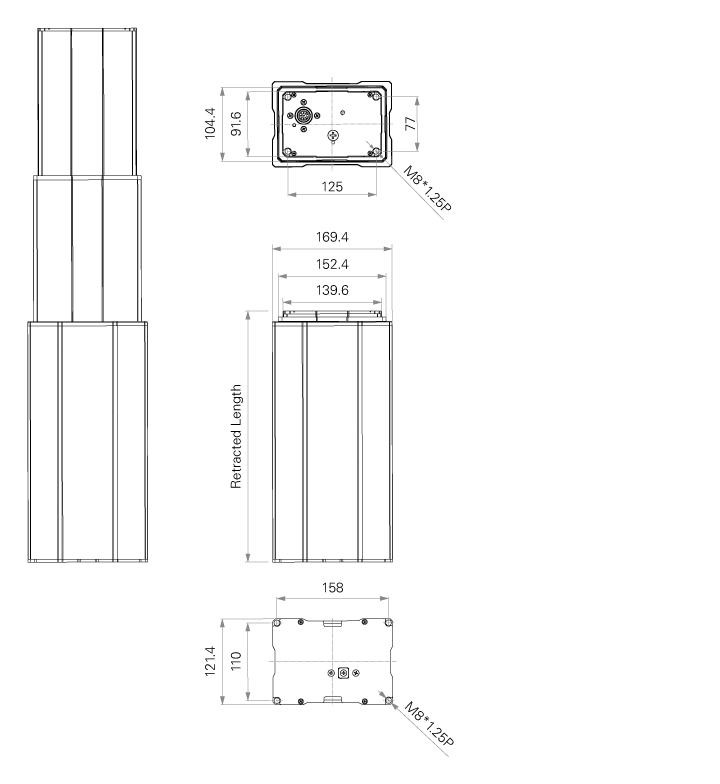 Downloads