The TL54 is the latest advancement in TiMOTION's medical column series. Specifically designed and developed for tension loads, it is ideally suited for pull applications such as the suspension of medical equipment. The TL54's three-segment outer tube ensures safe and stable movement, while also offering a minimal installation dimension with a wide range of stroke options.
Caratteristiche Generali
Carico massimo: 2 000 N (spinta/trazione)

Self-locking force: 2 000 N

Momento flettente dinamico massimo: 250 Nm

Momento flettente statico massimo: 500 Nm

Velocità a massimo carico: 12mm/s

Velocità massima a vuoto: 21mm/s

Lunghezza minima: ≥ Corsa + 150mm

Classe di protezione IP: IPX6*

Dimensioni del tubo esterno: 121.4*169.4mm rettangolare

Stadi: 3 sections

Corsa: 250~600mm

Segnale in uscita: sensori di Hall

Tensione motore: 12/24V DC, PTC

Colore: Argento opaco, nero,

Range di temperatura di esercizio: +5°C~+45°C

*Note: Available in upside down rectangular appearance, only.
Dimensioni standard (mm)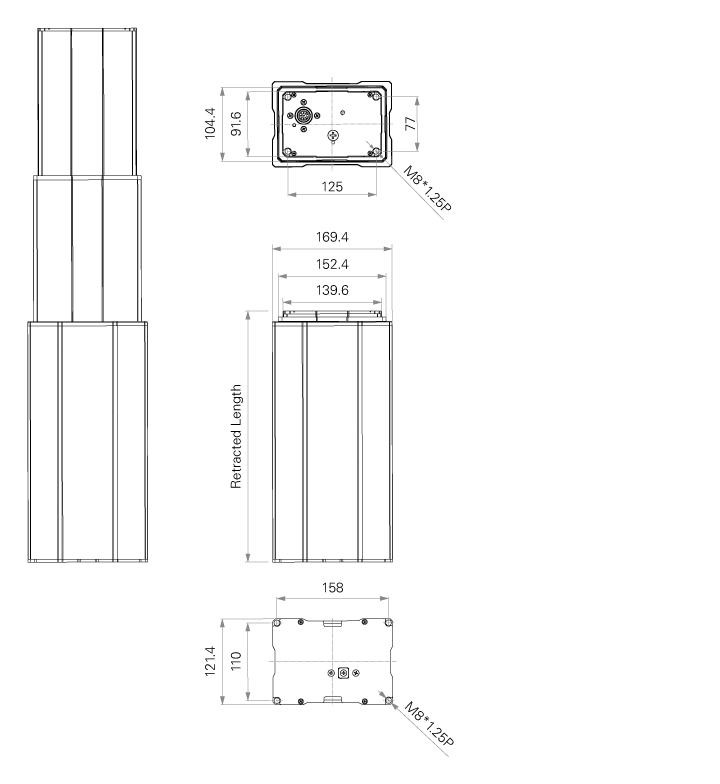 scarica la documentazione