The TL54 is the latest advancement in TiMOTION's medical column series. Specifically designed and developed for tension loads, it is ideally suited for pull applications such as the suspension of medical equipment. The TL54's three-segment outer tube ensures safe and stable movement, while also offering a minimal installation dimension with a wide range of stroke options.
Allgemeine Funktionen
Höchstlast: 2 000 N (Drücken/Ziehen)

Self-locking force: 2 000 N

Maximales dynamisches Biegemoment: 250 Nm

Maximales statisches Biegemoment: 500 Nm

Maximale Geschwindigkeit bei Volllast: 12mm/s

Maximale Geschwindigkeit ohne Last: 21mm/s

Minimale eingefahrene Länge: ≥ Hub + 150mm

IP-Schutzart: IPX6*

Abmessungen des Aussenrohrs: 121.4*169.4mm rechteckig

Stufen: 3-stufig

Hub: 250~600mm

Signalausgaben: Hallsensoren

Spannung: 12/24V DC, PTC

Farbe: Mattes Silber, Schwarz

Betriebstemperaturbereich: +5°C~+45°C

*Note: Available in upside down rectangular appearance, only.
Standard-Abmessungen (mm)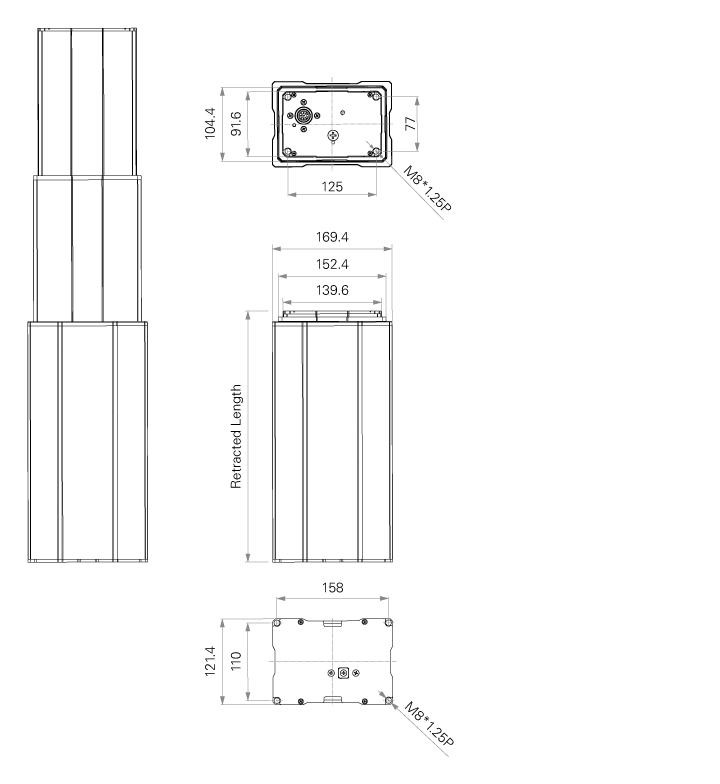 Download von Dokumenten