Electric linear actuators and lifting columns allow various mechanical movements and adjustable medical equipment design.
By 2050, the world's population will reach nearly 10 billion people. 20% of them are expected to be over 65 years old, 22% could be obese, 12% may have type 2 diabetes, and more than 66% would likely suffer from back pain at least once in their lives.
Population growth and sedentary lifestyles have substantially impacted the health sector and indicate an increased demand for treatment and prevention care. Hospitals provide care to a growing number of patients, and preventive, therapeutic practices are becoming more widespread throughout the world.
Adjustable and ergonomic medical equipment for optimal care quality
Providing optimal care quality to all patients depends largely on the human capital and medical equipment at their disposal. Linear motion systems make it possible to anticipate each person's needs with ergonomic and adjustable equipment and to meet patients' and caregivers' comfort and safety expectations.
Electric linear actuators and lifting columns allow for:
Gentle and controlled adjustments. Associating electric actuators and columns with a control box will also allow several devices to be programmed and synchronized for smooth and jerk-free movements.

Precise adjustments. Hydraulic and pneumatic systems do not offer precise stroke adjustment the way electric actuators and lifting columns do. In a medical environment, precision is a critical element in preserving patient safety in certain care types, particularly surgical care.

Quiet adjustments. The medical environment is a stressful and worrying setting for patients. Quiet mechanisms are essential to preserve individuals' peace of mind and shield them from background noise.

Facilitated adjustments. Adjustable equipment with ergonomic and simple hand control offers greater accessibility and autonomy to convalescent, elderly, or reduced mobility patients. Moreover, electric actuators require no maintenance, unlike hydraulic and pneumatic systems. They are reliable and do not generate any leaks that could be related to pipes or compressors.
Electric actuators and columns bring more comfort and safety to users and helpers alike. They allow caregivers to move around and assist a patient while adopting an ergonomic posture. Fatigue and pain related to poor posture can negatively affect their health and work quality. A comfortable posture will allow caregivers to provide optimal care quality while treating all patients comfortably and safely.
Medical applications equipped with electric linear actuators and lifting columns
Electric actuators and columns add value to medical equipment and meet the medical sector's growing requirements.
Adjustable surgical, treatment, care, and wellness tables
The treatment or care table is the practitioner's first tool. Whether it is a surgical, care, or wellness table, it is the reception equipment for any patient. The healthcare staff needs to move comfortably around the patient and handle him or her safely. Thanks to electric actuators and columns, various adjustments can bring ergonomics to the tables: height, leg rest, and backrest.
The TA36 medical electric actuator offers an increased level of precision. Its near-zero axial backlash makes it particularly suitable for operating tables that require a high level of precision.
Further reading: Ergonomic Treatment Tables for Better Medical Intervention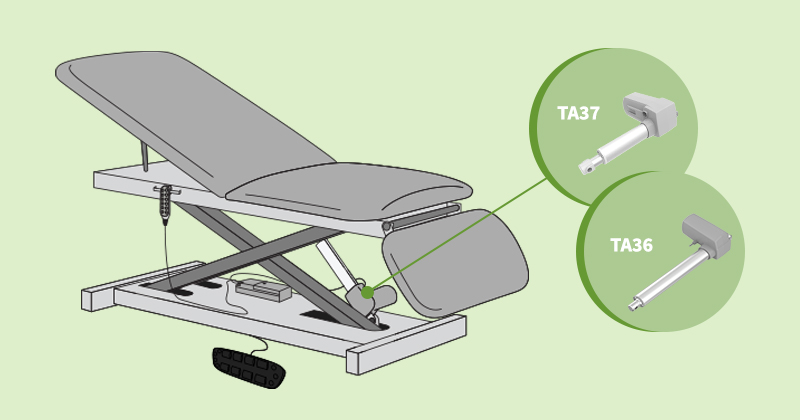 Electric hospital and medical beds
Medical beds are an essential part of the hospital environment. They accommodate convalescent patients, who spend the vast majority of their recovery in bed. Ergonomic adjustments enable all patients to adjust the bed to their specific morphology and comfort, as well as to facilitate access and use for greater autonomy.
The TA31QR medical electric actuator provides an ideal additional level of safety for medical bed backrests. Indeed, its quick-release function allows quick flattening in case of an emergency.
Further reading: Linear Actuator Bed Lift For Adjustable Beds In Hospitals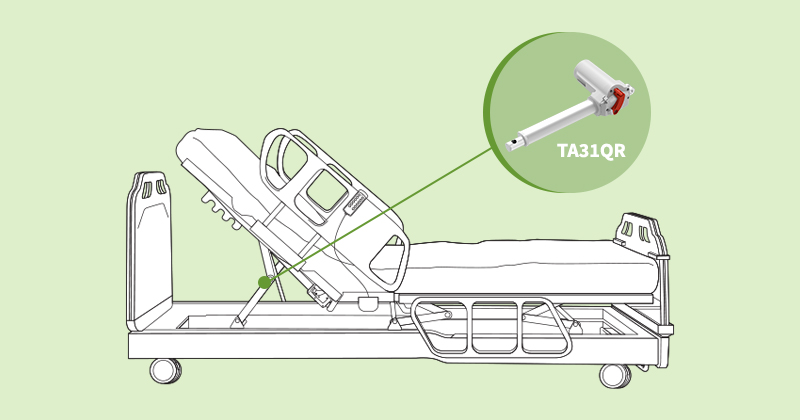 Electric medical and consultation chairs
It is common for a hospital room to be equipped with a spacious chair to accommodate patients and their visitors. Electric actuators add greater adjustability and comfort to hospital room chairs, for example, by equipping the chairs with a lifting system to help someone stand up, and with other comfort adjustments such as backrest tilt, leg rest, or headrest movements. These chairs can also provide certain care types when they do not require the patient to be lying down.
The TA31 electric actuator is particularly well suited to equip medical furniture and provide smooth and silent adjustments.
Adjustable medical side tables and nursing carts
Medical carts and side tables can be adjusted in height using electric columns. Thus, they will adapt to users' heights, whether they are patients or caregivers. Nurses regularly use carts for their duties. The height adjustment will allow them to adopt an ergonomic posture and limit fatigue and musculoskeletal disorders.
The TL27 electric column provides reliable height adjustment for medical workstations. Equipped with an AC output, it can be connected to any other device necessary for the activity, such as a computer or monitor.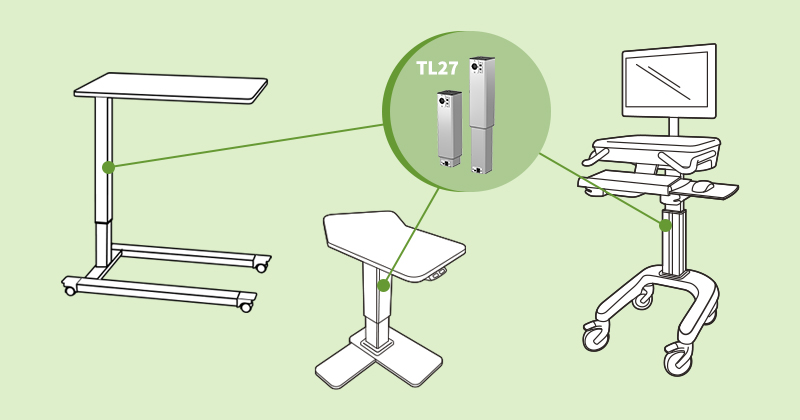 Adjustable imaging devices
Imaging devices are voluminous pieces of equipment that require precise movements to be adjusted to the patient's size and the area being x-rayed. This precision is essential to ensure patient safety and obtain clear images. When the patient is lying on a support, the support can also be adjusted to obtain optimal positioning with the X-ray machine. Electric actuators and columns allow reliable and precise adjustments of the table and imaging devices.
The TL3 electric lifting column is a robust device that can handle up to 4,000N. It is particularly suitable for the height adjustment of large medical equipment such as imaging devices.
The TA37 medical electric actuator is ideal for the height adjustment of medical tables for X-ray patients.
Adjustable ophthalmic equipment
Electric lifting columns allow ophthalmic equipment height adjustment and precise adaptation to individuals' sizes. It is also possible to equip the practitioner's seat, which then can be adapted according to the device's height and maintain a comfortable and ergonomic posture whatever the patient's size.
The TL27 electric column is designed especially for medical equipment height adjustment. Equipped with a power outlet, an Ethernet socket, and a hand control slot, it offers comfort and functionality to the user.
Electric patient lifts
The patient hoist requires a higher level of safety for moving a convalescent or person with reduced mobility. Electric actuators allow caregivers to benefit from devices adapted to transfer patients with reduced mobility from one place to another gently and safely while preserving their posture to avoid potential musculoskeletal disorders related to loading movement.
The TA23 electric actuator is particularly suited for patient lifts as it can support heavy loads. Moreover, it can be equipped with a manual release function that allows the patient to be lowered manually in case of a power failure. Combining the TC12AC control box, equipped with a removable battery, provides an additional level of patient safety.
Further reading: Actuation Systems For Patient Lift Applications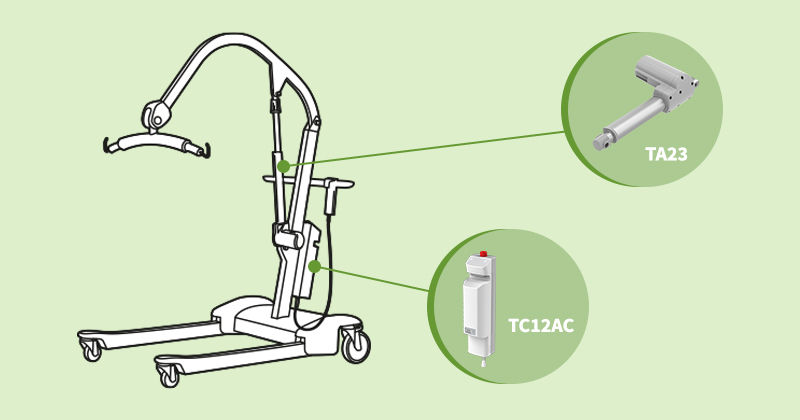 Electric equipment for vertical assistance
Vertical aid equipment can be fitted with electric actuators or columns to help people with reduced mobility stand up without difficulty, risk of falls, or injuries. This equipment offers a smooth and fluid adjustment that allows patients to stand safely. They are particularly suitable for use near a hospital bed or a medical chair.
Electric adjustable dental chairs
Dental chairs require a variety of adjustments to allow the practitioner to provide appropriate care. The patient must be raised and tilted to provide good visibility of the area to be treated. These adjustments also allow the practitioner to adopt a more comfortable posture and avoid back pain and neck stiffness.
The TFS8 footswitch is particularly suitable for equipment requiring adjustment without hand intervention, such as dental chairs. This allows the dentist to precisely adjust the patient's position without interrupting his work and remaining focused.
Further reading: Electric Linear Actuators And Columns For Adjustable Medical Chairs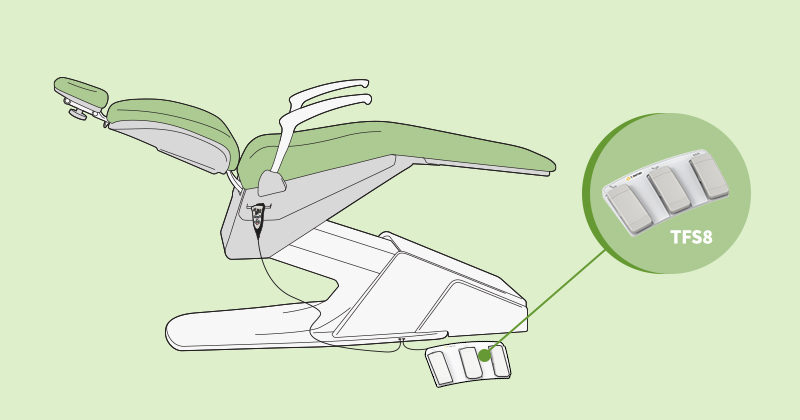 TiMOTION's solutions for adjustable treatment equipment
TiMOTION offers complete and customizable solutions for the healthcare sector. We provide manufacturers with electric linear actuators and lifting columns, gear motors, control boxes, and hand controls for medical equipment automation and adjustability.
Our devices feature a sober and sleek aluminum design that integrates harmoniously into the medical environment. We also manufacture many accessories to bring even more safety and comfort to users: Wireless receivers, under-bed lights, reading lights, emergency buttons, call buttons, USB ports, junction boxes, pressure sensors, etc.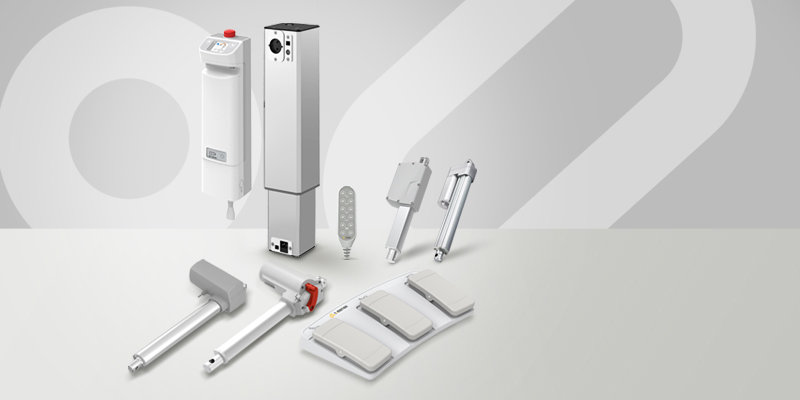 Quality, safety, and medical standards
Our electric actuators are robust and designed to support heavy loads, including bariatric equipment. They are specially designed to operate in a medical environment and can be equipped with an additional protection rating to cope with high hygiene conditions and intensive cleaning with detergents.
Quality and safety are key prerogatives of our activity that we wish to guarantee to our customers. Our devices are rigorously tested (EMC) and meet European medical standards: EN IEC 60601-1 and EN IEC 60601-1-2, which define the essential safety and performance requirements for electro-medical devices.
To learn more about our solutions for treatment equipment, please contact your local sales department!
Further reading: