Designing apartments of less than 30m2 (323 sq ft) with all the usual comfort of a traditional dwelling is possible thanks to furniture equipped with electric actuators and columns.
Big cities are economic centers attracting more and more people for jobs, education, or entertainment. Stakes are therefore high: How to house all these people when the available space is already saturated?
The answer lies in micro-apartments. These one-room units are flourishing on the rental market and are increasingly popular for tenants who find more affordable rent the main features of housing.
But who says micro-apartments mean less comfort? The aim is to offer, in a reduced space, an equivalent level of comfort to a conventional dwelling. Consequently, their design requires even more ingenuity to create a more comfortable, ergonomic, and cozy space.
Electric motion systems for multifunctional furniture
Micro-apartment comfort lies in its design. Reducing the number of imposing furniture by favoring multifunctional equipment will limit space requirements and ease circulation in the room. Freeing up the visual environment at eye level will also allow for proper light distribution and give a larger space and size effect.
This is where electric actuators and columns can help. Linear motion systems allow 2-in-1 automated equipment and adjustable or built-in furniture design that will meet these requirements by optimizing the available space.
Thanks to electric actuators, it is possible to imagine all kinds of solutions. A coffee table transforming into a dining table, a wardrobe concealing a pull-out bed, a TV unit becoming a desk... The possibilities are endless!
Manual systems are often inconvenient and require too much daily effort in a home that already has its share of comfort challenges. Electric actuators are the ideal product for designing intelligent solutions that offer a simple and safe adjustment of your equipment.
Electric linear actuators and lifting columns for micro-apartments
Storage is probably the most important feature to limit clutter in the room and free up visual space. Micro-apartments have limited space for this purpose. Therefore, it is important to optimize bulky furniture by integrating storage spaces that will bring versatility and daily functionality.
Electric linear actuators for adjustable beds
The bed, the very symbol of comfort at home, is also the largest piece of furniture. Therefore, it is important to optimize its installation for minimum space utilization.
When the bed stays in the room, the space underneath the slat base offers a large storage area. TiMOTION provides an automated solution that will allow the bed base to be adjusted in height and provide easy access to space underneath the bed. Two TA29 electric actuators, connected to the TC15 control box, provide synchronized movements and allow bed height adjustment with simple hand control.
It is also possible to imagine embedded bed solutions to free up space. For a bed to retract into a partition wall or furniture, the TA16 electric actuator is particularly suited in combination with the TC14 control box. For a bed on rails hidden under a platform or furniture, the TA23 electric actuator will allow smooth and silent movements.
Electric linear actuators for variable-height furniture
To limit floor space already monopolized by imposing furniture, it is possible to use the available space in height to create more storage space. Height-adjustable cupboards or shelves installed at ceiling level will free up visual space at eye level while maintaining easy access.
The TA48 recessed lift system is the ideal solution for this type of application. It allows reliable and discreet height adjustments in harmony with the home's design. In combination with the TC15P control box and its integrated anti-collision sensor, the adjustment is safe and simple using the TFH15 hand control.
Electric lifting columns for height-adjustable tables
Electric columns also contribute to furniture optimization and allow silent adjustments of different equipment. The TL20S electric column can equip a 2-in-1 table that will serve as a side table in a low position and as a dining table or worktop in a high position. In camper vans, it can also equip a 3-seater bench that conceals a table and two seats. Combining the TC11 control box and the TDH20P hand control will provide memorized positions for easy operation.
Electric columns for embedded televisions
Built-in furniture is also popular in these smaller homes. It frees up space on walls and worktops for a clutter-free environment. Now it is possible to imagine a TV system embedded in a piece of furniture with the TVL3 electric column and the TFH7 hand control - discreet and easy to use.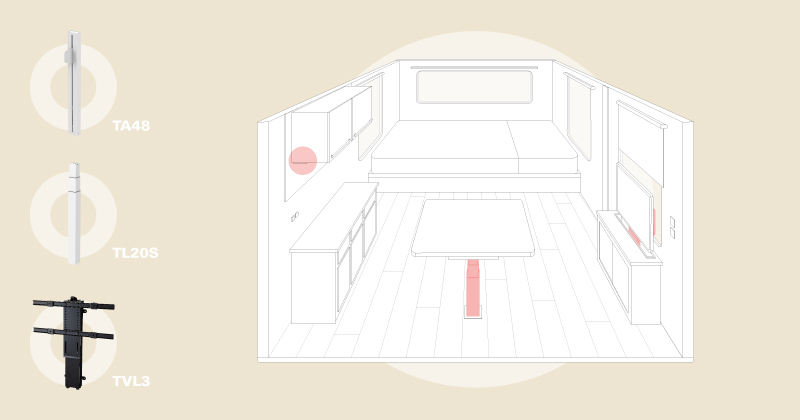 TiMOTION offers a wide range of electric actuators and columns specially designed for home equipment. Our devices allow equipment automation with reliable and silent movements offering comfort and ergonomics to users which is ideal for home use.
Recessed solutions, electric columns, and hand controls have a sober and aesthetic design that will integrate harmoniously into the environment.
We also offer control boxes and hand controls that are compatible with our systems, allowing us to create complete turnkey solutions that are easy to integrate.
Do you want to know more about our linear motion solutions? Please contact our local sales department!