Reliable motorized movement with smooth and quiet electric lifting systems for screen mounts, interactive boards, embedded TVs, and video projectors. Our telescopic columns and electric actuators are easy to install and use in any type of screen lifting system.
Electric columns for screen lifting systems
The digital age has profoundly changed our communities and our approach to information, communication, learning, and leisure. Efficiency, time management, and space optimization have become significant challenges for professionals and individuals who have seen the emergence of even larger and more numerous screens.
TiMOTION is committed to this evolution by offering quiet and easy-to-use motorized lifting systems for screen mounts, interactive boards, embedded TVs, and video projectors. Telescopic columns and electric linear actuators easily integrate with screen lifting systems and provide reliable movement for your equipment.
We manufacture aesthetically pleasing electric column solutions for screens with an elegant and discreet design that blends harmoniously with the furniture.
Electric columns for screen mounts and interactive boards
With equipment becoming increasingly digital, interactive screens and boards are present in most areas of our daily lives. They ease information distribution, attract attention, and enable more collaborative exchanges. They can be found in classrooms, meeting rooms, and conference rooms.
Stable telescopic columns allow electric height adjustment for screens by a simple control, thus offering accessibility and ergonomics to users. TiMOTION offers many low-noise electric column solutions, ideal for interactive screens and boards.
The TL17 silent electric column for interactive screens can push up to 2,000 N. It has a stroke of up to 1,200 mm making it particularly versatile. It can be combined with a second column for a higher load capacity and a control box that will allow precise synchronization of both devices.
The TL52 interactive board lifting column can push up to 3,300 N. It is particularly suitable for large and heavy equipment. Equipped with three (3) integrated electrical outlets, the connection of the interactive screen and other devices can be performed optimally.
Electric columns for televisions
Screen lifts systems also enable built-in solutions for embedded TVs. As flat screens get larger and as design and space requirements increase, many people are opting for an electric TV adjustment.
TV lift systems allow motorized adjustment of televisions and free up visual space in a room or worktop for a modern and contemporary design. Remotely controllable, an electric column for the screen lift will allow the TV to hide inside furniture and be easily deployed when in use.
The TVL3 electric TV column is specially designed for motorized TV adjustment. With a load capacity of 600 N, it operates in a smooth movement and can be combined with a TV anti-collision safety system to protect the equipment from any material damage. It has a low noise level that will keep users quiet. For even more functionality, the TVL3 screen lifting system can be combined with the TC11 control box and the TH3 hand control for remote control.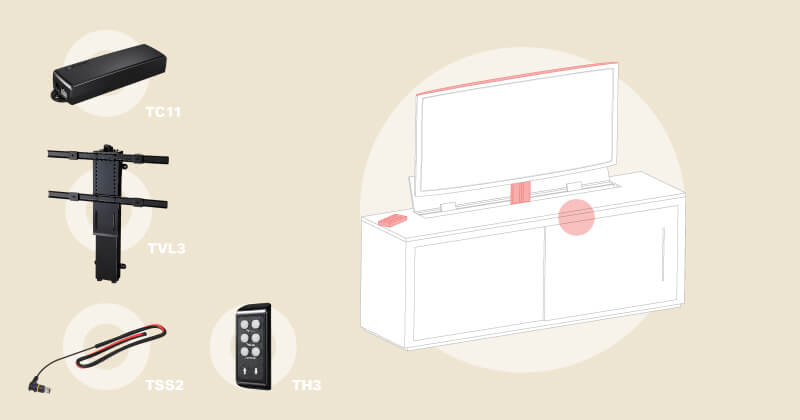 Electric actuator systems for video projectors
Video projectors are becoming increasingly popular. They project large images to many people but are also popular with movie fans and gamers who want to create a cinema experience at home. Again, TiMOTION offers electric linear actuator solutions to adjust the height and angle of the projectors.
The TA43 electric actuator for video projectors is remarkably compact and will easily fit into this type of equipment. It can be controlled remotely by the TFH22 wireless remote control for video projectors, combined with the TRF receiver and the TP11 transformer. For greater convenience, the TFH22 has an optional integrated battery that will provide autonomy to the projector.
For a motorized adjustment by two actuators, it is possible to use the TC15P control box, which will allow a synchronized movement of all devices. Moreover, it has an integrated anti-collision system that will protect the equipment in case of impact with a foreign object.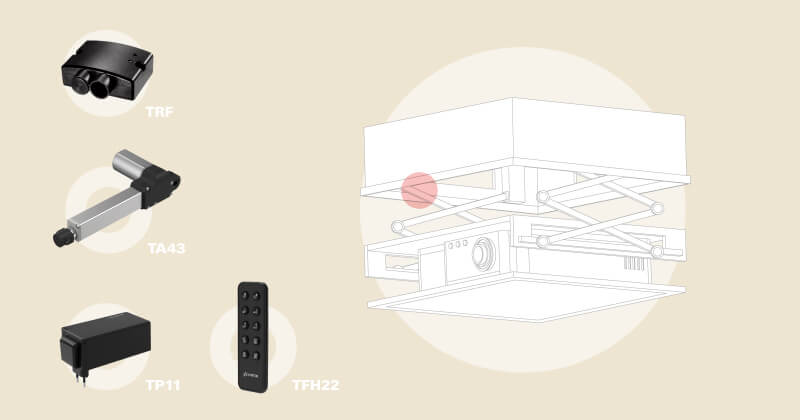 TiMOTION electric actuation systems for screens and video projectors are easy to install and use. Remotely controllable, they will bring users functionality, accessibility, and ergonomics. They can be equipped with many accessories to bring even more performance to your screen lifting systems. TiMOTION favors a close relationship with its customers. With highly customizable electric lifting systems, we support you in your project with tailor-made solutions adapted to your applications.
Contact our local sales department to learn more!