The digital age and the rise of interactive equipment
The digital age and the digital transformation have profoundly changed our societies and man's approach to knowledge. Efficiency and time optimization have become significant challenges for institutions that have seen the emergence of new ways of working and communicating.
Investments in digital equipment, such as interactive screens and adjustable video projectors, have become essential to meet these new needs. TiMOTION invests in the heart of interactivity by offering electric columns and actuators for the adjustment of screens and video projectors.
Adjustable interactive screens and projectors
With equipment becoming increasingly tactile and interactive, screens and video projectors can be found in most areas of our daily lives: home, work, school, cultural venues, etc... These multifunctional devices meet several needs.
Their primary objective is to ease information distribution, but they also meet other complementary needs. Among other things, they help to catch attention, enable collaborative exchanges, and save time in content preparation, distribution, and monitoring.
This equipment is even more efficient when it can be adjusted and adapted to any type of place and user. This is where we come in!
TiMOTION designs electric motion systems that perfectly adapt to interactive screens and video projectors and offer simplified handling and accessibility for all.
Electric columns and actuators for ergonomic screens and video projectors
TV screens, interactive screens, and video projector supports can be adjusted in height using our electric columns. Stable and silent, they offer a fluid and secure movement. Their sleek design blends easily into the aesthetics of a room, which makes them even more suitable in structures where they are visible. Video projectors can also mount on the wall or ceiling. In this case, they can be adjusted by one or two electric actuators. Here, the TA43 compact electric actuator is perfectly suitable in combination with the TFH22 design wireless hand control, its TRF receiver, and the TP11 power supply. The TP11 has an optional built-in battery that gives autonomy to the projector for more convenience.
Electric actuators can also operate the tilting of equipment for even more precision in adjustment. It is also possible to adjust the projector with three actuators to suit any need. Our TC15P control box can remotely control all the actuator's movements by using a Bluetooth port. In addition, the TC15P has a built-in anti-collision sensor that will protect the equipment in case of impact with a foreign element.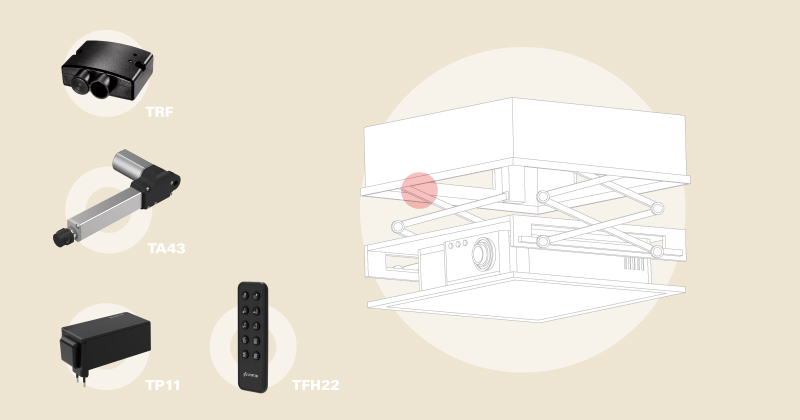 Electric actuation system for embedded TVs
Electric actuation systems can also be used for embedded televisions. These systems are increasingly popular to free up visual space in a room or on a worktop, or simply for a modern and contemporary design.
Remotely controllable, an electric column will allow the TV to hide inside a piece of furniture and easily deploy when in use. Here, we propose the TVL3 electric column. Specially designed for TVs, it can push up to 600 N. Combined with the TC11 control box, it can be operated remotely with simple TH3 hand control. The solution can be optimized with a TSS2 safety system. This will protect the mechanism and the screen in case of a collision with an object.
The electric motion systems allow users to ease the use of screens and projectors and adopt an ergonomic posture by adapting them to their size. They can be used while sitting or standing, and by children or people with reduced mobility. Besides, taking an ergonomic position helps to reduce musculoskeletal disorders and muscle fatigue that can occur after standing for some time. These solutions work in classrooms, conferences, or meeting rooms. TiMOTION offers remote control electric actuation systems with various memory options that make their use even more straightforward.
Read more about our automation solutions for interactive screens in our dedicated article.
Please contact our nearest local sales department for more information.