TiMOTION's adaptable solution
TiMOTION has taken another step forward to complement and extend the functionality of our Ergo Motion line of height-adjustable frame kits. Our new mobile app – Smart Move+ – is a truly adaptable solution meant to unleash the possibilities to a wide range of non-traditional users while keeping traditional desk-bound office employees happy and healthy.
TiMOTION recognizes that meeting workplace ergonomic needs must extend to workers not just in a traditional office setting but also in diverse workplace environments – including, but not limited to, health care, manufacturing, and construction. Anyone can use Smart Move+, but the non-traditional user who wants to make full use of ergo motion at their workstations would especially benefit from this app.
The app allows for a complete range of functions for operating a broad assortment of height-adjustable applications including, workbenches, special work tables, lifting machines, industrial lifting platforms, TV-lifts, hospital side tables, ventilation systems, windows, roof hatches, and more.
Smart Move+ Features
Just as with Stand Up PLS – TiMOTION's inaugural Ergo App – Smart Move+ offers state of the art features to enhance the user's experience with their height-adjustable workstation via seamless integration with their mobile devices. Both apps connect to TiMOTION's Ergo Control Box via Bluetooth and operate the lifting columns or actuators like a remote control.
Smart Move+ features include:
An intuitive motion control interface
Up to four preset memory positions
Battery life indicator
Automatic movement function
Customizable limit position setting and anti-collision levels
Error and safety alarms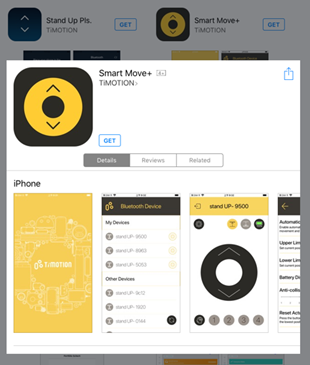 Intuitive motion control interface
Smart Move+ doesn't have wellness features such as sit/stand or calories consumption tracking like Stand UP PLS. However, Smart Move+ has a more neutral interface design that makes it suitable for most application systems with a single movement direction.
Bluetooth & Memory presets
Bluetooth synchronization allows users easy, convenient control of their height-adjustable workstation's movement, including memory function capacity of up to four preset height positions.
Automatic movements & Safety sensors
The automatic movement function allows the lifting columns to run automatically while the error code feature adds another level of safety to the height-adjustable workstation. When T-touch senses an object in the way during operation, Smart Move+ will register an alarm, and the workstation will immediately cease movement. T-Touch protection alerts the sensor to items in the way during operation.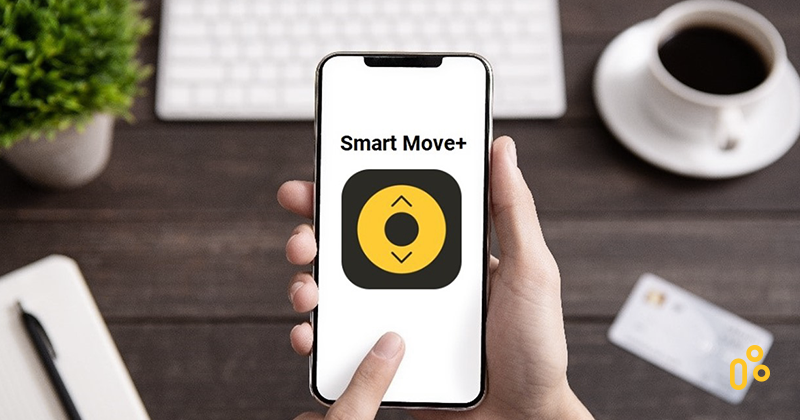 Improve workplace efficiency
TiMOTION designed both Ergo Apps to encourage a healthy, creative, and more efficient workplace. All the apps' features have been created with simplicity and safety in mind to allow users to incorporate it into their daily routine efficiently.
The Smart Move+ app is available for iOS users and downloadable free on the App Store. TiMOTION expects to deploy the Ergo App for Android device users soon.
For more information about the Smart Move+ or our entire Ergo Motion line, please contact your local sales team.