Today, ergonomics is a feature widely taken into account when it comes to space design. Although known as a source of well-being and productivity, it is still neglected in classrooms and training rooms. Yet studies show the positive impact of ergonomics on health.
Why bring ergonomics into educational environments?
The classroom is the daily workplace for teachers and students. Ergonomic settings are essential to creating environments conducive to learning and well-being.
Therefore, the choice of furniture is important, hence the need to consider individuals in their entirety (age, size, mobility). Studies also show that immobility limits concentration, especially for children who need to spend their energy. Moreover, children grow up quickly and rarely stay the same size for very long. Thus, stationary furniture is generally unsuitable for them.
Dynamic workstations adapt to everyone's size and mobility. Variable height elements allow everyone to find an ergonomic position that eases concentration and maximizes comfort.
Desks with variable height allow working standing up, which has a positive impact on energy. It has also been proven that getting up several times during the day reduces fatigue and musculoskeletal disorders (neck stiffness and back pain in particular), which are not negligible factors when we know that class days can be stressful for students.
Thus, it is recommended to provide flexible equipment allowing to alternate sitting and standing positions and enable both physical and intellectual mobility.
TiMOTION's solution
For variable height desks, we suggest the TL20S lifting column. It offers a smooth and silent movement that makes it ideal for indoor use. Its slim design optimizes space and blends discreetly into the furniture. Two columns can be synchronized thanks to the TCP15P control box with an integrated T-TOUCH anti-collision system. It can be equipped with a USB port or an induction phone charger like our TWC if required. Our TBB9 battery brings autonomy to the desk and avoids any apparent cable that could hinder the aesthetics of the room or make users stumble. The system is easily operated by our TDH4, a two-button digital handset.
TiMOTION also offers a solution to automate interactive screens that progressively replace traditional whiteboards in classrooms. Our TL18AC aluminum column adjusts the screen height and has a socket to connect other devices. Here, the TA16 can tilt the screen. Quiet and compact, it adjusts without disturbing users. Its optional Hall sensors ensure precise positioning. All the system is operated by our TFH22 wireless handset and its TRF receiver.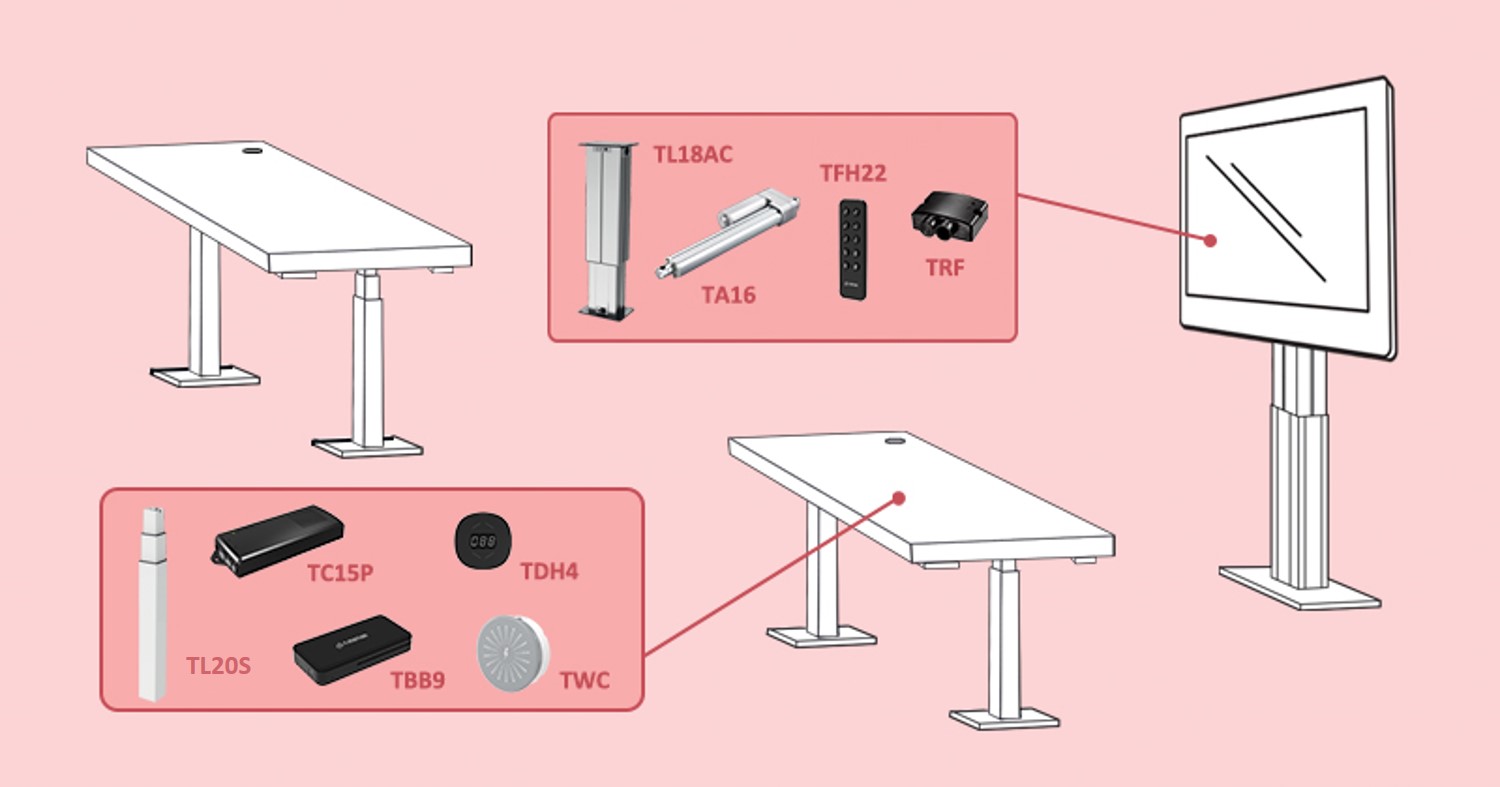 Ergonomics and cultural mediation
The aim of cultural mediation[1] is to make culture accessible to everyone. Therefore, ergonomics plays an important role, since it makes it possible to rethink cultural centers' design and to facilitate access to distribution tools (panels, displays, terminals, screens, etc.)
The height adjustment of furniture, in museums, for example, makes it possible to meet individuals' specific needs (children, adults, elderly, or people in wheelchairs). The aim is to enable everyone to thoroughly appreciate the exhibitions, to use the interactive platforms (screen games, questionnaires, simulations, etc.) without difficulty, and to fully enjoy the visit, with no limits due to size or mobility.
Museum visits can take up to a day and be tiring. Adjustable equipment helps to reduce these fatigues or any related pain and to provide an immersive experience optimized according to each person's needs.
TiMOTION's solution
For displays or other exhibition supports, TiMOTION offers one of the most discreet columns that fit directly into the furniture: the TL25. It brings ergonomics to the support while maintaining a better aestheticism. It can operate in pairs thanks to the TC15 control box which synchronizes the system. Our anti-collision sensor TCS1 brings additional safety to users and avoids damaging the installation in case of wrong handling of the system. The system can be easily controlled by our TFH13 handset.
Our TL19 electric column is the ideal solution to adjust the screen's height. Stable and silent, it offers a smooth and jerk-free movement that preserves user comfort. Our TA29 electric actuator allows tilting the screen and optimizes the user experience. Robust, it supports heavy loads. The system can be programmed and synchronized by the TC16 control box, which can support up to 3 motors, and operates easily with the TDH17 handset.
Information panels or pads can be adjusted with the TL24 column. It is equipped with a socket that allows to connection of another electric actuator such as the TA38M. It will boost the ergonomics by tilting support texts or images. Its compact size makes it particularly efficient for small furniture. The system can easily be operated by our TC15 control box and the TDH17 handset.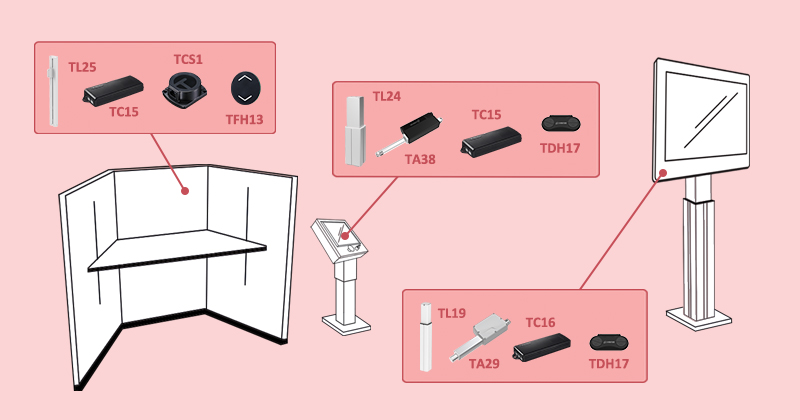 Accessibility for all
Accessibility today is an essential feature for learning and cultural institutions' design. Establishments get gradually equipped to accommodate all types of profiles, including people in wheelchairs. The installation of electric ramps and lift platforms enables people with reduced mobility to access these places and eases social integration.
TiMOTION provides solutions to automate a multitude of equipment and make everyone's daily life easier. Ergonomics is now an essential feature in public places and is progressively being integrated into educational and cultural establishments. With no pipes or compressors, electric actuators and columns are compact and maintenance-free, making them the ideal solution for automating any furniture without difficulty.
Arranged spaces make it possible to facilitate access for all to education and culture, and to reduce inequalities between people.
Choose TiMOTION to act in favor of equal opportunities and make equipment ever more mobile and adjustable to each persons' specific needs!
For more information, feel free to contact your local sales department!
[1] Cultural mediation covers all the resources used to make culture accessible to a specific audience