The kitchen has always been the heart of the house, but today it has become the living room by excellence. It opens up, merges with the living room, and becomes a convivial and multifunctional place.
The priority is functionality and adaptability. As the modern kitchen adapts to fit with the dining room or living room design, it also adapts to the people who are using it. Thanks to electric actuators and columns, adjustable kitchen equipment allows all the residents to meet their needs, whether short, tall, with reduced mobility, or in a wheelchair.
Variable height worktops, cupboards, or wall shelves make the kitchen more accessible, and comfortable and facilitate the assumption of ergonomic postures.
The opening of the kitchen hood, often high up and inaccessible to some people, can also be operated by a simple handset.
Electric linear actuators and lifting columns for kitchens
At TiMOTION, we understand the importance of providing quiet systems to preserve residents' comfort. Our electric actuators and columns provide smooth movement, ideal for domestic use. Robust, they are able to support heavy loads and adjust furniture safely.
With high stability and a load capacity of up to 3,300N in push, our TL24 column is perfectly suited for adjusting a bar table or an adjustable-height kitchen island Its aesthetic aluminum design discreetly merges into the kitchen furniture. By combining our TFH13 handset and our TC15 control box, it's easy to operate two columns in a synchronized way.
Our TL10H column allows us to gently adjust a worktop's height thanks to its stable and quiet movement. The TC15P control box can synchronize two columns. It can be equipped with an integrated T-Touch function to protect furniture or users against possible collisions and Bluetooth technology for remote control. It's also possible to add accessories such as a TFA3 charger with 2 USB ports or a TWC wireless phone charger. This entire system can be easily controlled by our TDH19P touch handset, which can be discreetly installed under a wood or glass worktop.
For height adjustment of cupboards or wall shelves, TiMOTION offers a reliable and robust actuator: the TL25. Compact, it can easily be integrated into design furniture where the available space is often limited. Often installed in pairs, the synchronization of the actuator with its twin is done by the TC15 control box. The whole system can be operated very easily by our TFH15 handset.
Our TA38M electric actuator is ideal for small furniture. Compact and silent, it's particularly suitable for opening and closing the ventilation system of extractor hoods. The TC11 control box allows the actuator to be programmed and gives it greater functionality. It is operated by a simple and ergonomic handset, the TFH13.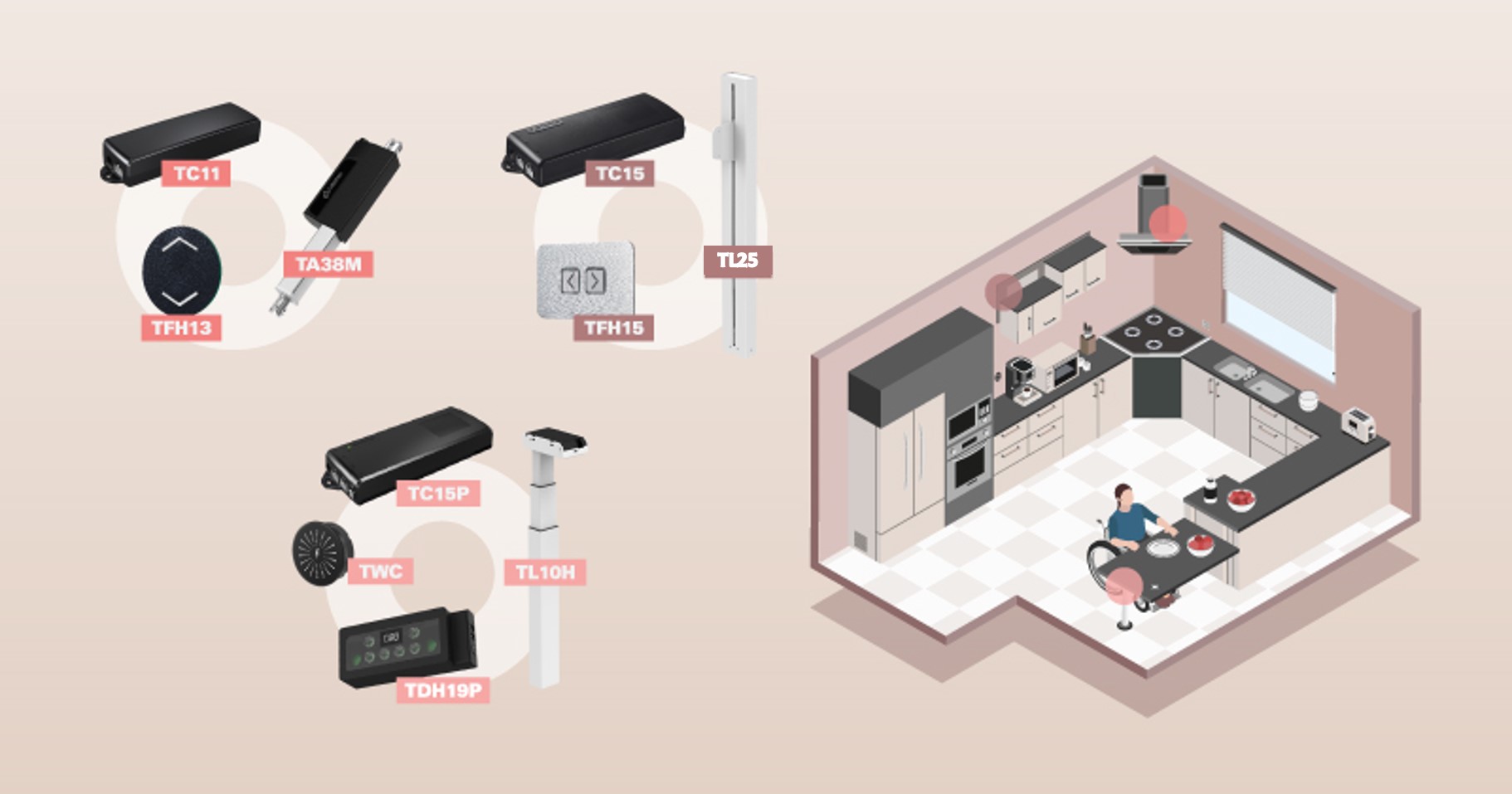 Today, the kitchen occupies a central place in people's homes and daily lives. TiMOTION aims to simplify the use of domestic equipment and facilitate the residents' everyday routine by adapting to their specific needs.
For more information about our comfort products, please contact our local sales department!