An evolution of the medical needs and new practices
Thanks to economic developments and health progression, life conditions have evolved well during the past few decades. Life expectancy has increased, but so has the health issues of the elderly. The society also sees new diseases appearing because of modern lifestyles - illnesses that result in stress, back pain, and obesity. As the number of patients multiplies and the need for new service practices like osteopathy and massage increases, medical institutions must adapt to this new demand.
The importance of mobility and ergonomics
Ergonomics has become one of the essential characteristics of treatment tables since it answers a broad array of functions. Those different settings are activated by electric actuators and/or columns. Whether it is a simple mechanical movement or several synchronized movements, electric actuators and lifting columns give the equipment great versatility.
Health professionals can change their physical position for the patient and give him the most comfort possible. Ergonomics also makes it possible to adjust tables for patients with reduced mobility (such as the elderly or overweight) who may have difficulty getting settled. It makes work easier for the medical staff and reduces the risk of accidents during the positioning of the patient – all of which can be done comfortably and securely.
The different storage options available with our control boxes and hand controls add an extra level of assistance and allow equipment to adjust quickly and easily to specific needs. Easy-to-control and effective movements help the nursing staff provide a better level of service.
Ergonomics and more
Some types of treatment require an extreme level of precision that can be attained with electric actuators. Their strength can safely support patients of any size and shape, while their quiet mechanisms reduce patient anxiety. Whether it is a simple movement or more complex configurations with multiple actuators, the mechanisms must move smoothly to maintain comfort and safety for the patient. This fluidity is allowed by the control box that coordinates all movements without any fuss (soft start and stop).
Our electric linear actuators allow us to lift and adjust treatment tables smoothly while being practical and functional. Different configurations of height and inclination (head, back, and leg rest) are always an advantage to preserve the comfort of the patient and provide the best treatment possible. For example, an automated massage table will allow the practitioner to adjust his workspace while his hands are occupied - providing more hygiene, convenience, and comfort. Osteopathy tables also give the same functionality. By adjusting different areas of the body individually in a fluid and automated manner, the practitioner can intervene more easily.
Even if the quality of the treatment provided is mainly in the specialized experience of the doctor or practitioner, a lousy working tool can hinder the excellent progress of the procedure.
TiMOTION's electric linear actuators for treatment tables
At TiMOTION, our goal is to offer intelligent, turnkey, and complete solutions easily integrable into all medical equipment. We offer a wide range of electric linear actuators and lifting columns adapted to the medical field. Our solutions have proven their robustness and reliability for massage, medical examination, therapeutic or osteopathy tables. They are also tested many times according to medical standards to ensure the safety of the equipment.
The TA37 electric linear actuator is particularly suitable to adjust the height of treatment tables due to its silent movement (<54db) and its high speed. It can come equipped with a hall sensor for position feedback and keep memorized positions that can easily be recalled.
The TA36 offers an increased level of accuracy due to its axial play being close to zero, making it ideal for exam and operation tables.
Our TA29 and TA31 linear actuators, due to their compact designs, are made to adjust back and leg rests, which make them easy to install in all types of medical equipment.
For a complete solution, our electric actuators and columns can be controlled by the TC21 control box and our brand new TMH16 hand control, specially designed for easy and intuitive use.
Our electric linear actuators can be equipped with IP66W protection, allowing them to be washed according to the strict hygienic standards of the medical field.
TiMOTION also offers a range of electric lifting columns (such as the TL3, TL24, or TL17), which can be adapted to any medical table to allow a simple height adjustment.
We also manufacture footswitches (such as the TFS5), which allows the automation of all table movements. It has 4 programmable buttons for specific needs, which make it possible to adjust the patient height, and back and/or leg positions with a simple press of the foot. With 15 buttons, the TFS7 foot switch has even more features and storage options.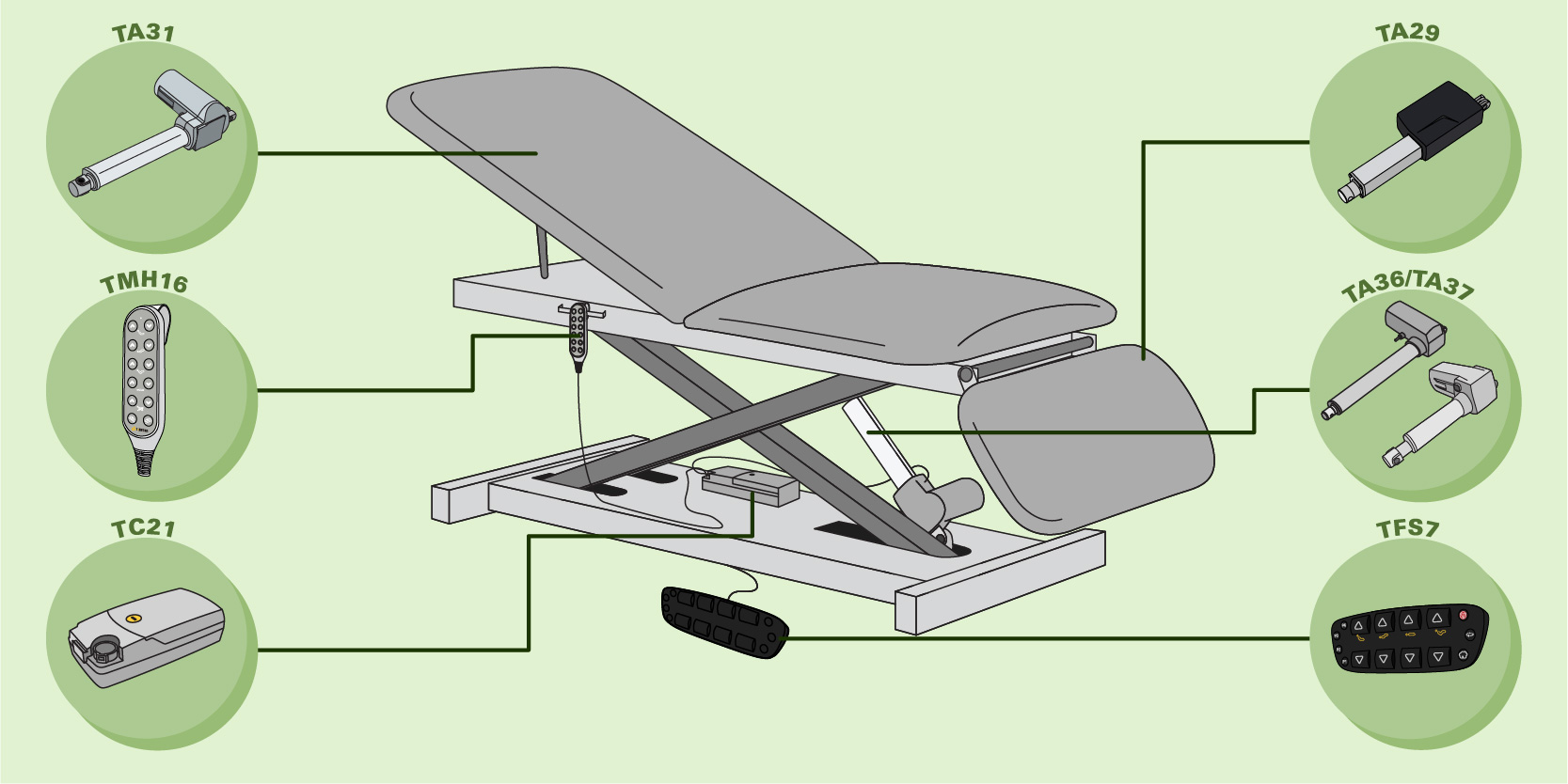 Today, more people are using electric mobility within the medical field. This mobility is reliable, fast, and precise while providing a higher level of safety and hygiene. It also allows medical institutions to ensure optimal quality of care. Electric actuators are also more economical and environmentally friendly since they require little or no maintenance (unlike pneumatic and hydraulic solutions).
For more information, please contact our sales team.