History is teeming with examples of colossal construction projects. Originally carried out by rudimentary means and with primitive tools, the duration of these projects lasted several decades and required the labor of thousands. The work was very hard for these poorly equipped workers and presented many health risks. Today, technology has evolved and has dramatically expedited the implementation of construction projects.
With the rapid population growth, the demand for infrastructure and new housing increases while delivery times are shortening. Not only do builders have to meet higher yields in often difficult working environments (humidity, dirt, dust), but they also have to face new environmental standards while preserving staff safety. As a result, the industry is modernizing. Automating its equipment to gain efficiency and reach its objectives has become a significant challenge for any company.
Why use electric linear actuators in construction equipment?
For more performance and productivity
Electric linear actuators bring performance, versatility, robustness, and speed to construction equipment. They also offer more ergonomics to users and ensure reliability and safety. They are specially designed to cope with repetitive mechanical movements and support the heavy loads specific to construction.
For more adaptability and customization
Each industry has its number of specific requirements and dictates a high level of customization. TiMOTION offers customizable solutions with many options and functionalities that meet everyone's needs. Their compact design takes up little space and can be easily integrated into a wide range of equipment.
For more precision and speed
Construction equipment automation reduces human intervention, reduces construction site response times, and reduces the risk of error. TiMOTION offers solutions that increase precision and speed thanks to software integrated into the control box, coordinating all movement mechanisms in a synchronized and safe manner.
For more safety and comfort
While it's true that the equipment must meet industrial needs (lifting, moving, digging), it must also meet users' needs. Work on construction sites is hard for workers and involves health risks. The goal of automating construction equipment is to bring more comfort to the user. TiMOTION's solutions allow automated adjustments to various elements and free the user from unnecessary and uncomfortable physical movements.
Safety and comfort are priorities on a construction site. Long hours spent outside or sitting in the seat of a construction vehicle require durable, reliable, and comfortable equipment. Thanks to our electric actuators and gear motors, the user can adjust his equipment and work in an ergonomic position.
For more reliability and less maintenance
Electric linear actuators are an excellent alternative to hydraulic or pneumatic actuators since they dispense with all the problems associated with pipes or compressors and oil leaks. Thus, they do not require maintenance. Electric actuators also offer precise stroke adjustment, which is not always the case with other systems. TiMOTION provides solutions that are reliable, solid, and last over time.
TiMOTION electric linear actuators for construction equipment
TiMOTION offers complete solutions for many industrial applications: construction machinery and vehicles, industrial fog cannons, lighting towers, lifting platforms, and off-road vehicles.
Electric actuators and gear motors for construction vehicles
Electric actuators and gear motors create comfortable cabins for all types of construction equipment: excavator, dump truck, tractor, loader, crane, etc. Thus, they offer more ergonomics and safety to users.
The MA5 industrial electric actuator is particularly suitable for adjusting mirrors. Its design is intended for outdoor use and allows a comfortable and smooth adjustment. It can also be optionally equipped with an IP69K protection rating, making it even more efficient in industrial environments.
For the hood, the MA2 industrial electric actuator allows an automated and secure adjustment. The MA2 can support heavy loads, making it ideal for this type of application. Its optional Hall-effect sensors enable the installation of two actuators on either side of the hood with synchronized movement and smooth adjustment.
The roof window is adjusted using the TA38M electric actuator. Compact and quiet, it fits easily into the vehicle and allows the window to be opened for better air quality.
The JP4 in-line electric actuator enables the height adjustment of the step and a comfortable installation inside the vehicle. Its engine-free design allows for easy integration but does not hinder its robustness since it can push up to 4,500 N.
For the seat, a gear motor will allow a smooth and precise height adjustment. Thus, each user can adjust the seat's height to fit their size while adopting a comfortable posture.
To learn more about the importance of adopting an ergonomic posture in the workplace, click here!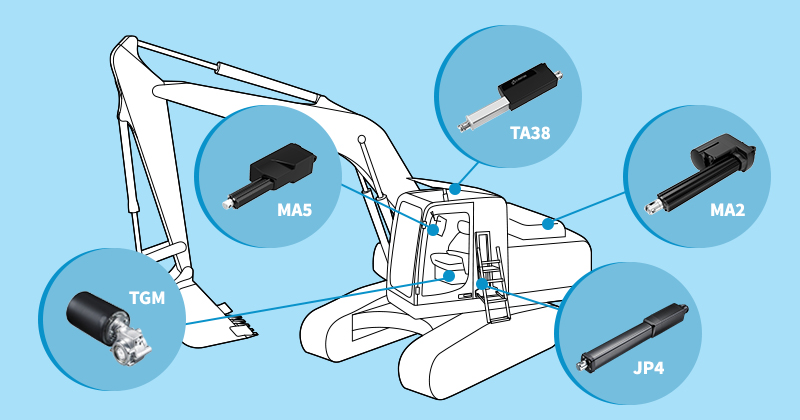 Electric actuators for off-road vehicles and adjustable traffic signs
For off-road vehicles, electric actuators allow the user to perform specific tasks, such as raising or lowering traffic signs without physical intervention. In this way, the user gains efficiency, speed and preserves his comfort by avoiding unnecessary risks.
The MA5 electric linear actuator is particularly suitable for this type of application as it's designed to operate in very tough environments. The optional grease chamber also provides increased protection for the inner tube and helps prevent corrosion due to chemical products. The MA2 electric actuator is also robust and durable but can also be equipped with reed sensors that allow the user to adjust its stroke.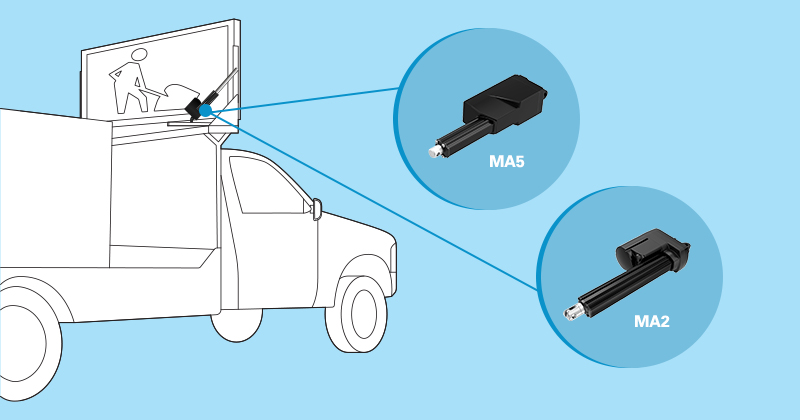 Electric actuators for industrial fog cannons, light towers, and lifting platforms
Construction sites often require heavy, bulky, and difficult-to-handle industrial equipment. Electric actuators allow certain elements to be adjusted to enable equipment use and offer more safety and comfort to workers.
The industrial electric actuator MA5, for example, allows lamp tilt on lighting towers. The MA2 electric actuator allows canons tilting on industrial fog cannons. The easy and precise adjustment of electric actuators optimizes equipment used on large construction sites, as well as reduces working time and preserves users' well-being.
Lighting towers can also be equipped with stability legs for optimal positioning. TiMOTION's MA2 electric actuators can adjust these legs. Robust and powerful, they can be equipped with Hall effect sensors to provide synchronized movement and precise positioning of the tower.
Elevating platforms are risky devices that must meet many safety standards. Our MA5 electric actuator is perfectly adapted to operate the platform's safety lock to eliminate any risk of falling and provide an additional level of safety.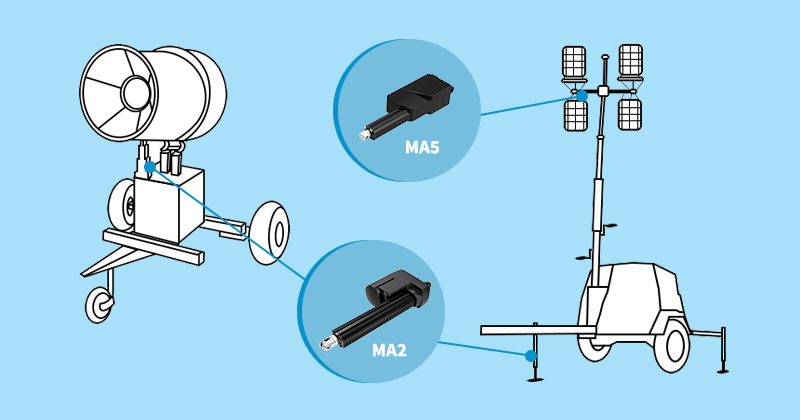 Since the beginning of our civilization, the means of construction have changed a great deal. Today, efficiency and safety are a priority. It is necessary to adapt both to industrial needs and user requirements. TiMOTION offers construction solutions adapted to extreme conditions (repeated movements, humidity, dirt, dust, heavy loads, high-pressure water jets). Electric actuators are becoming an efficient alternative to pneumatic or hydraulic actuators and are now a must in the industry.
To learn more about our industrial solutions, contact your local sales department!