Robust and powerful electric actuators for automated agricultural machinery are easy to integrate and are compatible with most control systems. Leak-free and maintenance-free, they offer a high level of control and precision, ideal for modern agricultural machinery.
Today's farmers know that meeting global food demand while adapting to environmental and sanitary requirements is a significant challenge for preserving their farm's profitability and health. While the demand for food continues to grow, agricultural machinery is becoming more sophisticated to allow for precision farming over large areas.
Electric linear actuator solutions for automated agricultural machines
Electric linear actuators have made a significant contribution to the automation of agricultural machinery. Robust and compact, they can be easily integrated into any agricultural vehicle. Balers, combines, seeders, sprayers, fertilizer spreaders, and tractors are all agricultural machines that can be automated by an electric actuator system.
Traditionally equipped with pneumatic or hydraulic actuators, agricultural equipment is gradually seeing its systems replaced by electric alternatives. Indeed, electric actuators for agricultural equipment are programmable and offer a high level of control and precision. They can be synchronized and provide intelligent movement, ideal for complex agricultural systems.
TiMOTION electric actuators equipped with the intelligent T-SMART Advanced and Fieldbus function can program and synchronize up to 7 devices! With real-time monitoring and many customizable features, they are particularly suitable for precision farming.
Electric linear actuators are also maintenance-free, unlike other systems. They do not require any intervention for installation or maintenance and do not leak oil, which could pollute the soil. Without a hose or compressor, they are particularly easy to install.
TiMOTION electric linear actuators are specifically designed for agricultural equipment. They withstand extreme conditions and environments exposed to humidity, mud, and bad weather. Their IP69K protection rating makes them compatible with high-pressure cleaning, which is common in agricultural machinery maintenance. They are robust and have a high load capacity of up to 16,000 N.
They can also be equipped with various position sensors allowing feedback and thus synchronizing two devices. Compatible with most control systems, they will be easily integrated with your agricultural equipment.
Electric actuator for agricultural vehicle
Electric linear actuators for modern agricultural machines can precisely operate spreading systems and spouts. The programmable opening systems allow the precise release of the desired amount of product and optimize profitability by reducing losses. With a high level of control, they can also operate agricultural wrappers, crop blades, and agricultural AGVs.
Those are particularly appreciated in the context of more environmentally friendly agricultural practices. Automatically guided agricultural machines bring particular and personalized attention to each crop. They then deliver, thanks to electric actuators, the adapted care to each plant, allowing the reduction, even the suppression of phytosanitary products harmful to the environment.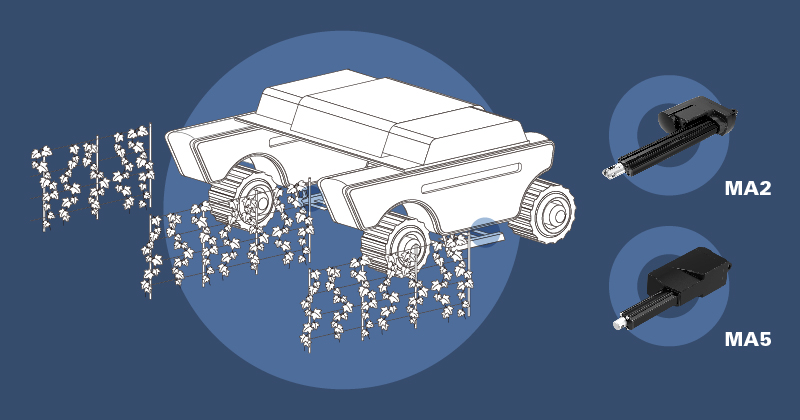 To learn more, see our article on electric linear actuators for self-guiding agricultural vehicles.
Electric linear actuators for agricultural cabs
Electric actuators can also be used in the cabs of agricultural machines. Because of the difficulty of the tasks and the danger of the machines, the profession of farmer involves a significant number of possible accidents. Ergonomics is, therefore, an essential aspect of modern agricultural machinery cabs in order to optimize the safety of farmers.
By allowing the adjustment of seats, steps, hoods, windows, and hatches in an automated way, electric linear actuators for agricultural cabs bring more comfort and safety to farmers and improve their working conditions.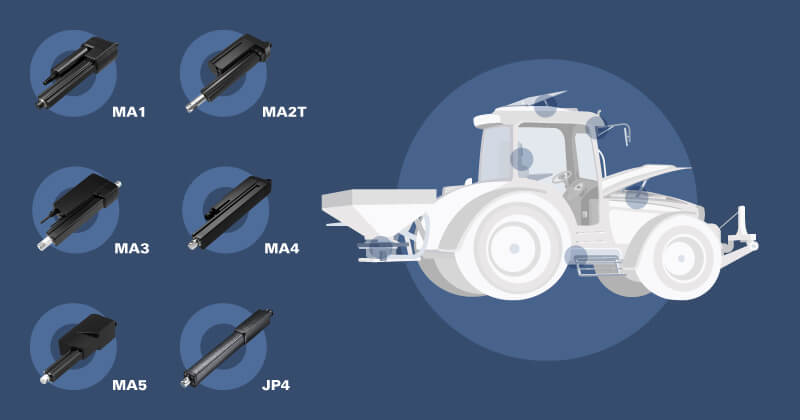 Want to know more about our electric actuator solutions for agricultural equipment? Contact our local sales department and let us help you with your project!