Serie
TEK02
Height Adjustable Desk Kits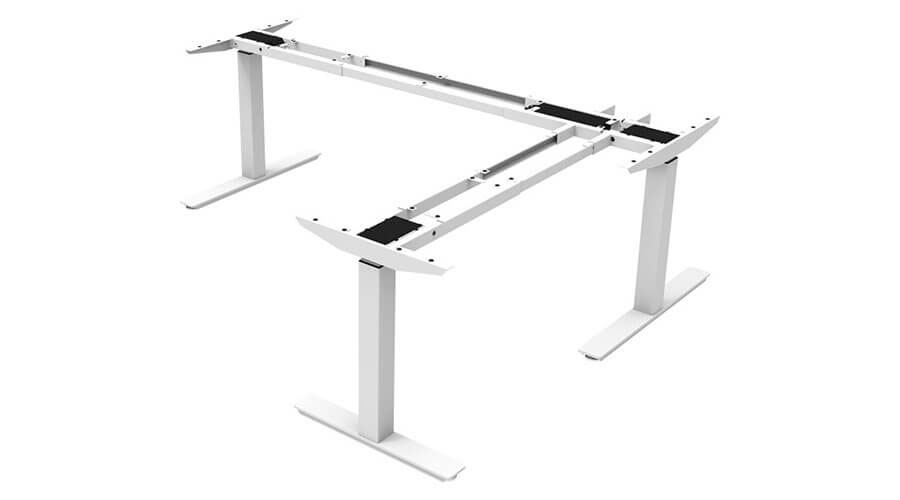 The L-Shaped TEK02 series has a three-leg configuration for additional space and ergonomic functionality.

The TEK02 frame kit can be supplied as* an add-on piece that fits smoothly with the original TEK01 desk, transforming it into the L-Shaped desk once fully constructed. This corner desk allows the user to extend their desk space, creating a stylish yet functional workspace with easy assembly.

*Notes: Add-on box is just a way to sell it. Most of the TEK02 are still sold as complete TEK02.
Caratteristiche Generali
Carico massimo: 120kg o 150kg*

Velocità costante: Colonna a 3 stadi: fino a 40mm/s*; Colonna a 2 stadi: fino a 33mm/s*

Tipo del struttura: Telaio per scrivania a L elettrica a 3 colonne

Peso dell'imballo: 62kg*

Potenza in standby: <0.1W

Accessori: Caricatore USB (TFA1/TFA3), Sensore anti collisione (TCS1), Caricatore wireless (TWC)

Opzioni multiple di colonna e comando

Alta resistenza e stabilità - Struttura in acciaio

Design modulare - Converte facilmente il classico TEK01 in una scrivania elettrica a forma di L

*Cambia a seconda dei componenti selezionati
Your Reliable Partner For Sit-Stand Solutions
Greatest Anti-collision Solution for Height Adjustable Desk Application - t-touch
Your Personal Health Mobile APP For Sit-Stand Desks - STAND UP PLS
L Shaped Height Adjustable Desk Frame Kits - TEK02
Ergonomic Height Adjustable Desk Frame Kits - TEK Series
scarica la documentazione