Did you know that the interior air is sometimes more polluted than the air on the outside?
According to the World Health Organization, air pollution is a significant environmental health risk. Indoor Air is often more polluted than outdoor air, and the fact is that we spend most of our time in closed spaces.
While at work, industrial in particular, it is essential to set up systems that guarantee optimal air quality for operators' well-being.
Industrial or agricultural activities, because of the use of chemicals or irritating products, are sources of atmospheric pollutants that have a health and environmental impact.
Pollution can be reduced by setting up systems that ensure proper air quality and operators' well-being.
Several solutions are possible with automated systems!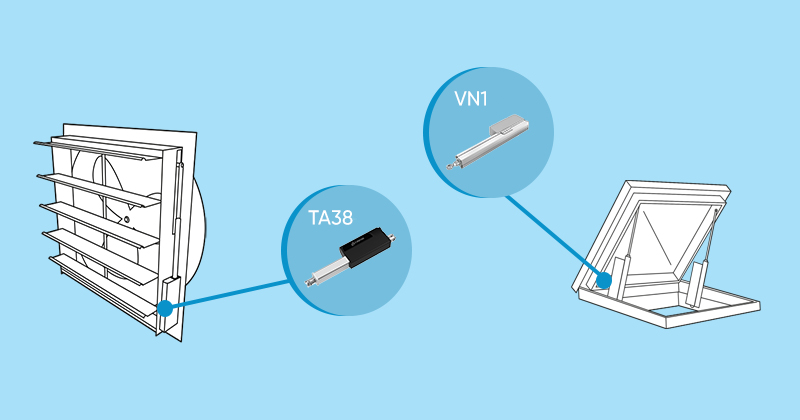 Ventilation systems for optimized air quality
Ventilation systems allow us to maintain a healthy environment and ensure operators' safety by reducing pollution and controlling indoor temperatures. Ventilation systems also help to maintain a suitable environment. For example, machine rooms sometimes need to be at well-defined temperatures for optimal functioning.
Two ventilation systems are possible to optimize air quality: Mechanic ventilation (operated by air extraction or insufflation electric systems) or natural ventilation (performed by opening windows or ventilation systems with adjustable blades).
Shading systems for improved environments
Louvers are shading systems with adjustable blades which block sunlight without preventing natural ventilation by windows. They also provide thermal insulation for an optimal indoor environment.
TiMOTION electric linear actuators can help you design natural ventilation systems that renew the air in buildings and limit thermal pollution which is damaging to operators' well-being.
You will be able to meet your customers' needs with an adapted solution that reduces their exploitation costs.
TA38 electric actuator for an optimal air quality
Our technology is manufactured with quality materials (steel and aluminum), several optional protection levels, and positional sensors. Without possible fluid leaks or maintenance, an electric solution is an ideal alternative to hydraulic or pneumatic systems.
Also, the positioning of electric actuators is more precise and easy to adjust, unlike other systems.
This technology makes TiMOTION a pioneering player in the industrial sector!
The TA38 electric actuator is the new solution for your automated natural ventilation and shading systems, which become durable and easy to control.
Here are the TA38 electric actuator's main features:
1 500 N in push/pull
7,9 mm / s (under 1 500N)
Minimum installation dimensions: ≥ 160 mm
stroke: 20 ~200 mm
IP66
Option: Hall sensors
Its ratio size/weight/power makes it a unique product on the electric actuator market. It makes it easier to integrate into your natural aeration and shading systems, automating them in a precise and quiet way.
Available Hall sensors allow you to synchronize several of your systems for even more precise and efficient adjustments.
In addition to the TA38 electric actuator, we also offer the latest electric actuator specifically designed for shading and opening systems - the VN1!
Find out its main features.
VN1 electric actuator:
3,500 N in push/pull
4,2 mm / s (under 3 500N)
Voltage: 12V DC, 24V DC, 100~240V AC
Stroke: 20 ~500 mm
IP66
Options: Hall sensor(s), safety nuts, windows seal mechanism
Its specific shape and attachment make it particularly suitable for shading and opening systems.
For more information about our industrial range of products for electric windows or shading, click here or contact a member of our sales team!
TiMOTION