Air quality has become a significant public health issue, especially regarding pollution. According to ARCAA1, indoor air is often more polluted than outdoor air, and we are exposed to it more than 80% of the time.

Areas with a high concentration of people, such as offices, schools, and shops, are increasing investments in automated ventilation systems. There are strict regulations regarding air legislation applications to preserve people's health and well-being.
Automated ventilation systems for optimized air quality
Indoor air is more polluted than we think. Moisture, building materials, cleaning products use, electronic devices which can be a significant source of volatile organic compounds (VOCs), and the outdoor environment generate a multitude of biological, chemical, and physical pollutants that affect air quality2

These pollutants have a significant impact on health and cause various illnesses, irritations, and respiratory problems3. With the increasing use of insulating construction materials that hinder the proper daily air renewal, air quality depends mainly on installed ventilation systems.
Ventilation systems allow air renewal and temperature regulation that will guarantee an optimal indoor environment. They also make it possible to maintain particular conditions for particular environments such as machine rooms, greenhouses, animal husbandry, or any facility that generates dust, vapors, and toxic byproducts.

Automated windows for natural ventilation systems
Natural ventilation through windows opening and closing and other ventilation systems is an attractive and more economical solution compared to mechanical ventilation systems (VMC) by air extraction and insufflation4. With automated systems, window control becomes easy. For example, in the summer, it will be possible to program the automatic opening of windows at night to cool a room or building, and the closing in the morning when there is sunlight.
With increasingly intelligent systems, it is possible to imagine autonomous or remotely controlled solutions that adjust in real-time according to weather fluctuations and indoor temperature. When connected to a central heating system, the control systems also allow precise temperature regulation of environments and a reduction in heating and cooling requirements with a positive impact on operating costs.
Building designs currently favor natural light. With automated window systems, it will allow simplified management and increased security thanks to the rapid opening of windows in the event of an incident (smoke evacuation, high heat, toxic gases, etc.)

Electric actuators for automated windows
TiMOTION designs electric motion systems adapted for all types of windows.

Roof windows are often out of reach and require systems with remote control. Our new VN1 electric actuator, robust and compact, is designed for this type of application.
The TA23 electric actuator is also suitable for this type of application. It can push up to 10,000 N, which makes it even more efficient for heavy loads. It can also be used in smoke extraction systems. Thus, it allows the rapid evacuation of smoke, heat, and toxic gases from the building in the event of a fire.
For conventional windows, we recommend the use of the TA16 electric actuator. Its compact size makes it ideal for smaller spaces.

Building ventilation can also be carried out by adjustable louver ventilation systems that offer an opening to the outside. The adjustment of these narrower systems works with the compact electric actuator TA38. Its size/weight/power ratio makes it particularly efficient and allows precise adjustment of your equipment for optimal ventilation management.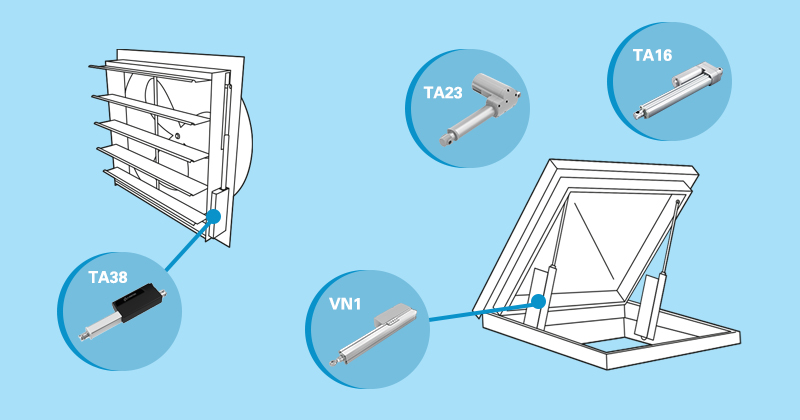 Automated shading systems for improved environments
Shading also plays a role in the optimization of environments by regulating the temperature. The multiplication of windows makes interiors very exposed to sunlight, especially in summer. It is therefore essential to provide effective systems to adjust shading during the day and maintain an optimal temperature, without the need for air conditioning.
Louver blinds, consisting of adjustable and retractable slats, allow for precise shade management throughout the day. Unlike other systems, these blinds do not obscure daylight.
Pergolas work with a similar slat system and allow adjusting the shading of space to preserve the user's comfort. When completely closed, they can also create shelter in case of bad weather. They are ideal solutions for restaurant terraces, for example, as they improve customer experience and preserve their comfort in case of rain.
Electric actuators automate these systems, allowing for precise and simplified management. Control boxes equipped with sensors make them autonomous, adjustable, and remotely controllable for greater comfort.
Electric actuators for shading systems
The TA38 electric actuator is the ideal solution for adjusting louvers. Its compact size can automate systems in small spaces and allow for efficient and quiet adjustments. Hall sensors for position feedback and more precise adjustments can also be added.
The TA29 electric actuator will is particularly suited for the adjustment of pergolas. Its optional IP66 rating makes it suitable for outdoor use. It can be equipped with Hall sensors that allow the synchronization of several devices and thus a precise adjustment of the desired shading.
Other solutions are also possible. The industrial actuators JP3 and JP4 are perfectly suited for pergolas adjustment, are compact and can be easily integrated into your devices. The TA16 electric actuator is also suitable for this type of application installed under the pergola roof.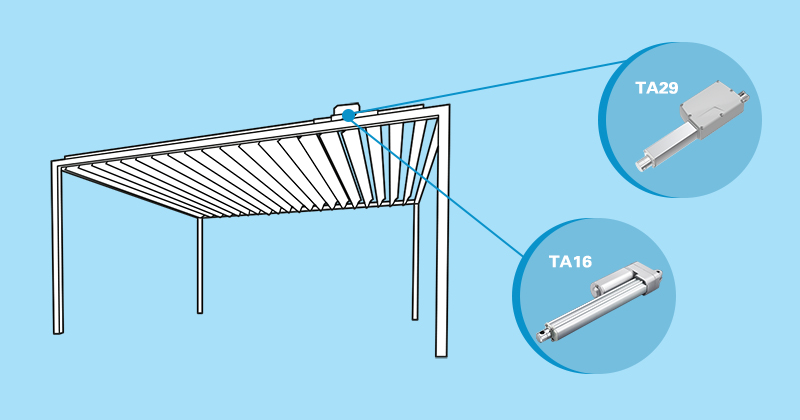 TiMOTION electric actuators are an excellent alternative to hydraulic and pneumatic systems – can be remotely controlled, no fluid leaks or maintenance, and no intervention after installation. Considerable advantages for mechanisms that are usually out of reach on pergolas and roof windows. Unlike other systems, the positioning of the electric actuators is more precise and easier to adjust.
Choose TiMOTION for your automated ventilation and shading systems and contact our local sales department to find the right solution for your project.

Notes:
Clinical Research Association of Allergology and Asthmology
https://www.dekra-industrial.fr/news/qualite-air-travail-comment-ameliorer
https://www.notre-planete.info/environnement/pollution_air/pollution-air-interieur.php
https://www.quelleenergie.fr/economies-energie/eco-travaux/la-ventilation-naturelle