Easy to install and control, electric actuators for natural ventilation systems provide intelligent building management. Compatible with most control systems, they automate windows, skylights, exhaust, and other electric natural ventilation systems. Discover maintenance-free electric actuator solutions customizable to your application needs for energy-optimized environments.
Electric natural ventilation systems for intelligent building management
Air legislation is based on applying strict regulations, especially in places with high concentrations of people, such as buildings, offices, schools, and stores. For good reason, air quality has become a major public health issue.
According to the French Association for Clinical Research in Allergies and Asthma (ARCAA), indoor air is often more polluted than outdoor air. With the increasing use of insulating building materials preventing proper air renewal daily, air quality depends mainly on the ventilation systems in place. This is why companies and consumers are investing more and more in automated natural ventilation systems equipped with electric actuators.
TiMOTION electric actuators for natural ventilation systems can easily automate windows, skylights, smoke vents, and other ventilation systems.
Easy to install, they require little-to-no intervention and are maintenance-free. Electric actuators for windows provide precise movement and are remotely controllable. Therefore, they are particularly suitable for out of reach equipment, which is usually the case for natural ventilation systems.
Windows, skylights, and smoke vents equipped with electric actuators permit intelligent building management and guarantee an optimal indoor environment in all circumstances. They are especially useful in particular environments with specific needs such as machine rooms, greenhouses, animal farms, and any other activity generating dust, vapors, and toxic products.
Electric linear actuator for window and skylight
Skylights, windows, and other ventilation systems with adjustable louvers represent efficient solutions that are much more interesting than mechanical ventilation systems by air extraction and insufflation.
By precisely controlling the degree of ventilation in buildings, a ventilation system equipped with electric linear actuators allows for natural air renewal and temperature regulation. It is an economical and environmentally friendly alternative to other mechanical air conditioning systems.
These solutions often benefit from tax advantages since they support energy efficiency projects, a topic of particular relevance given the world's focus on climate change.
TiMOTION electric actuators are specifically designed to automate your windows and skylights.
Made of high-quality extruded aluminum, TiMOTION's electric actuators withstand the harsh conditions of buildings and the repeated movements of your equipment. Their high load capacity allows them to operate any type of window, even the largest.

Electric actuator for smoke and ventilation system
Natural Smoke and Heat Exhaust Ventilators are mandatory for fire and chemical incident prevention measures. Smoke vents equipped with electric actuators allow the rapid evacuation of heat, smoke, and toxic gases in an incident, thus preserving building safety.
TiMOTION manufactures different types of electric actuators for smoke exhaust systems and other ventilation systems with adjustable slats.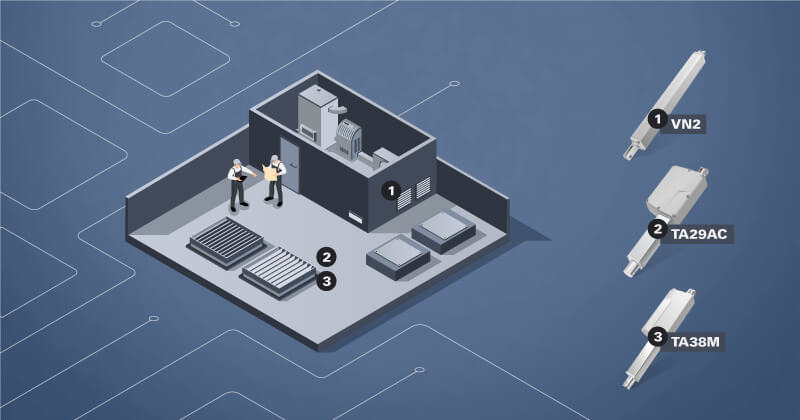 Compatible with most control systems, TiMOTION electric actuators for natural ventilation systems are particularly easy to use since they do not require hoses, pumps, or compressors. Windows, skylights, and exhaust systems can be operated and programmed with a simple command.
With increasingly connected and intelligent systems, it is possible to imagine autonomous natural ventilation solutions adjusting in real-time according to weather fluctuations and indoor temperature. Connected to the central heating system, natural ventilation systems allow for precise thermal regulation of environments and reduce heating and cooling needs, positively impacting operating costs.
TiMOTION electric actuators for windows can be equipped with an optional IP66 rating, making them particularly suitable for equipment interacting with the outdoors and subject to the elements. Highly customizable, they can be easily integrated into Building Management Systems and adapted to your application's specific needs.
Today, modern design favors natural light in buildings. The increasing number of windows and skylights requires simplified, global, and automated management systems. Are you looking for an electric actuation solution for your natural ventilation system?
Contact our local sales department for assistance with your project!