Forward-thinking, highly profitable industrial enterprises take ergonomics into account when doing the math on their workstations' design. Why? It's not just because a sub-optimally designed production environment can act as a needless energy drain, compounding worker-related strain, furthering fatigue, and increasing workers' health risks.
It's all about accounting, the bottom line, and the small losses that add up when otherwise industrious employees are forced to adapt their workflow to inflexible, obsolete, and inefficient work consoles.
Here's how it adds up: Industrial workstation-generated inefficiency triggers productivity losses. Productivity is time, and time is money. Thus, money is a key variable in the equation of profit or loss in an enterprise's accounting ledger.
TiMOTION offers complete solutions for many industrial applications, including our industrial workstations with height-adjustable consoles. Our electric linear actuators and lifting columns support the design of industrial workstations that enable users to adopt an ergonomic, hassle-free work position adapted to their specific body types.
The result: Optimal worker productivity at the cost of minimum fatigue for maximum profit.
Profitable Ergonomics
TiMOTION's Ergo Motion solutions design workstations with ergonomics in mind to advance a healthy, creative, and more efficient workplace. We've told you this before, but it's worth repeating: Workplace ergonomics' importance stems from its goal – To fit the employee's job by maximizing their strengths, instead of the other way around.
An ergo-friendly workstation is an empirically effective and yield-returning countermeasure to the virulent front-line factory productivity parasite – work-related, repetitive motion musculoskeletal disorders (MSDs). On-the-job MSDs are responsible for numerous lost-time injuries, resulting in lower productivity and higher worker compensation premiums for employers.
For over two decades, government regulators – including the U.S. Occupational Safety and Health Administration (OSHA) – have sought to reduce workplace MSDs and promote ergonomics' health benefits. After a ten-year study, OSHA estimated in 2000 that $1 (USD) of every $3 spent on workers' compensation stemmed from insufficient ergonomic protection and that the direct costs attributable to MSDs were $15 billion to $20 billion per year, with annual costs reaching as much as $54 billion ($78.3 billion in today's U.S. dollars, adjusted for inflation).
Beneficial ROI: The good news is, studies show there's great profit potential for companies that embrace ergonomics. How profitable? A large U.S.-based, multinational electronics manufacturer realized productivity increases of 37 percent, $100,000 (USD) per year in labor cost reductions, and overall savings of $2.1 million annually. The return on investment (ROI) on the manufacturer's $355,000 ergonomic investment was 1,675 percent.
Bonus: Ergo-friendly workstations help spur a healthy productivity boost through improved motivation and reduced absenteeism. Whether sitting in an office or standing at an industrial workstation, keeping employees productive and healthy throughout the day is a worthwhile, attainable, and profitable objective.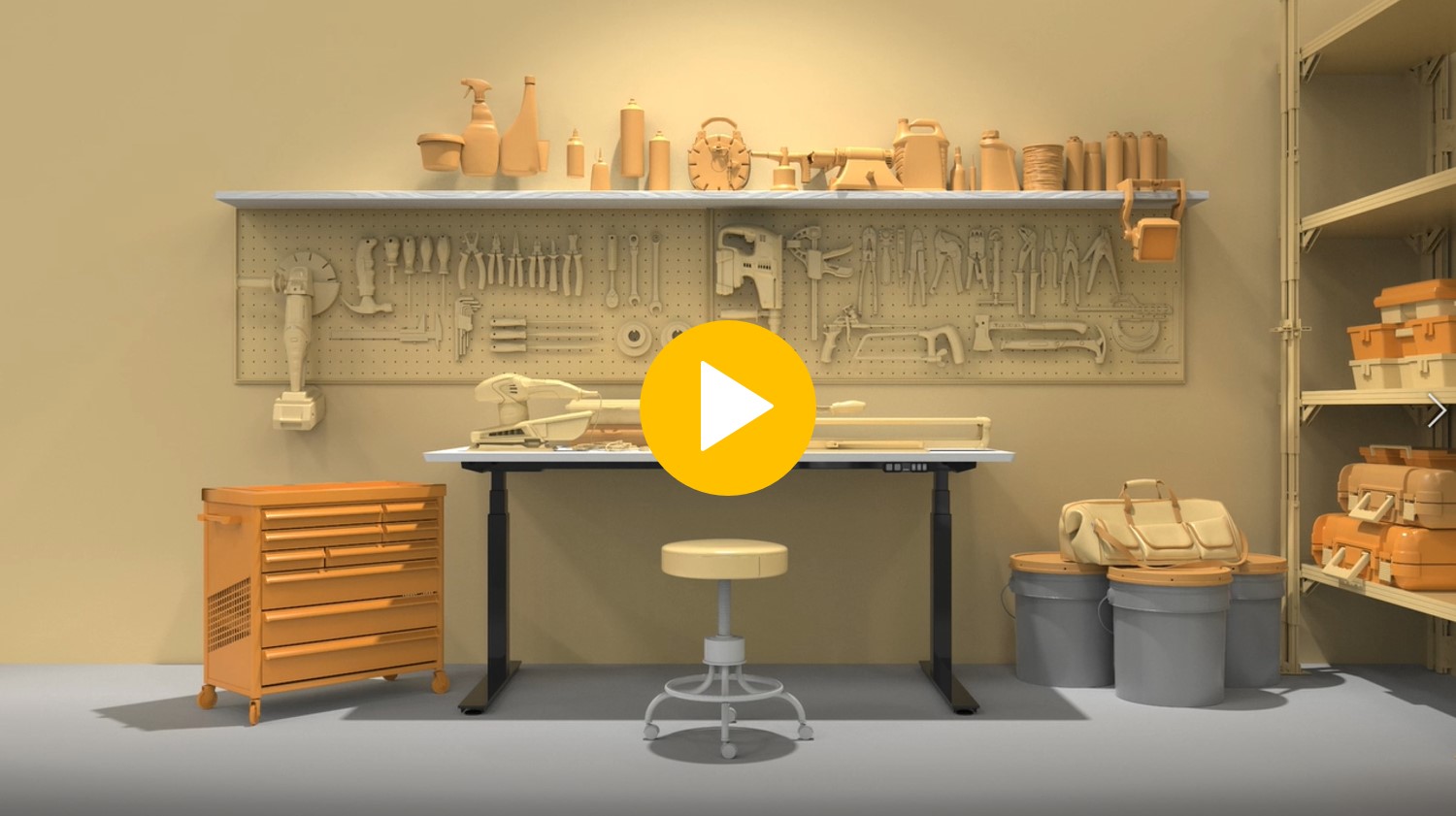 TiMOTION's Industrial Workstation Solutions
Partnering with leading ergonomic furniture manufacturers worldwide, TiMOTION strives to continuously offer the most customizable height-adjustable workstations with extra add-on features and accessories to fit in the home, workplace, or industrial work setting.
Our electric height-adjustable workstation TEK or TiMOTION Ergo Kits are innovative, ergonomic work surface solutions that can adapt to each worker's individual needs. Each kit contains all of the necessary components, including electric lifting columns, controls, control boxes and software, wiring, and assembly hardware to minimize installation requirements. TEK frame kits are available in multiple colors with different styles of columns and optional accessories to enhance the user's experience.
TiMOTION produces fully customized products that meet only the strictest quality standards, especially compared to other manufacturers that produce standard or non-customizable options. We can provide a complete system using our columns, control boxes, and handsets for multiple height-adjustable configurations.
To control work surfaces quietly and smoothly with synchronous movement, we connect multiple TL series lifting columns with compatible TC series Control Boxes and TH/TDH series controls. All Ergo Motion TC series control boxes have a less than 0.1W standby power option that reduces power consumption. Our wide range of columns offers customers the solutions they need to satisfy their working environment project requirements.
Durable Electric Lifting Columns – H Series
TiMOTION's TL series lifting columns are specifically designed for use in ergonomic desks and worktables.
To provide powerful and durable heavy-load workstation solutions, we designed a new H series of heavy-duty lifting columns: TL10H, TL12H, TL15H, a reliable choice for industrial workstation, console, and packing table applications.
TL10H

TL12H

TL15H

Max. Load

1200N (120KG / 264 lbs.)

Max. Speed at Max. Load

15 ~ 17mm/s

Dimension of Outer Tube

80mm x 60mm

Stages

3-stage

3-stage,

upside down

2-stage
TDH27P: TiMOTION's Sturdy and Ergonomic Hand Control for Industrial Worksites
TiMOTION's newest addition to the TDH series is the TDH27P. Specially designed for height adjustable mechanisms in industrial worksites, the TDH27P is a unique hand control. Equipped by a sturdy outer case, an IP66 rating, and electrostatic discharge (ESD) protection, the TDH27P is highly durable in harsh environments filled with grease and dust.
The hand control's large-sized buttons and embossing make operation fun and easy, even for operators wearing gloves. The TDH27P also supports two preset positions, one functional button, and a visible digit display.

Do you want to know more about our Ergo Motion height-adjustable workstation solutions? Please contact your local sales department.