Improve industrial warehouses with TiMOTION electric lifting systems. Actuators for intelligent material handling equipment enable the automation and optimization of logistics flows. Compact and easy to install, they are maintenance-free and durable.
Industrial warehouses have steadily increased in number and size over the past few decades to meet the demands of a growing and borderless consumer population. The massive multiplication of online purchases and the ever-increasing requirements for fast delivery times and adequate quality have led to the transformation of warehouses, a reorganization of logistics processes, and the development of increasingly efficient automated handling equipment.
Improving industrial warehouses with intelligent material handling equipment
There are many challenges to remaining competitive in an often-saturated market while also complying with safety, quality, hygiene, and environmental standards.
Developing intralogistics equipment that incorporates electric linear actuators has made it possible to meet this challenge. They continue to meet the needs of professionals while optimizing the management of logistics flows and costs and preserving the safety of the workers on site.
Material handling machines take over repetitive or tedious tasks with electric lifting systems and automate the entire supply chain. By reproducing human gestures with incredible speed, efficiency, and precision, electric actuators enable the implementation of a 24/7 operation. This improvement in productivity and the optimization of processes and resources has a positive impact on costs.
In addition, automating handling equipment improves order processing and service quality by limiting the risk of storage and picking errors through real-time computer monitoring systems.
At the same time, automated intralogistics equipment makes it possible to rethink work environments ergonomically and simplify handling processes. Thus, repetitive and tedious tasks are entrusted to machines, and the labor force is redistributed by capitalizing on tasks with high added value. This transformation reduces the arduousness of logistics work and the number of accidents, preserving the staff's safety and comfort.
Discover how to improve material handling equipment with TiMOTION electric lifting systems.
Improve material handling equipment with compact and easy-to-install electric linear actuators
Our electric linear actuators for automated handling equipment are specifically designed to withstand high loads and meet industrial requirements. For a high level of protection, they can be equipped with an IP66 or IP69K option.
Compact and easy to install, they are compatible with most industrial control systems and all kinds of intralogistics equipment: lifting table, forklift truck, Automated Guided Vehicle (AGV), Autonomous Mobile Robot (AMR), pallet truck, tow train, etc.
They are maintenance-free, require no special installation work, and have a long service life. Therefore, they are an ideal alternative to pneumatic and hydraulic systems. Therefore, they are an ideal alternative to pneumatic and hydraulic systems, as they do not involve any inconvenience related to fluid leaks and air compressors; making them particularly practical and easy to use.
Our electric linear actuators for lifting equipment can be equipped with position sensors allowing feedback of the position and thus a precise and programmable control of the devices.
Some come with an optional T-SMART function. This innovation allows the design of particularly compact and intelligent lifting systems with the synchronization of up to 8 electric motors and real-time monitoring, ideal for complex and autonomous automated systems.
Electric lifting solutions for high-performance handling equipment
TiMOTION industrial electric actuators provide reliable and efficient movement of your lifting tables, battery-powered vehicles (AMR/AGV), pallet trucks, and other automated intralogistics equipment.
The MA2 heavy-duty electric actuator for lifting table can push up to 8,000 N. It has been specifically developed for harsh environments and is available in 12, 24, and 36 V DC. It is ideal for stable and smooth overhead movement.
The powerful MA3 electric actuator for pallet jacks can push up to 10,000 N. It is particularly robust and can be used singly or in synchronized pairs for even higher load capacity and more reliable movement.
The MA5 compact lifting system for autonomous logistics vehicles can lift up to 3,500 N. It is particularly compact and can be easily integrated into the smallest logistics robots while remaining powerful.
Check out our dedicated article to learn more about our electric linear actuators for Autonomous Mobile Robots (AMR) and Automated Guided Vehicles (AGV)!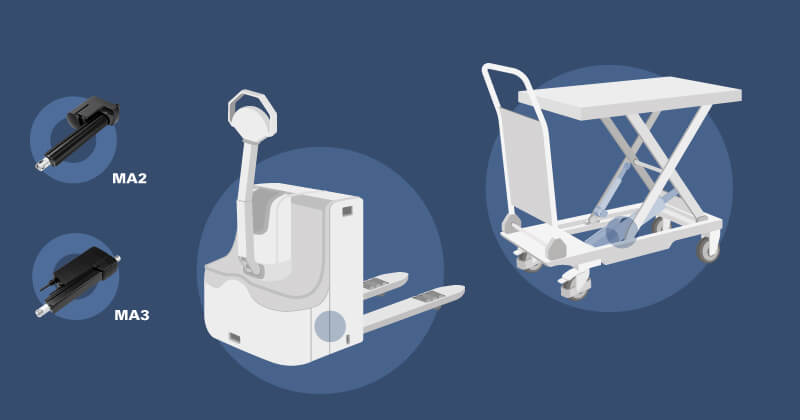 Electric actuators are also used to automate the cabs of intralogistics vehicles (mirrors, hoods, steps, etc.), such as forklifts, and provide greater functionality and comfort for drivers.
The MA1 electric actuator for intralogistics vehicle cabs can push up to 4,500 N. Particularly versatile, it is specifically designed to support industrial requirements and adapts to any type of need.
The JP3 and JP4 electric actuators for forklifts are remarkably compact. Their in-line design makes them easy to integrate into any type of moving element.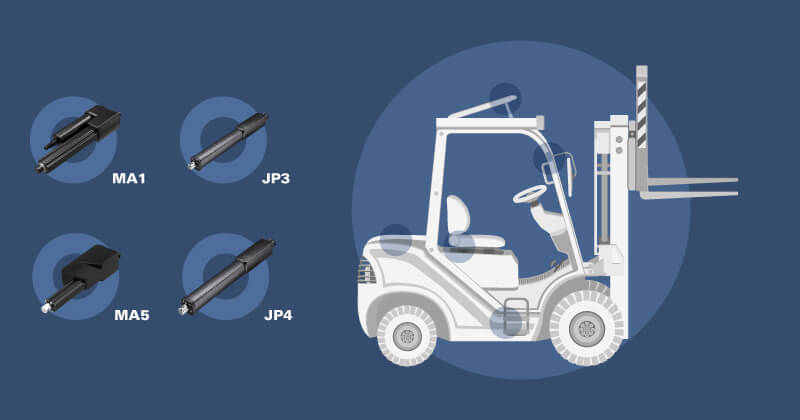 TiMOTION provides complete and highly customizable industrial lifting solutions for your intralogistics applications. Are you looking for an electric actuator to automate your handling equipment? Contact our local sales department and get tailor-made support for your project!
Ergonomic and adjustable workstations also play a role in the transformation of industrial warehouses and the well-being of users. Check out our article on electric lifting systems for industrial worktops to learn more.