Throughout history, people have sought to simplify their daily tasks and provide for their needs using the force of water, wind, or animals for construction or farming purpose, for example. Thus, the concept of automation took form at the beginning of the work's very existence. However, the term only appeared in 1947 when Henry Ford introduced the division of labor and rates in his company to improve productivity. It was not until the '60s, with the first computers and robotics' birth, that automation gradually became what it is today - a system that relies less and less on humans, and more and more on machines, for low value-added tasks.
Why automation with electric actuators?
The goal of automation is to reproduce human actions more quickly and efficiently to limit the risks of error and accident. Therefore, it has an appropriate place in a logistics organization. Electric actuators are an innovative solution for intralogistics. Automated equipment enables the optimization of logistics' flow management and improvement of the service's productivity, an essential factor for any company that wishes to remain competitive in a sometimes-saturated market. For companies aware of the latest trends and looking for innovative solutions, the automation of intralogistics equipment is now possible with electric actuators.
What's the impact on intralogistics processes?
Warehouse automation has many advantages: it increases the order processing efficiency and speed, reduces costs, and the number of storage or picking errors.
Equipment with electric actuators offers an increased level of precision, enabling manufacturers to provide a better service and to optimize their resources – thus reducing cost and environmental impact. With improved productivity, cost control, and resource optimization, logistics services increase their efficiency. Moreover, automated equipment enables us to rethink working environments ergonomically and to preserve users' comfort and safety. Repetitive tasks are assigned to machines, helping to reduce the drudgery of work, the risk of accidents, and to promote workers' well-being, which reduces absenteeism.
Which equipment?
TiMOTION offers a full range of industrial electrical solutions that fit a multitude of equipment and optimize warehouses and the supply chain.
Handling equipment
Automated handling equipment eases inventory flow to optimize storage. Lifting tables and arms allow heavy loads to move, ensuring users' safety.
Forklift cabins also can be automated for even more comfort.

TiMOTION's solution for forklift cabins and lifting tables
TiMOTION designed an industrial electric actuator that suits forklifts and lifting tables: the MA2 electric actuator. Robust, it can handle up to 6,000 N and has an optional IP69K rating providing a high level of protection against dust, chemicals, and high-pressure water jets. Its optional Reed sensors allow stroke adjustment from the outside, making it even easier to use.

Electric actuators can also equip forklift cabins to provide the operator with a more comfortable and ergonomic environment.
The TA37 electric actuator's seat height can be adjusted. It can push up to 12,000 N and offers a smooth movement that makes the adjustment comfortable. The JP4 in-line actuator can operate the step. Robust and compact, it's particularly suitable for narrow spaces. For the automatic opening and closing of the roof window, our TA38 electric actuator, compact but powerful, is ideal.
Our MA2 can control the hood, which can also adapt to this type of application. Our MA5 industrial actuator, particularly efficient in outdoor environments, is ideal for mirror adjustment.

Our industrial electric actuators can easily be integrated into any type of existing system and give handling equipment better performance and ease of use.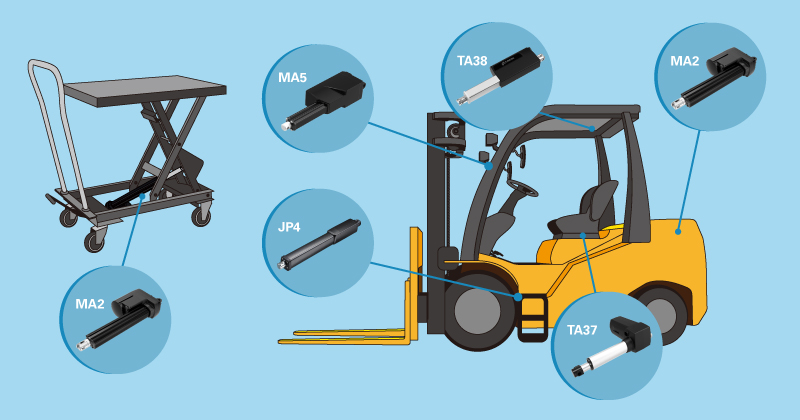 Industrial workstations
Since the focus is to bring more safety and comfort to users, it is possible to arrange logistics workstations to make them ergonomic.
With adjustable worktops or shelves, the user can adapt his working station to his specific size or mobility for greater well-being. Studies show that the working environment is an important feature to promote employee motivation, productivity, and limiting absenteeism.
Height-adjustable equipment allows users to adopt an ergonomic posture, which helps to limit musculoskeletal disorders, to work in a comfortable environment, and consequently to be more efficient. Variable-height work surfaces allow users to alternate sitting and standing postures, which is very beneficial for their health.
TiMOTION's solution for industrial workstations
TiMOTION offers a complete solution that perfectly meets the need to automate logistics workstations.
For work surface height adjustment, our TL10H electric column offers a smooth and silent movement. Its discreet design is ideal for integrating into a working environment. A TC15P control box will synchronize two columns to adjust the work surface. It has an additional port for connecting an external battery that makes the system autonomous and eliminates the need for visible power cables. Adding a T-Touch anti-collision system can protect industrial workstations from possible material damage and use Bluetooth technology to control the system remotely. This new generation control box also reduces standby power consumption by 0.1W. The TDH8 handset will be able to control the system. It works with the Bluetooth receiver TWD1.

Our innovative TA48 recessed lifting system provides shelf adjustments. Built into a wall or furniture, it allows the adjustment of elements while maintaining a clean design. Our TC15P control box allows the synchronization of two columns, offering a smooth and jerk-free movement. Our TDH8 two-button handset controls the entire system.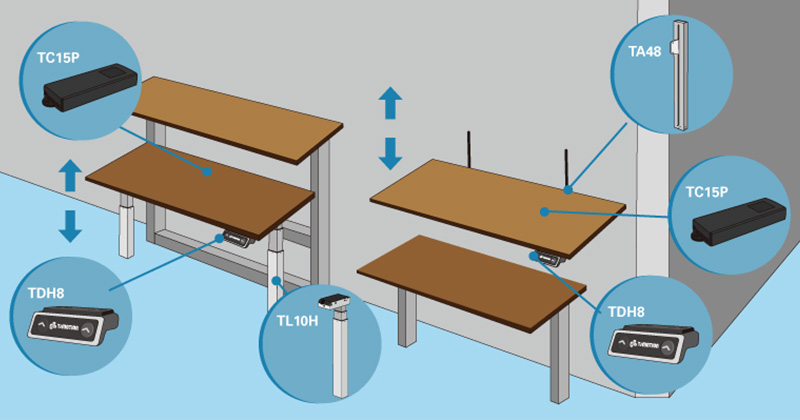 Conveyors and packing machines
Packing and supply chain automation enables faster and more accurate task completion with intelligent resource management. This automation eliminates waste-reducing costs as well as the impact on the environment.
TiMOTION's solution for conveyors and packing machines
The TL17 electric column adjusts the conveyor in height and allows the user to adopt an ergonomic posture on the conveyor chain. It guarantees excellent stability and easily integrates into this type of equipment. Our JP3 in-line electric actuator allows the automatic opening and closing of passage doors for precise process management. Finally, our MA5 electric actuator is ideal for accurately placing objects on the chain. Its robustness and optional IP69K rating make it particularly useful in harsh environments. Also, its optional integrated grease chamber provides an increased level of protection that extends its life.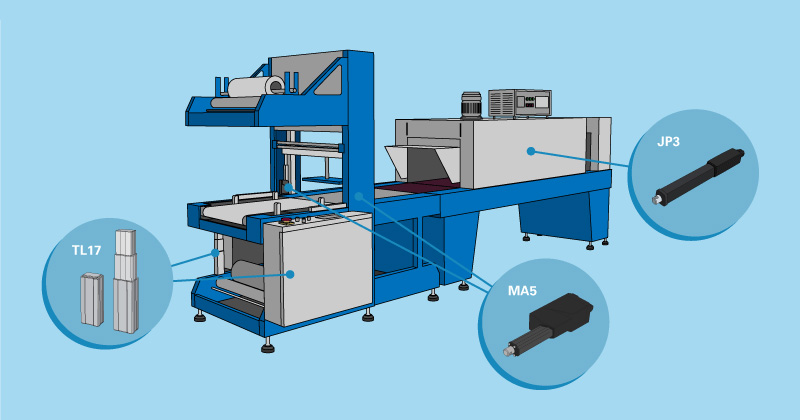 Ventilation systems
Ventilation systems are fundamental to maintain a healthy and optimized environment. Automated windows in the warehouses renew the air, naturally, regulate the temperature, and evacuate any gases or fumes. In the same manner, automatic ventilation systems improve the environment in real-time. TiMOTION offers electric solutions for this equipment automation. Read our article to learn more.

TiMOTION electric actuators are the ideal alternative to hydraulic and pneumatic systems. Maintenance-free and easy to integrate, they adapt to a multitude of equipment to optimize logistics warehouses. Our robust and powerful actuators' design copes with technical constraints. They also come with a high protection rate (IP69K) that meets industrial standards by protecting them against dust or solid components, water projections, and intensive cleaning.

For more information about our industrial electric motion systems, please contact your local sales department!