Original equipment manufacturers (OEMs) know that their ergonomic furniture buyers value energy efficiency and conservation just as much as health and wellness. TiMOTION offers completely customizable and eco-friendly solutions for a variety of applications such as recliners, TV lifts, medical carts, sit-stand desks, and more. This ability to meet the rising demands of environmental management is followed by providing products that meet a high standard of innovation, performance, and safety.
One way TiMOTION is committed to the environment is through energy conservation of our height-adjustable industrial workstation solutions. The average ergonomic workstation design omits power conservation, steadily drawing power and consuming energy.

TiMOTION's electric linear actuators and lifting columns support customized workstation designs that enable users to adopt ergonomic work positions specific to their body type.
TiMOTION's Ergo Motion products are designed to promote users' overall health while minimizing a corporation's operational costs - burn calories, not cash.

Lower energy consumption is environmentally friendly and can lead to potential savings on your electric bill. In commercial buildings, standby power consumption tends to be lower; however, new innovative energy-conserving technology can potentially lower power consumption even more.
What is 'standby power' & how to calculate it.
Did you know that electronic devices, when plugged in, still draw electrical current and are frequently blamed for wasted electricity costs? This constant energy drain can cost business facilities and individual households hundreds of dollars per year – simply by being plugged in.
Standby power "wakes up" connected and plugged-in electronic devices - from 'STANDBY' or 'SLEEP' mode to 'READY' mode. When not in use, connected and plugged-in electronic devices default to 'STANDBY POWER' mode, drawing less power. It can also be referred to as 'vampire power,' auxiliary, emergency, reserve, or secondary power.
Source: The National Resources Defense Council (NRDC) energy consumption study
How expensive is standby power?
The cost of standby power to a company can significantly add up as an overhead multiplier depending on how many inefficient energy-draining workstations are used. In addition, runaway standby power consumption can adversely impact a company's ability to qualify for LEED or Greenguard certifications or various government environmental standards that reward companies with tax incentives for "Going Green."
Approximately $19 billion (USD) worth of electricity is consumed by in-home devices that are always on or in idle states – equal to the output of 50 large powerplants – according to the National Resources Defense Council (NRDC).
Here's an example of potential savings for a commercial facility with 100 sit-stand desks: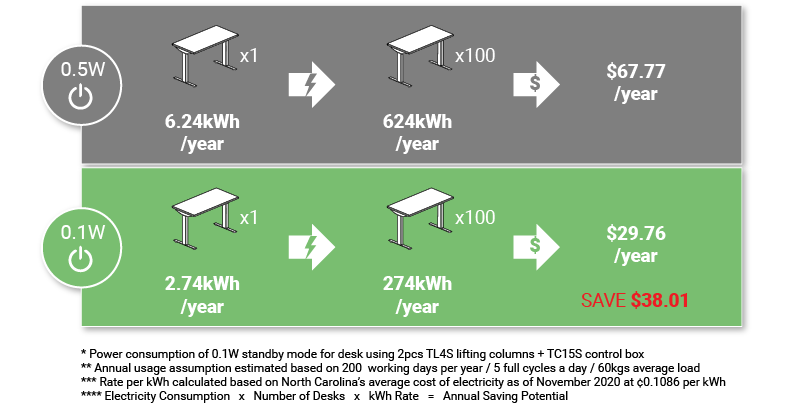 All electric devices (monitors, TVs, computers, etc.) draw power when plugged in. By lowering the standby power, less energy is consumed. Keep in mind, a $38.01 potential savings may not seem that significant at first glance, but every cent saved adds up to dollars that can be better allocated for company or personal resources.
TiMOTION's Innovative Height-adjustable Desk Solutions
TiMOTION's talented teams of innovators and engineers continue developing and refining low standby power technology, including height-adjustable desk applications. Depending on the application's required components and functionality, we offer customized software to ensure your system's components' compatibility.

Control Boxes
To ensure a perfect fit for height-adjustable desk applications, TiMOTION has developed a wide range of control boxes – the brains of our linear actuator systems – that can be customized for your needs. Now keep in mind, the lower the standby power consumption, the longer it takes a device to "wake up." TiMOTION's control box innovators have engineered versions that power up more quickly as required. Each TiMOTION control box includes the following features:
Power Consumption Reduction: reduced from 0.5w to <0.1W.
Built-in SMPS Transformer: switched-mode power supply for safe and efficient power conversion.
<0.1W Standby Option: all Ergo Motion TC series control boxes have a <0.1W standby power option that reduces energy consumption, although it can take longer to "wake up."
TiMOTION constantly strives to adapt, improve, and overcome mechanical limitations to deliver greater efficiency. With our more recent TC control box models, such as TC15S and TC15P, we further enhanced the wake-up time by employing a "quick start" SMPS transformer. For several configurations of these select models, the wake-up time can be less than 100 milliseconds.
In addition, the SMPS transformers in our Ergo control boxes and their ability to incorporate voltage input from 100V~240V permit usage anywhere in the world, provided you order it with the country-appropriate AC power plug.
Lifting Columns
Our wide range of lifting columns offers customers the solutions they need to satisfy their project requirements. TiMOTION's TL4S series lifting columns are specifically designed for use in ergonomic desks and work tables. Using multiple TL series lifting columns with compatible TC series control boxes and TFH/TDH series controls, work surfaces can be controlled quietly and smoothly with synchronous movement.
Hand Controls
The TDH20P handset is equipped with two USB charging ports, allowing users to charge mobile devices directly without buying additional charging accessories. It features real-time height display, favorite position memory, safety lock, and other characteristics all TiMOTION handsets possess. The TDH20P is a perfect new option for customers who require a handy USB charger on their office desk.
TiMOTION Can Help You Save Money Today
Electric actuators are environmentally friendly and require less maintenance and upkeep compared to hydraulic and pneumatic systems. With the increased use of solar, wind, and water power, demand for clean power production grows, and TiMOTION's electric linear actuators can help boost energy efficiency.
TiMOTION has earned a reputation for reliable, high-quality, competitively priced products that satisfy the needs of the worldwide medical, furniture, ergonomic, and industrial markets. We stand behind our products with an industry-leading warranty.
Our mission to provide our worldwide customers with a wide range of innovative products is matched by our commitment to help you stay green and reduce energy costs. This is evidenced by TiMOTION's recent ISO 14001:2015 environmental management certification.
Do you have a question about our electric actuation technology and how it can help you enjoy energy savings? Please contact your local sales department.