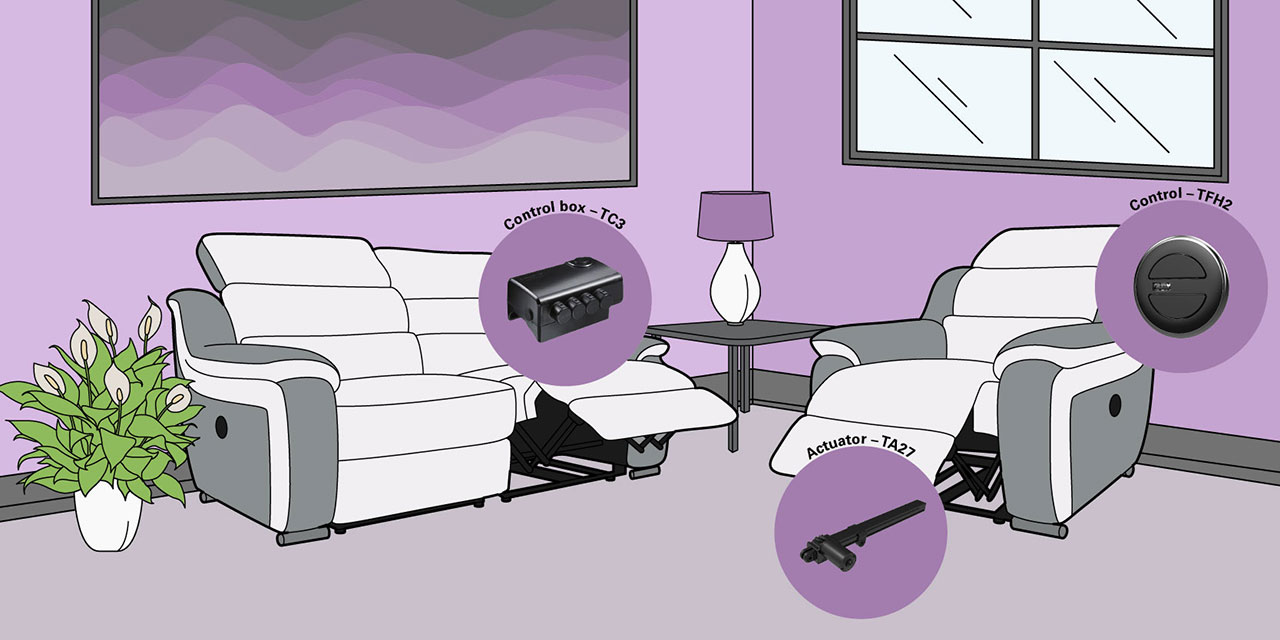 TiMOTION strives to provide customers high-quality products. Our Comfort Motion line brings automation technology into the home, with a focus on furniture applications. We have developed a new electric actuator specifically for recliners to improve user function and benefits.
The TA27 was designed to adjust the leg rest. It can be used to work with zero-wall seating frames and is the perfect choice for recliner movement. This patented actuator is an economical option that conserves space and maintains quality.
It can support 750N in push and pull to easily adjust the position. It's a quiet actuator (<59dB) with high speed (32mm/s) to improve the user experience.
The TA27 can be designed without a control box connection. Instead, it can be directly connected to the hand control for a simple and economical alternative. For more elaborate options, you can equip the system with a control box and hall sensors for positional feedback.
With our embedded, hand-held, and wireless handset options the user can easily manage and adjust their positioning. The handset memory function allows the device to record the positions most commonly used.
Adding movement at home will increase the comfort for the user.
Our Complete Solution:
Our TA27 actuator for comfort furniture is compatible with our control boxes and controls, allowing you freedom of design.
Connect the actuator to our TC3 control box and operate it with our intuitive control TFH2.
Combined with the embedded TFH2 handset and TC3 control box, you can adjust your position for maximal comfort. The USB charging socket available on the embedded handset allows users to charge electric devices while comfortably remaining in the recliner.
Contact us to define an electric actuator solution for your recliner.