Today, industries of all sectors are evolving in the context of growing competitiveness. With ever-increasing demands in productivity and customer satisfaction, competitiveness is no longer limited to simple products and raises new challenges. Companies strive to differentiate themselves and invest in industrial robotization. Automated by gear motors and electric actuators, industrial robots, such as Automated Guided Vehicles, are increasingly found in industrial sites and large warehouses.
Optimizing industrial processes with Automated Guided Vehicles
Automated Guided Vehicles (AGVs) are 100% autonomous transport and handling robotic devices that move goods without human intervention.
They handle all repetitive and non-strategic handling tasks that do not require specific human skills – inventory management, moving goods, discharging containers, replenishment, or evacuation of production end lines. Infinitely configurable, AGVs follow programmed guide paths and adapt to any type of environment, including tight spaces.
These devices allow handling and production processes optimization by making fast, precise and efficient movements. They improve productivity and reduce material damage and labor costs. They also allow precise adjustment of goods transport according to the production flow and adapt to a wide variety of surfaces and operations, making them particularly flexible and versatile.
Human capital enhancement through industrial robotization
By using robots for some low value-added tasks, industries have the opportunity to free up human capital and redistribute it to more strategic functions with more fulfilling career prospects for employees. In this way, companies can focus on other areas such as innovation, quality and customer service, which will enable them to create more value and remain competitive in the market.
AGVs also relieve workers from tedious and repetitive tasks that can eventually lead to fatigue, musculoskeletal disorders and absenteeism. Under improved working conditions, goods come to man. He is no longer executor but master of the smooth running of industrial processes and automated equipment operation. The working environment thus becomes more comfortable and conducive to well-being and motivation.
Gearmotors and electric actuators for Automated Guided Vehicles
TiMOTION offers a complete range of gear motors, industrial electric actuators and electric columns that can be easily integrated into your automated systems.
To raise or lower a load, we offer the MA2 industrial electric actuator. It is particularly robust, and can push up to 6,000 N. It is possible to synchronize two actuators to double the load capacity as required. The MA2 electric actuator can be equipped with optional reed sensors as start and end switches, ideal for easy adjustment of the stroke by the user and to bring more versatility to the vehicle.
The TL17 or TL3 electric columns are also suitable for vertical load movement. Their stable movement allows safe and reliable adjustment.
For horizontal movements, the TA2P electric actuator is perfectly suited. Notably, it will allow a load to be moved from one support to another. It can also push up to 3,500 N, while maintaining a compact design that makes it easy to integrate in a small space. Its optional Hall-effect sensors will allow more precise position feedback and adjustments.
The TGM gear motor will allow an articulated arm to be operated for quick and precise equipment adjustments.
Finally, the TA38 electric actuator allows the adjustment of any type of accessory (lamp, camera, etc...). It is compact, which makes it ideal for applications requiring a small design and it can reach a 1,500N force despite that small size. Also, its optional Hall effect sensors, allow position information feedback, which is practical for this type of system.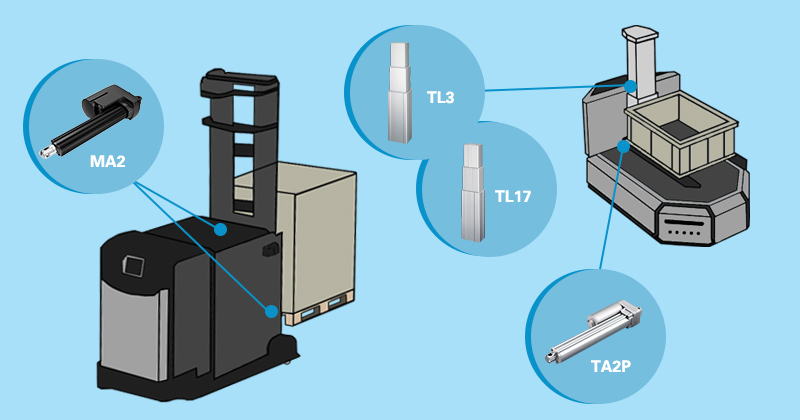 TiMOTION industrial electric actuators are the ideal alternative to pneumatic or hydraulic systems. With no fluid leakage or maintenance, they are easy to install in your equipment and can be adapted to any type of existing system. The stroke is also customizable according to your needs.
We adapt our electric actuators to your specific needs. Aware of the variety of Automated Guided Vehicles and their specific needs, we study your project and provide you with the most suitable solution. Discover our range of robust and high-performance industrial electric actuators on our website.
For more information about our electric actuators for Automated Guided Vehicles, please contact a sales representative!