Increase in Elderly Population
The 21st century has been marked by an increase in the aging population. Improvements in healthcare, access to medicines, the democratization of specialized medical institutions and specific facilities, have made it possible to increase life expectancy all over the world. As a result, older people proportion in society has increased, with an expected acceleration in the coming years. By 2050, the world's population will include 2 billion older people[i].
Everyone wants to age in good health and maintain the best quality of life for as long as possible. Automation is a major challenge for medical industries. It is necessary to rethink equipment for the elderly and their needs, allowing them to live more freely and independently.
Adapted equipment for more autonomy and freedom
Whether it is a question of medical institutions or home use, it is important to rethink the environment of senior citizens. Equipment that adapts to their physical abilities can counterbalance age-related disabilities, such as loss of mobility, and reduce the risk of falling or other domestic accidents.
One-third of senior citizens are affected by falls at home. Therefore, the objective is to provide more ergonomics, safety, and comfort, so that they can continue to carry out their daily tasks without difficulty. This reduces fatigue caused by tasks becoming tedious with age but also brings more serenity to people, who can move around their environment with confidence.
Ergonomics throughout the home thanks to electric actuators
Electric linear motion systems are ideal for equipping home furniture, to make it more ergonomic, and to allow adjustment by a simple control in a fast and smooth way.
Ergonomics concerns all parts of the home:
Bedroom: A medical bed that has an adjustable height, headrest, and footrest, allowing patients to have an easier time getting up and sitting.
Bathroom: An electric actuator can be used to equip toilets to adjust the height, in order to help people get up. There are also showers and bathtubs specially designed for people with low mobility. A sliding door allows an individual to step into a tub/shower with a reduced risk of falling. An adjustable seat allows users to wash without tiring and in complete safety. Ergonomic toilet facilities allow elderly people to take care of their hygiene without assistance and thus preserve their privacy.
Kitchen: Variable height work surfaces or wall units allow autonomous cooking, adapting to individuals' size and mobile capacity (including wheelchairs), and safe access to the necessary equipment.
Living room: Older people spend more time sitting, so it is important that they can benefit from safe and ergonomic equipment to avoid any discomfort or pain. A reclining and/or lifting chair with a leg-rest can help with sitting and lifting by providing more safety and comfort for users.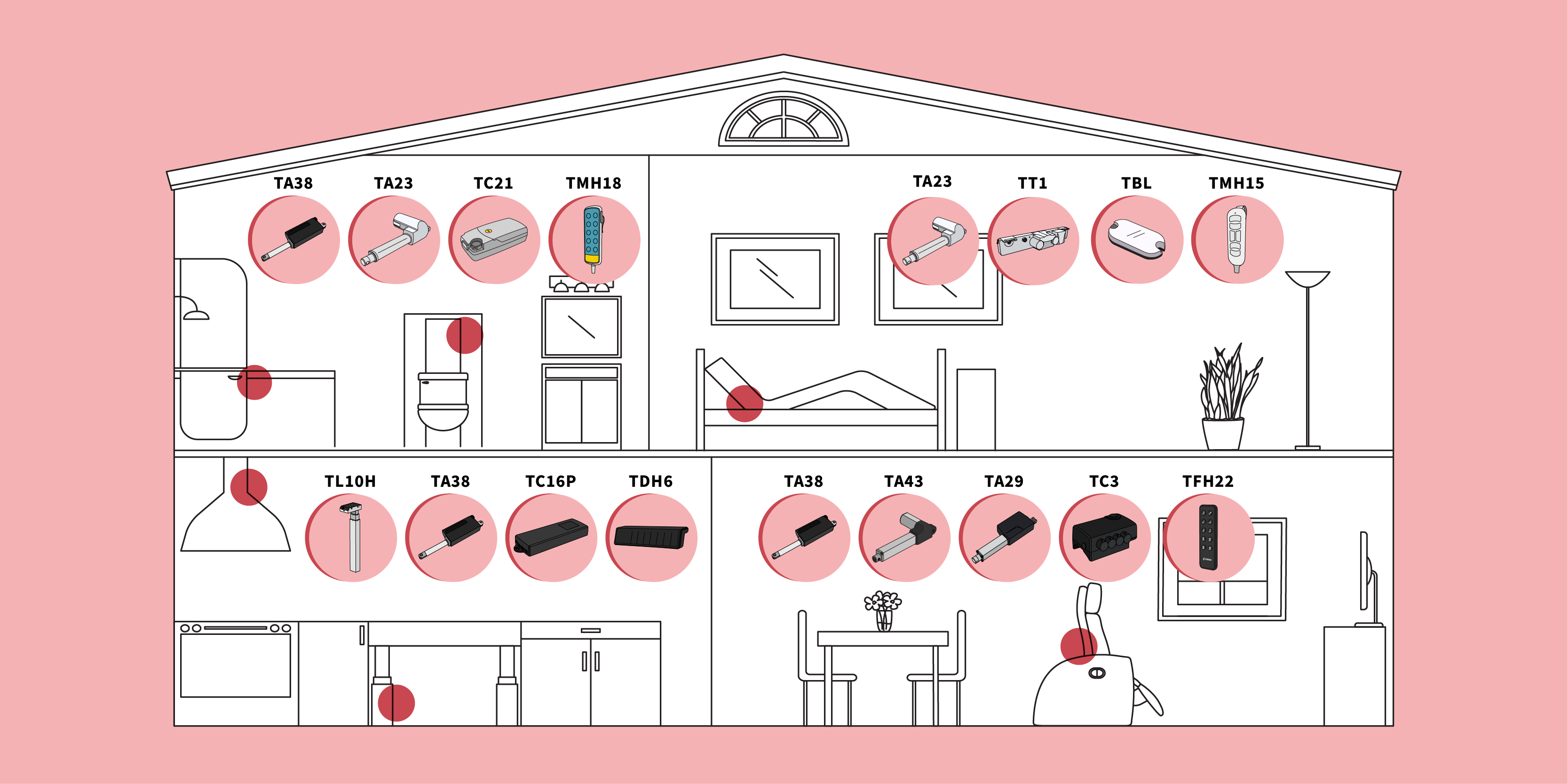 TiMOTION's Solution
TiMOTION offers complete solutions to automate home equipment and make its use more ergonomic and comfortable. Thanks to their quiet system, our actuators integrate perfectly into environments requiring serenity. Their smooth movements allow a stable and safe actuation, ideal for providing more comfort to the elderly.
Medical bed: With its compact design and 10 000 N load capacity, our TA23 is ideal for height adjustments. Also, it offers the possibility of integrating the control box directly on the actuator, which saves additional space in the installation. The TT1 is specially designed for home care and patient care facility beds and works for back and leg adjustment. Their Hall effect sensors allow feedback of position bringing more comfort to the user. This solution doesn't need an additional control box since it is directly integrated into the TT1, and can simply be adjusted with our ergonomic TMH15 hand control. It is also possible to add a bed bottom light with our TBL for more safety.
Adjustable height toilet and ergonomic shower: Our TA23 is also suitable for adjusting the toilet's height. Its IP66W makes it particularly effective in wet areas, such as bathrooms and allows it to cope with water jets. For shower cubicles or ergonomic bathtubs, the TA38 will be well suited for actuating a sliding door thanks to its space-saving design. For the adjustment of a seat inside the cab, we recommend the TA23 because of its robustness which will support the weight of users. These actuators work with the TC21 control box and can be easily adjusted with our TMH18 hand control.
Variable height worktops and furniture: Our TL10H electric column fits perfectly into kitchen worktops. Robust, stable, and quiet, it has a high load capacity and a modern design that can be easily integrated into a domestic environment. For variable height wall units, the TA38 will be well adapted. In addition, it can be equipped with Hall sensors allowing position feedback and can be adapted to both furniture and kitchen hoods. Our solutions are used with the TC16P control box with anti-collision technology integrated, and the TDH6 design remote control, with memory options.
Tilting and/or lifting chair: The electric chair has at least 3 actuators to ensure optimal comfort. Our TA38 is perfectly suited for backrest adjustment. Its compact design fits easily into small furniture. For the leg section, we prefer the TA43, which allows a smooth adjustment thanks to its fluid and silent system. For the lifting function, the TA29 will be optimal due to its high load capacity. Our TC3 control box, which can support up to 4 actuators, allows the control of all the positions and our TFH22 hand control.
Today, taking care of our elders' daily lives is a major challenge for society. TiMOTION electric actuators and columns automate home equipment and make it adjustable. Thus, senior citizens remain autonomous for longer and can enjoy a better quality of life by feeling safe in their environment. Our electrical solutions allow fluid and silent movements, adapted to this type of use, and make it an ideal alternative to hydraulic or pneumatic systems.
To learn more about our solutions, contact a TiMOTION sales representative!