Actuator for RV
Who doesn't dream of traveling more? Whether going on vacation with family and friends or living out on the open road, recreational vehicles (RVs) are the ideal way to enjoy all the comforts of home while traveling.
Automation technology continues to play an ever-increasing role in an assortment of RV functions. Actuators play a big part in offering smoother, safer, and more comfortable excursions. Electric actuators can be used in several parts of the vehicle to make a small traveling space feel like home.
Cabin Furniture
Reclining chairs remain ever-so-popular to help users relax while on vacation. The TA16 enables the simultaneous adjustment of backrest inclination and leg rest movement, providing synchronized motion with a single motor. It is a quiet and versatile electric actuator that can be equipped with an optional Hall sensor. The TA16 can be paired with the TC14 control to power up to four (4) actuators. The TFH11 hand control, which has a sleek brushed aluminum design and an integrated USB port, allows users to charge their smartphone or other devices easily.
Storage in a restricted space is crucial for comfort. Storage shelves can be hidden near the roof or under the floor and be easily accessed with just a push/press of a foot or hand control. The TA16 can assist in putting spice racks away, which will allow for more cooking and counter space.
Retractable beds, height-adjustable tables, or TV lifts can all be lifted or lowered as needed with the simple press of a button. Check out our lifting columns, just like the TL17, which has excellent stability and a higher stroke with a reduced retracted length.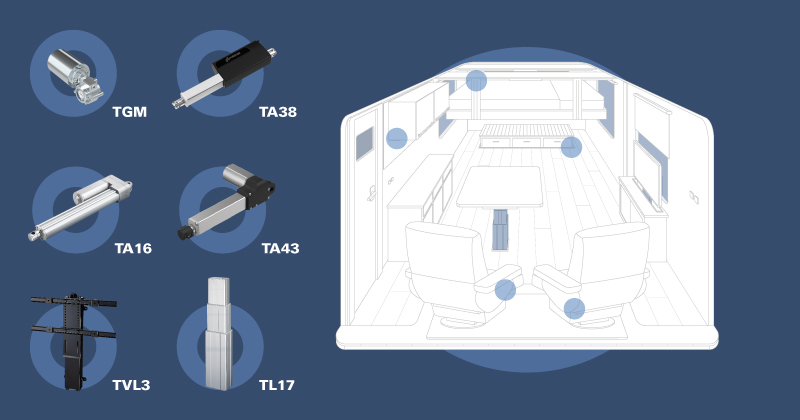 Vehicle Accessories
Space is always limited in a recreational vehicle, so the last thing you want to do is to have to use multiple extension cords to plug in all your devices. We have a solution for you! Electric and USB charger ports can be installed for all your electronic and electrical device charging needs.
Our TFA1 charging port is a great option as it can be integrated into any type of furniture to charge any device that uses a USB cable. The TWC series is specifically designed for mobile device wireless charging when paired with our controls.
Vehicle Exterior
One of the standard features of electric linear actuators is to deploy retractable awnings in order to protect RV occupants from the sun or bad weather. This feature also significantly lowers the user's risk of injury due to manually climbing, reaching, or stretching to deploy the awning.
Here, the MA4 electric actuator is particularly suitable with its load capacity of up to 3,500N and optional IP69K protection.
The MA2 electric actuator, with a load capacity of up to 8,000N, can be installed at the rear of the vehicle and be used to extend a loading ramp. This allows for the convenient loading of heavy or bulky equipment like a motorbike, scooter, or wheelchair.
Actuator automation for recreational vehicles permits the operation of electric slide-outs, making it possible to increase space while providing more comfort and convenience when stopped at a destination. More importantly, this helps reduce the amount of time and effort it usually takes to get everything set up upon arrival at the desired location.
Our MA1 actuator is ideal for slide-outs as it can support heavy loads with a maximum capacity of up to 4500N and is particularly suitable for outdoor environments. It has an IP69K rating; it can cope with harsh weather and withstand cleaning by high-pressure water jets.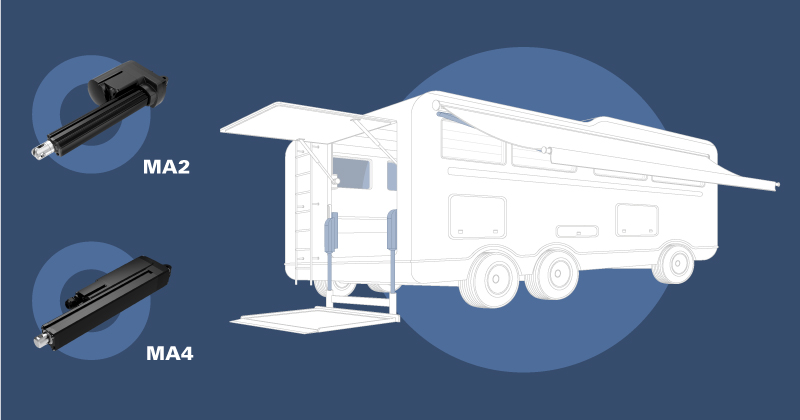 TiMOTION offers a complete solution with an electric linear actuator, control box, and hand control – all are is easy to install and use, which allows for precise and safe movements.
To learn more about our products, contact your local sales department.