Ergonomic innovations with electric linear actuators in the workplace have spurred numerous office productivity enhancements. Today, whether the office is located at company headquarters or in each worker's home – the more efficient the workspace, the more productive the employee.
A poorly designed or ill-conceived work environment can act as a needless energy drain, making it difficult for employees to stay alert and work optimally through their daily tasks. >TiMOTION enhances workplace efficiency through our electric height-adjustable desks, also known as sit-stand desks.
TiMOTION's electric linear actuators and lifting columns support the design of sit-stand desks that enable users to adopt an ergonomic and comfortable work position adapted to their specific body types, resulting in minimum fatigue and maximum productivity.

Healthy Productivity Rise
It is widely accepted as conventional wisdom today that sitting in a chair all day is terrible for a worker's health. Alternating sitting and standing throughout the workday has proven to help increase blood flow, deter back, neck, and joint pain, create better posture, reduce fatigue, and boost energy levels.
Yet, for many office workers, desk jobs are made for sitting. One established approach to thwart this productivity inhibitor is through the use of a height-adjustable desk.
As we've told you, workplace ergonomics' importance lies in its goal to fit the worker's job, rather than the other way around, to maximize the employee's strengths. Sit-stand desks don't just combat the negative impact of sedentary working in the office; the ergo-friendly workstations help spur a healthy productivity boost through improved motivation and reduced absenteeism.
Don't just take our word for it – research shows a 46 percent increase in workplace productivity using standing desks. (Meanwhile, do take our word for how workers can best use a Sit-Stand Desk.)
Ergonomics has been widely, but not yet universally, recognized as the key to a company's success. That's a costly miscalculation. In today's uncertain business climate, it is a competitive disadvantage for a company to ignore ergonomics as a valuable and necessary method to boost worker productivity.
The workplace that embraces the sit-stand desk as a tool to improve employee health and raise morale will see productivity rise to new heights.
TiMOTION's Solutions
As one of the industry's leading manufacturers of height-adjustable desk kits, TiMOTION's Ergo Motion line makes this vital piece of office furniture customizable and more user-friendly to improve employee performance. We have just the electric actuators that can be integrated into any design of height adjustable office desks, allowing safe, powerful, and quiet operation with a touch of a button.
TiMOTION proudly offers a wide range of electric height-adjustable desk frame kit solutions for different workplace desk applications' unique lifting needs. These frame kits typically include electric lifting columns, framing, and a fully functional control system.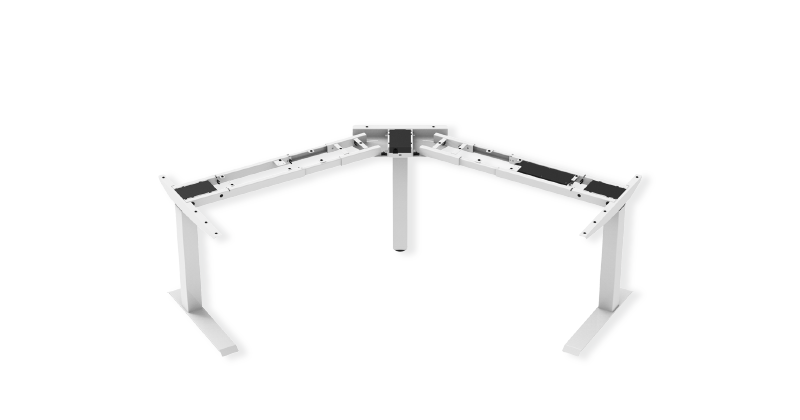 The TEK28 desk frame kit
The
TEK28
is a three-leg, 90 or 120-degree frame kit often used as a height-adjustable command center desk. Its unique design provides easy adjustments for workstation angles, fitting seamlessly to create unique and customizable desk formations.
TiMOTION understands the need for ergonomic office furniture within the modern workplace that is comfortable and healthy for users. We've created an extensive electric lifting column product line based on what workplaces tell us they seek.
Electric columns contribute to furniture optimization and allow silent adjustments on different equipment. TiMOTION's TL4 series lifting columns are specifically designed for use in ergonomic desks and work tables. Using multiple TL series lifting columns with compatible TC series Control Boxes and TH/TDH series controls, work surfaces can be controlled quietly and smoothly with synchronous movement.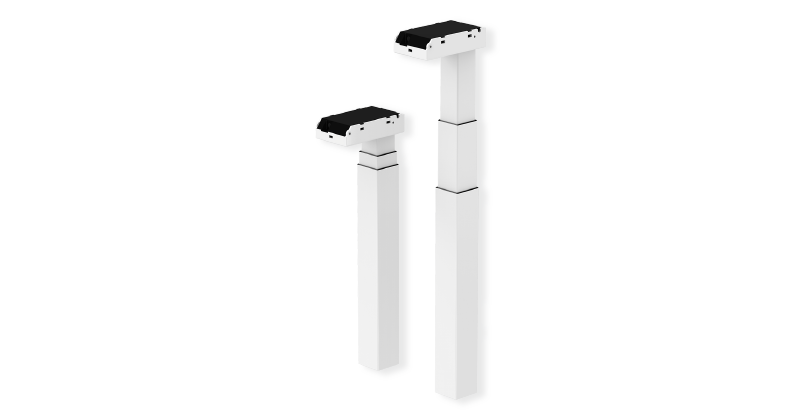 The TL4 has a three-stage telescopic outer tube that is designed for a narrow-top, wide-bottom square appearance.
TiMOTION's engineers have developed, and have continuously refined, a wide-range of
control boxes
– the brains of our linear actuator systems – to ensure a perfect fit for height-adjustable desk applications. Depending on the application's required components and functionality, we offer customized software to ensure your system's components' compatibility.
The TC22 control box supports TiMOTION's hallmarks: customizable software and flexible configuration options, as well as individual, synchronized, or simultaneous movement.
With four (4) motor-driving channels and two (2) hand control interfaces, the TC22 is suitable for a wide range of ergonomic height-adjustable table applications. The TC22, as well as both the TC15p and the TC16p, each incorporate our anti-collision sensor, T-touch. The TC22 also includes Bluetooth, an external battery option, and 0.1W low standby power.
Do you want to know more about our Ergo Motion workplace solutions? Please contact your local sales department.