Railway travel has evolved considerably in recent decades. Customer experience has become a primary strategic focus for train companies, which must adapt their spaces to meet passengers' new needs. Customer feedback is a crucial driver for growth so environments must be beautiful, comfortable, and functional at the same time. Electric actuators are the solution since they make it possible to design ergonomic and adjustable train seats that provide mobility and comfort for passengers.
Train equipment: new ergonomic requirements
Train interior design is at the heart of various strategies to diversify from competitors. Over time, passengers have evolved from simple "users" to real "customers" for the companies. These customers must be satisfied to remain competitive with other transport modes (plane, car).
Even travel habits have evolved. Thanks to connected objects, distance is no longer a boundary to work. People travel and spend more and more time in transit. Thus, the train becomes a real workplace, a meeting place, and also a resting place.
These new habits have also led to the emergence of new needs. The use of computers and smartphones has considerably changed passengers' gestures and postures. The long hours spent on these devices regularly lead to muscular fatigue and other musculoskeletal disorders that are harmful not only for their health but also for the customer experience. Therefore, it is necessary to provide new adapted and ergonomic equipment to preserve their comfort.
An adjustable train seat for greater ergonomics
Traveler comfort depends mainly on the quality of the seat that the traveler will sit on for many hours. The more adjustment options the seat offers, the more the user will be able to adopt an ergonomic posture adapted to his needs.
This also applies to train drivers, since the driver's seat is their only workplace. Therefore, an adjustable driver's seat will allow all drivers to adjust the seat to their size and mobility, improving their working conditions and reducing potential disorders related to poor posture.
Electric actuators for an adjustable train seat
Electric actuators provide a smooth and quiet adjustment of train seats for optimum comfort. We offer a complete solution – electric actuator, control box, and hand control – which is easy to install and use, allowing for precise and safe movements.
The TA16 electric actuator allows the simultaneous adjustment of the backrest inclination and the leg rest. It can be easily integrated into a mechanism that provides two opposite movements in a synchronized way with a single motor. The seatback will tilt backward while the leg rest will rise slightly for a comfortable and relaxing position. The TA16 is a particularly quiet electric actuator. Its optional Hall-effect sensors will provide position feedback and more precise adjustments.
The TA16 can also be used in a direct cut system and without a control box for a more economical solution. It is possible to use two electric actuators. In this case, the use of the TC14 control box will allow synchronized movements of both motors.
The TA16 can push up to 3500 N and also allows height adjustment of the driver's seat. This allows the driver to adjust the seat to his size and, according to the dashboard, to adopt an optimal posture.
We recommend the use of the TA32 electric actuator for headrest adjustment. As it is compact, it will allow the passenger to adapt the seat to his size by adjusting the height of the headrest for a comfortable and ergonomic posture.
The TFH16 recessed hand control can easily control the system. Its brushed aluminum design will match the train's design. Moreover, its integrated USB port will allow any user to easily charge his smartphone or other connected devices.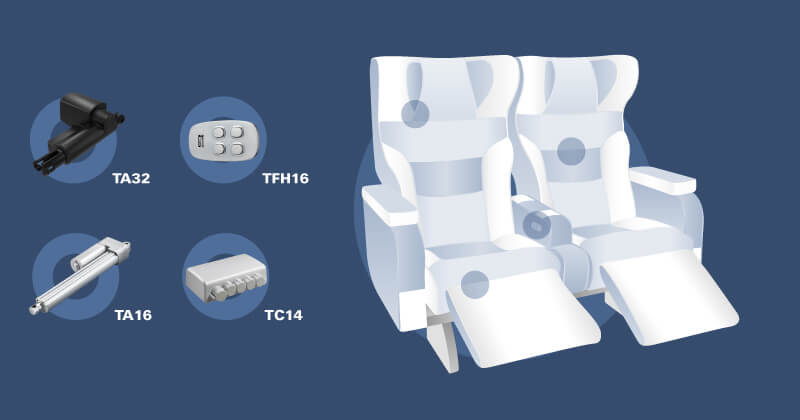 TiMOTION electric actuators are the ideal solution for adjusting train seats. They allow the design of modular spaces and ergonomic equipment, adapted to any type of use. Soft, precise, and silent, they are suitable for indoor use and allow efficient adjustment for more comfort.
For more information about our electric actuators, please contact our local sales department!