A height-adjustable workstation allows individuals to improve their posture and fight against the harmful effects of sedentariness. Electric columns for ergonomic workstations are designed to operate smoothly and silently and enable users to adjust their workstations with a simple command.
Electric workstations for an ergonomic posture
Sit-stand workstations are becoming increasingly popular with users. An increased sedentary lifestyle has pushed individuals to turn to more sophisticated equipment to offset the harmful effects on health and adopt an ergonomic posture. This phenomenon is even more important in the professional environment.
Today, employees spend more than three-quarters of their day sitting, and 80 percent of them have already experienced the negative effects of poor posture at work. Musculoskeletal disorders, fatigue, lack of motivation, and concentration problems impact both employees and companies. Sitting for too long puts pressure on the lumbar and neck muscles and causes a lack of oxygenation that can quickly become uncomfortable for individuals.
Fixed desks are rarely suitable for all users. Therefore, equipment manufacturers need to rethink their workstations more ergonomically to offer customizable solutions adapted to everyone's needs.
TiMOTION, a champion of electric workstations for more than 15 years, supports you in your project with complete and customizable electric actuation solutions.
By equipping your workstations with electric actuators, you allow users to adjust their desks to their morphological needs and adopt an ergonomic posture. Height-adjustable desks also compensate for the lack of daily activity by enabling individuals to stand up several times during the day and work on their feet for short periods.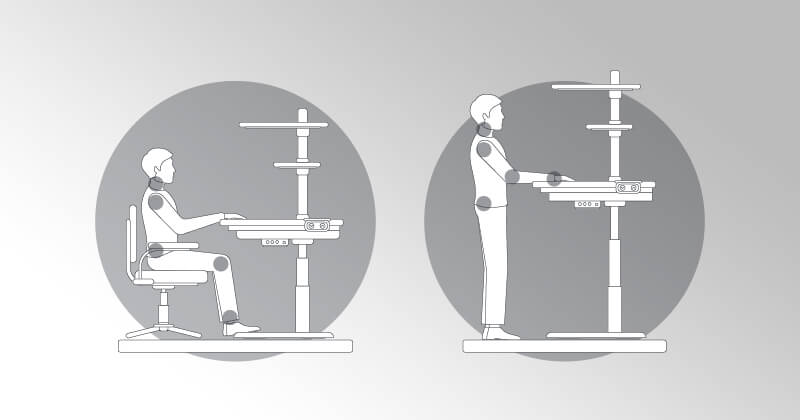 Impact of an ergonomic workstation on posture
Workstations equipped with electric actuators offer many advantages to users:
Reduction of tensions preventing musculoskeletal disorders;
Better brain oxygenation improving concentration and reactivity;
Better blood circulation reducing fatigue;
Improved overall employee well-being resulting in increased motivation and productivity and reduced absenteeism.
Whatever the sector or industry, the height-adjustable workstation offers many advantages for the health of individuals and the company.
Sit-stand desks, industrial workstations, medical equipment, and laboratory benches are all applications that are compatible with our electric linear motion solutions.
How to properly set up an electric sit-stand desk
Having an ergonomic workstation is essential to improve your posture. But it is just as important to adjust it correctly to get the most out of it. Here are the elements to take into account when adjusting a variable height workstation:
Place your back straight against the backrest;
Do not cross your legs;
Place your feet flat on the ground with a knee angle of 90 degrees;
Relax your shoulders;
Place your arms parallel to the floor with a 90-degree elbow angle.
To maximize the effects of the sit-stand desk, it is important to choose a tabletop with a minimum depth of 70 cm/27.5 in. so that a potential computer screen can be placed 60 cm/23.6 in. from the user's face.
Electric actuators for height-adjustable workstations
With proven experience in electric linear actuation, TiMOTION offers a wide range of electric columns for ergonomic workstations. They allow a smooth and silent adjustment of any type of desk and are easy to install and use.
At TiMOTION, we provide our customers with complete turnkey solutions for the adjustment of their equipment. Discover our electric actuators for ergonomic office!
Would you like to be supported in your automation project? Contact the sales department nearest you.