Easy to install and use, our telescopic columns and ergonomic height-adjustable desk kits are designed for smooth and quiet movement. With a high load capacity, they provide a reliable solution for any type of work environment. Discover complete and highly customizable electric actuation solutions that, combined with our Stand Up PLS ergonomic desk mobile app, will bring comfort and functionality to your users.
Electric actuators for ergonomic desks
The demand for ergonomic desks has grown steadily in recent years, to the point where they have become a must-have in professional environments.
Why is it so popular? The electric desk is not just meant to satisfy fans of the latest technology. At a time when a sedentary lifestyle and company bureaucracy trigger many physical ailments, it has a real impact on users' health and makes them more comfortable in their daily lives.
Thanks to new technologies and growing automation development, equipment manufacturers can design ergonomic and modern desks suitable for everyone. Companies are increasingly adept at using them because electric desks meet organizational needs and promote motivation and productivity while reducing absenteeism.
Electric linear actuators allow for a smooth and easily controllable height movement. This allows each user to adjust their desk to their height and adopt an ergonomic posture. The height-adjustable desks also enable them to work in a standing position or alternate between sitting and standing, which is particularly beneficial in combating the health risks of a sedentary lifestyle.
Telescopic column with smooth and quiet movement
With over 15 years of experience in electric linear actuation, TiMOTION offers a wide range of quiet electric columns for sit-stand desks. With a wide choice of colors, their sober and modern design will harmoniously integrate with your equipment in either professional or domestic environments.
They can support heavy loads and have great stability, making them particularly versatile and remarkably suitable for any type of profession. Their design allows for continuous movement with a smooth start and stop for an optimal user experience.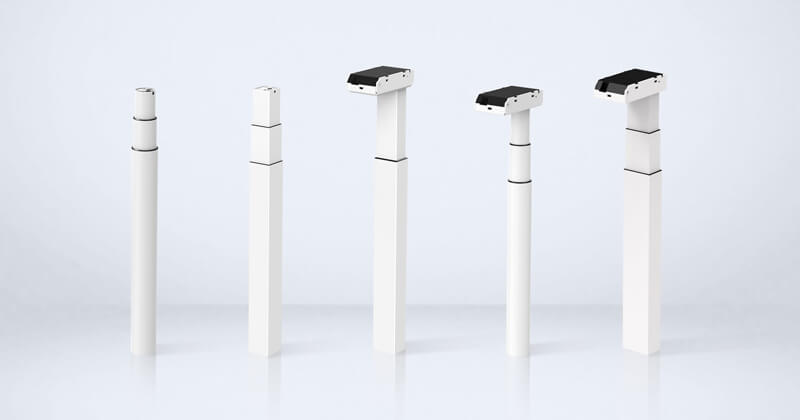 Ergonomic kits for electric desks
Our electric columns can also be pre-assembled in kits with an integrated frame, control box, and remote control. The individual components are designed to be assembled quickly and without the use of tools, bolts, or screws, making assembly and installation particularly simple.
Ergonomic sit-stand desk kits offer many possible configurations: single straight, L-shaped or angled modules; or dual face-to-face or side-by-side modules, which are independently controllable to provide a personalized experience for each user.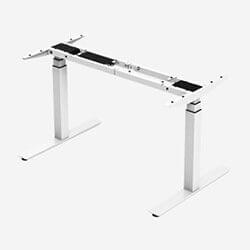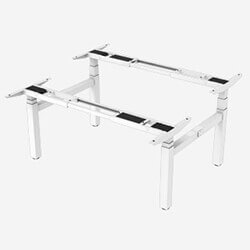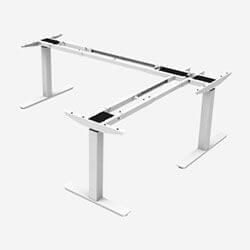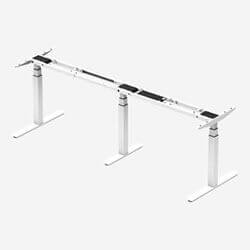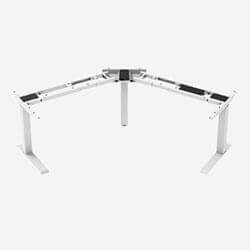 Discover our different models of pre-assembled desk frames in video!
Customizable electric actuators for desks
At TiMOTION, we want to provide you with a complete turnkey solution that is easy to install and use.
Highly customizable, our telescopic columns and ergonomic desk kits are compatible with a wide range of control boxes and remote controls, allowing multiple control and memory options.
For even more functionality, our electric motion solutions can also be combined with various accessories, such as the TCS1 desktop anti-collision sensor, the TFA3 desktop USB port, and the TWC desktop induction charger.
Mobile applications for ergonomic desks
To further enhance the user experience, we provide an ergonomic desktop mobile app that is free and compatible with our electric motion systems.
Synchronized via Bluetooth with our devices, the Stand Up PLS application offers various options to users. It allows users to memorize positions, customize sit-stand cycles and track time spent sitting and standing or calories burned during the day. Modern and intuitive, it is a real added value for your equipment.
Would you like to know more about our actuators for electric desks? Get support for your project by contacting your local sales department!