Students of electronics and mechanics at the Teutloff Technical Education Center for Adults in Germany used a TEK01 modern and easy-to-assemble electric desk frame to design a versatile and innovative height-adjustable workstation!
Teutloff, German technical education center for adults
Teutloff is a German technical education center for adults that prepares tomorrow's specialists in electrical engineering, metalworking, 4.0 industry, trade, logistics, and other innovative professions.
With more than 100 years of experience and certified training, Teutloff is a reference in Germany with ever more innovative academic projects. One of them is the topic of our article today, as we will present the project of Christopher Oelschläger and Johannes Rehse. Students in electronics and mechanics, the two worked on the design and manufacture of a workplace oriented for digital and future jobs.
The student's automation project in electronics and mechanics
This end-of-study project was intended to test their knowledge and illustrate their talent in a concrete case representative of current needs. Indeed, ergonomics and safety are essential characteristics in the design of today's equipment.
In their project, Oelschläger and Rehse had to include an automated workstation, integrating interconnected mechanical and electrical functionalities to allow the future user to adapt their worktop to the preferred height. The bonus? Integrated lighting that can be controlled in accordance with natural light.
The idea for this project was born during an MTM course supervised by professors Ms. Folgosa and Mr. Ideus. The challenge was to design a piece of equipment from scratch that met the techniques and standards seen in class, and could, once manufactured, serve as a training model for their school. In addition, the design had to be suitable for mass production.
One of the difficulties of this project was to design an environment in a particularly restricted space and a limited budget of 4 500 €; since the workstation required particularly technical features such as height adjustment, individual control, compliance with standards, and control via Raspberry PI (Python).
"That didn't demotivate us, though!" - Christopher Oelschläger.
The other issue was that a lot of knowledge necessary for the development of the project was gradually acquired during the course, resulting in readjusting the requirements and adapting the project several times, particularly the microcontrollers portion.
Students choose a TEK01 TiMOTION desk frame for workstation height adjustment.
The cost constraint was possible to overcome thanks to a TiMOTION electric actuation solution. Composed of a TEK01 height-adjustable desk frame, a TC15P control box with an integrated anti-collision system, and TDH18P hand control, it allowed them to propose a device with a reasonable price/performance ratio and a high load capacity.
"No other manufacturer could offer us both the technology and quality with the budget we had.
The TEK01 exceeded our expectations since it had a Bluetooth connection!" - Johannes Rehse.
With its pre-assembled design, the integration of the desk frame was effortless. Its discreet and elegant design was a perfect match for a modern, future-oriented environment.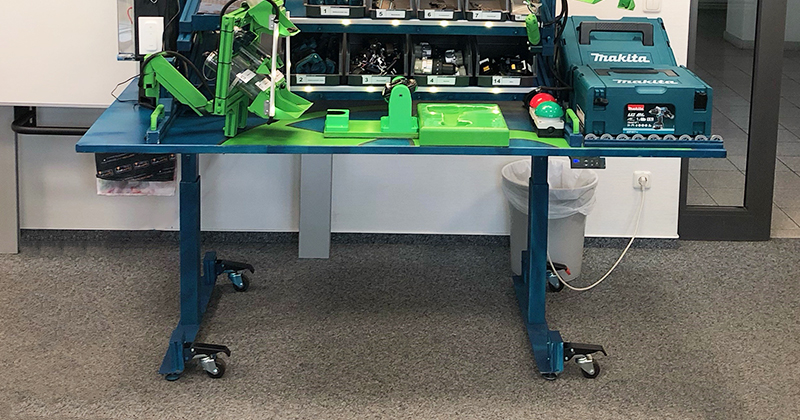 Conclusion and result
The students of the Teutloff Technical Training Center were delighted with the TEK01 electric desk frame. Its quality and features enabled them to come up with an even better overall package than they had hoped for and to be productive in the realization of their project.
They created a modern and easy-to-assemble workstation with the bonus of a "Picked by Light" system implemented with Raspberry Pi, compatible with the desk frame's control box.
We are proud to have been able to help them achieve their study project.
TiMOTION supports students in the design of their engineering projects. Contact us for more information!