For human beings, accessibility and freedom of movement lie at the center of their identity as independent, autonomous individuals. Unbridled freedom of movement is one of the countless small luxuries that the able-bodied take for granted while navigating life until confronted by the unforgiving mobility challenges that come with the inevitable aging process or from physical disability.
Globally, the World Health Organization (WHO) reports that 15 percent of the world's population lives with some form of recognized disability. In comparison, 1 percent of the world's population, or 75 million people, need a wheelchair on a daily basis. The WHO reports that the number of people living with a disability is rising dramatically due to aging populations and increases in chronic health conditions, among other causes.
With electric linear actuators applied to mobility devices, equipment automation has freed the aged and disabled from the confinement of inaccessibility and helped scores of individuals regain at least a measure of day-to-day autonomy. Likewise, the invention of automation technology and other advanced motorized equipment – wheelchairs, scooters, platform lifts, automatic doors, and more – effectively offset mobility challenges.
What is an Electric Linear Actuator?
An actuator is a device that converts a source of energy into a physical-mechanical motion. A linear actuator is an actuator that can move something in a straight line.
An electric linear actuator converts an AC or DC motor's rotational movement into linear motion, effectively making products that can be mounted to push or pull in various directions. DC voltage is generally regarded as much safer, but AC options are also available depending on the application and use.

Electric Linear Actuators as a Mobility Solution
The modern electric wheelchair and the mobility scooter are among the most common and essential assistive devices used by disabled individuals to facilitate self-directed mobility and enhance their quality of life. The more ergonomic and automated a wheelchair or scooter is, the greater mobility freedom the user enjoys, permitting them a higher level of independence and self-reliance moving around at home. However, that is not sufficient for longer trips that require the use of a vehicle.
Therefore, their accessibility must be redesigned to accommodate a disabled person and their wheelchair or mobility scooter. This is where liftgates come in. Our MA1, MA2, and MA5 electric actuators support liftgates, allowing easy access for people in wheelchairs or mobility scooters.
The liftgate's compact platform operates in height and better adapts to cities' limited spaces. The alternative to the liftgate is the adjustable electric ramp. Both options permit a disabled person to be installed in a vehicle and transported without difficulty and in complete safety.
For the wheelchair and mobility scooter, TiMOTION provides a complete solution that will perfectly fit into the existing system. Our TL3 lifting column allows height adjustment. Our TA41 and TA38M electric actuators, particularly suitable for small furniture due to their small size, will enable the tilt of the back and leg rest for greater comfort. Thanks to the TC14 control box, the actuators are operated synchronously with simple control.
MA Product Series
Designed specifically for harsh working environments and durability, our MA product series is rugged and reliable - meeting the needs of heavy-duty machinery, industrial equipment, off-road vehicles, and ideal for mobility applications that need a long-life solution.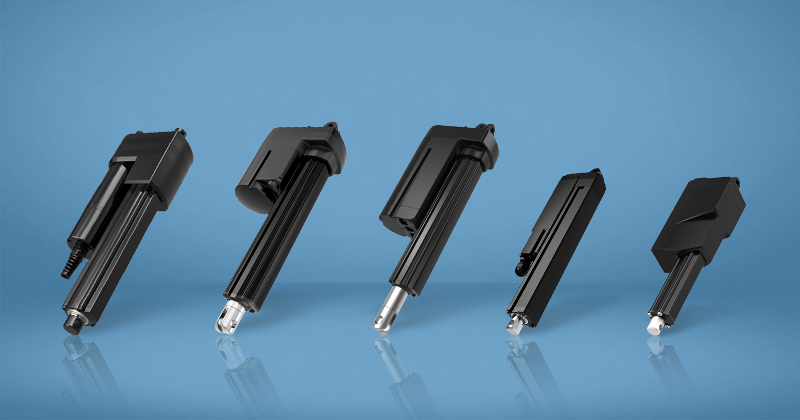 The MA2 is our most common electric actuator for this Care Motion application, in no small part due to its ability to push and pull up to 8,000 Newtons.

Optional external reed switches allow users to perform on-the-fly stroke adjustments.

For improved control and accuracy of motion, our actuators can be customized based on your application requirements.

Each of these linear actuators is designed and built to be rated to IP69K (Ingress Protection), which provides the highest level of protection against solid contaminants (dust and particles) and can withstand all kinds of water splashes, including high-pressure hot water cleaning.
TA Product Series
For this kind of Care Motion application, TiMOTION offers our TA product series – the most durable electric actuators, which can support heavy loads. These actuators are particularly suitable for small installation spaces due to their modest size and allow for greater comfort for the leg and backrest tilt.
The TA2 and the TA2P are compact, robust, and capable of handling load ratings up to 1,000N and 3,500N, respectively, while retaining their compact size thanks to the powerful motor embedded in the actuator.

In addition to the high-power motor, the TA2/TA2P linear actuator series is available with multiple choices for feedback sensors.
Freedom of Movement
TiMOTION's robust and high-powered electric linear actuator solutions are built to last because failure is not an option when it comes to empowering an individual's mobility.
Today, electric mobility for the physically disabled or the elderly has become a routine fact of life. Innovations in actuator technology have proven the key to freeing countless motion-challenged individuals to a life sentence of immobilized shelter in place.
This degree of self-determining mobility – inconceivable just a generation ago – is reliable, durable, and long-lasting. It allows disabled individuals access to optimal quality of life. Unlike pneumatic and hydraulic solutions, electric linear actuators require little to no maintenance and are more economical and environmentally friendly.
To learn more, please contact our sales team.