Easy to install and maintenance-free, electric actuators for adjustable shading systems provide the ideal solution for cladding and shading facades, providing precise and quiet movement of your pergolas, bio-climatic roofs, sunshades, and other shading systems with adjustable louvers. Electric actuators for shading systems can be controlled remotely with a simple control for intelligent solar protection at everyone's reach.
Shading systems with adjustable louvers for intelligent sun protection
Modern architecture supports the development of open spaces by promoting the construction of windows and bay windows. Whether in public areas or in the home, it is no coincidence that builders place light at the heart of building design. The effects of natural light on well-being and health are no longer a secret. Energy, mood, mental well-being, sleep, cognitive performance are all areas of the body positively impacted by daylight.
However, this openness to the outside makes interiors very exposed to sunlight, which can cause high temperatures, especially in summer. Therefore, it is essential to provide effective shading systems to allow intelligent building management and ensure an optimal temperature in all circumstances.
TiMOTION manufactures electric linear actuators for shading systems with adjustable louvers. Easy to install and use, they allow precise and complete control of environments. They are maintenance-free and require no intervention with no hose, pump, or compressor, making them particularly suitable for out-of-reach equipment.
Electric linear actuator for blinds and sunshades
Blinds and sunshades equipped with electric actuators are increasingly used in the building industry for façade cladding and shading. They enable an accurate determination of the degree of sunlight and therefore offer permanent control of the room's ambient temperature while maintaining optimal brightness and design.
Adjustable shading systems are a solution for energy efficiency projects since they provide an economical, natural, and environmentally friendly alternative to mechanical heating or air conditioning systems.
TiMOTION supports these initiatives by providing manufacturers of adjustable shading devices with reliable, high-performance electric linear actuators.

Electric linear actuator for pergola and bioclimatic roof
Electric actuators for shading systems can also be used for all types of pergolas and bioclimatic roofs. Very popular in recent years, these multifunctional products bring real added value to homes and public areas.
Electric pergolas and bioclimatic roofs offer intelligent sun protection to users. They also protect against rain and wind, allowing users to enjoy the outdoors and natural light, even in mid-season or during sudden weather changes. Popular with homeowners and professionals alike, these electric shading devices enhance the user experience and keep everyone comfortable.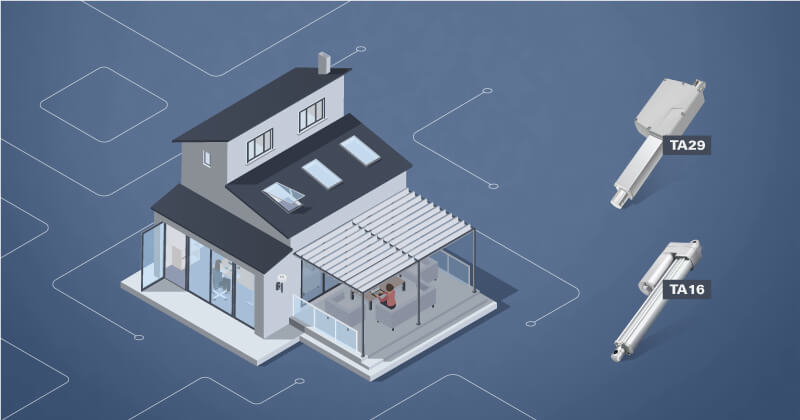 Electric actuators for pergolas and bioclimatic roofs operate a precise and quiet movement that adjust louvers to the desired angle while preserving users' peace of mind.
TiMOTION electric actuators for adjustable shading systems can be equipped with an IP66 rating, particularly suitable for outdoor and weather conditions. They can also be equipped with position sensors allowing synchronization of multiple devices and even more precise control.
TiMOTION offers highly customizable electric actuators compatible with most control systems. Contact our local sales department to find the best solution for your application needs.