The TL50 electric lifting column from TiMOTION is designed for medical applications, particularly the dental X-ray machine, also known as Cone beam computed tomography (CBCT). With its white and elegant aluminum alloy-made outer tubes, the TL50 is perfect for the medical environment.
Its dynamic bending moment is the highest (542.5Nm) among the 2-stage lifting columns. At the same time, it offers a high degree of stability.
The TL50 is equipped with an integrated AC plug to connect computers, TVs, or other devices directly.
Recursos gerais
Carga máxima: 1 150 N (impulso)

Self-locking force: 1 150 N

Momento máximo de flexão dinâmica: 542.5 Nm

Momento máximo de flexão estática: 1 085 Nm

Velocidade máxima com carga máxima: 32.2mm/s

Velocidade máxima sem carga: 49.4mm/s

Comprimento mínimo de encolhimento: ≥ Curso + 500mm

Dimensão do tubo externo: 276*206mm retangular

Estágio: 2 estágios

Curso: 200~900mm

Saídas de sinal: Sensores Hall

Opção: Internet socket

Tensão máxima do motor: 24V DC, thermal switch

Cor: Branco

Faixa de temperatura de funcionamento: +5°C~+45°C

AC plug
Standard Dimension (mm)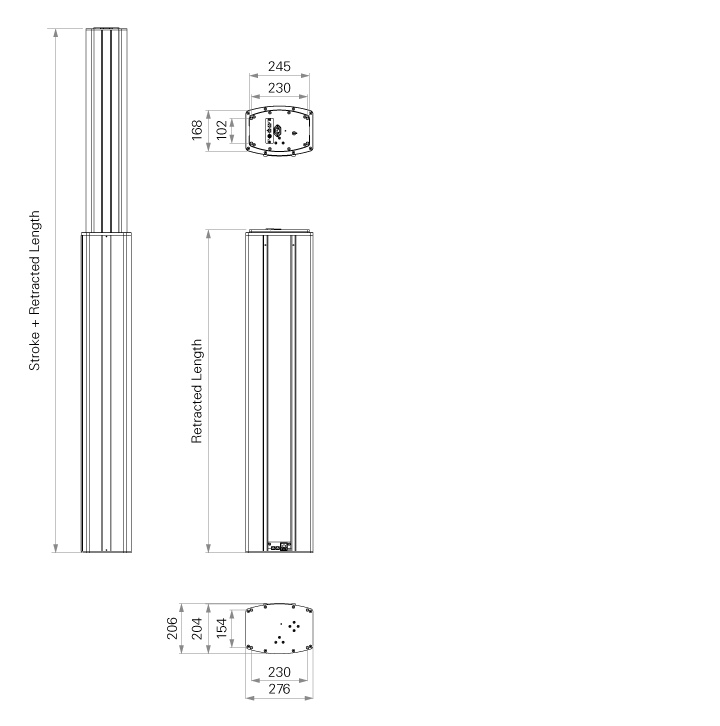 Descarregar documentos