MA4
Series
Atuadores lineares
TiMOTION's MA4 series is a compact electric linear actuator, suited for almost any working condition. With a high IP rating and extraordinary toughness, the MA4 is a solid and versatile solution for agricultural, industrial and commercial applications.
Furthermore, the MA4 has an optional T-Smart version, MA4T. Embedded with a TiMOTION driver board, the MA4T allows for easy integration with different control interfaces, eliminating the need of an external control box.
The MA4T is available in two T-Smart alternatives:
1) T-Smart Advanced
The T-Smart Advanced alternative allows for synchronization of up to 8 actuators, as well as accurate position feedback through a variety of options (Hall, Hall-Pot., PWM). With exceptional functionality, the T-Smart Advanced alternative is capable of supporting more complex tasks with just one single command.
2) T-Smart SAE J1939
This alternative provides seamless integration with CAN bus SAE J1939 interfaces, the standardized communication protocol commonly implemented in off-road vehicles and other industrial applications.
Both T-Smart alternatives of MA4T are compatible with TiMOTION's software program PGMA, providing the user autonomy to adjust parameters such as speed, stroke limits, soft stop, soft start, and more. In addition, the PGMA provides real-time status monitoring, and gathers a comprehensive set of usage and performance data.
Recursos gerais
Carga máxima: 2 000 N (impulso/tração)

Velocidade máxima com carga máxima: 5.5mm/s

Velocidade máxima sem carga: 43mm/s

Dimensão mínima de instalação: ≥ 215mm (dependendo das opções escolhidas)

Classe de protecção (IP): IP69K

Curso: 25~1000mm

Saídas de sinal: Interruptor externo de fim de curso ajustável, POT mecânico, sensor(es) Hall

Opção: T-Smart

Tensão máxima do motor: 12/24V DC; 12/24V DC (PTC)

Intervalo de temperatura de funcionamento: -40˚C ~ +85˚C

Intervalo de temperatura operacional com desempenho total: +5°C~+45°C
Standard Dimension (mm)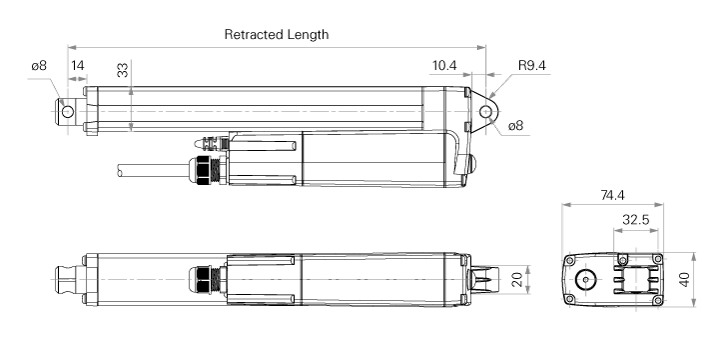 Power And Performance For Your Industrial Equipment - MA Series Electric Linear Actuators
MA Series Industrial Linear Actuators
Industrial Actuators and Related Applications
Descarregar documentos