Dramatic shifts in our global economy have increased international trade shipping via fleets of maritime craft. In contrast, simultaneous drastic lifestyle activity changes have produced a growing demand for recreational marine vessels. This environmental change raises luxury and comfort expectations mixed with technology, which equals the need for better automation within a ship's interior and exterior.
TiMOTION provides manufacturers with fully customizable and durable turnkey solutions able to withstand marine environments. Electric linear actuators are useful in boats, yachts, and other marine vessels or crafts for practical exterior or cosmetically appealing functional interior applications.
Movement solutions are designed to integrate into any seaworthy vessel easily. Expectations for more comfortable, practical, and luxurious features onboard a ship demand a creative approach to optimize limited spaces.
TiMOTION's adaptable products are built and tested by ASTM D1654 standards to function under extreme environmental conditions where salt, water, wind, and sun can cause corrosion or premature product failure. Element and cover options protect our actuators in harsh conditions, increase product longevity (lifespan and optimal use), and require no maintenance.
Smooth Sailing with Numerous Electric Linear Actuator Applications
Marine vessels, from exterior doors to windows to ladders, can utilize actuation technology to provide better comfort and ease of use for maritime operators and ship captains. Aside from continuous product improvements for vessel engines, TiMOTION's electric linear actuators provide many other practical uses.
This exterior ship list includes but is not limited to the following applications: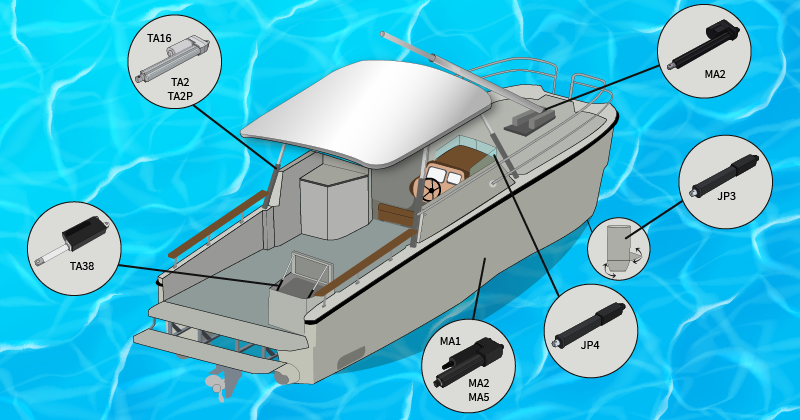 Our Solutions
TiMOTION has actuator series that is appropriate for practical marine vessel use. With various load requirements to meet any specification, our electric linear actuators are rated to withstand extreme environmental conditions.
The MA series-parallel actuators are ideal solutions for durability and higher load requirements. They come with optional Hall sensors, POT, and their IP69K rating makes them suitable for harsh environments.

The JP series inline actuators are ideal durable solutions designed for compact spaces. They can come with optional Hall sensors, and their IP69K rating makes them suitable for harsh environments.
The TA2, TA2P, and TA16 series actuators are compact, robust, and ideal for durability and lower load requirements. They can come with optional Reed or Hall sensors, POT, and their IP66D rating makes them capable of performing well in covered outdoor environments. They are also a good fit for engine hatch covers, radar arches, and bathing platforms.

The TA38 actuator features a slim design, small installation size (only 160mm), and low-noise applications. The palm-sized motor is excellent for all kinds of limited space products.
Select the Correct Motion Product
How do you choose the right actuator for your application?? At TiMOTION, we make sure that our actuators and lifting columns are ideal for yachts and other marine applications. Saltwater and sun exposure are tough on equipment, so we make sure to test our linear actuators and lifting columns for marine applications to withstand those environmental constraints.
Please contact your local Sales representative for your customized marine vessel motion needs.