The recreational boat industry remains strong and growing. In the most recent National Marine Manufacturers Association (NMMA) Forecast on U.S. Boat Building Production, boat building growth is expected to stay at a healthy pace through 2023.
Advances in marine technology, including the growing use of linear electric actuators, are driving the boating industry's innovations to improve recreational maritime comfort.
As we've told you, electric linear actuators are useful in boats, yachts, and other marine vessels or maritime pleasure craft for practical exterior or cosmetically appealing functional interior applications. TiMOTION furnishes manufacturers with fully customizable and durable turnkey solutions able to withstand marine environments.
TiMOTION's electric linear actuators and lifting columns redefine marine vessel comfort to an innovative level of recreational luxury. To optimize limited space onboard ships, yachts, sailboats, and other marine crafts, creative motion solutions with fully customizable options are required.
Coasting in Comfort with Electric Linear Actuator Applications
Our actuators and columns are smooth and easy-to-operate, integrate with ship designs for optimal solutions, and provide automated comfort. This interior ship list includes, but is not limited to, the following applications:
TV & Screen Lifts: Lifting columns provide space optimization by creatively concealing TVs or screens when not in use.
Seating Systems: Actuators can automatically adjust seating systems such as chairs, couches, and recliners for optimal comfort levels. Wireless hand control options further elevate furniture automation.
Desks & Tables: Height adjustable desks and tables increase space optimization as they can be adjusted for all types of sizes or needs. They can come with an optional AC plug to directly and conveniently connect electronic devices.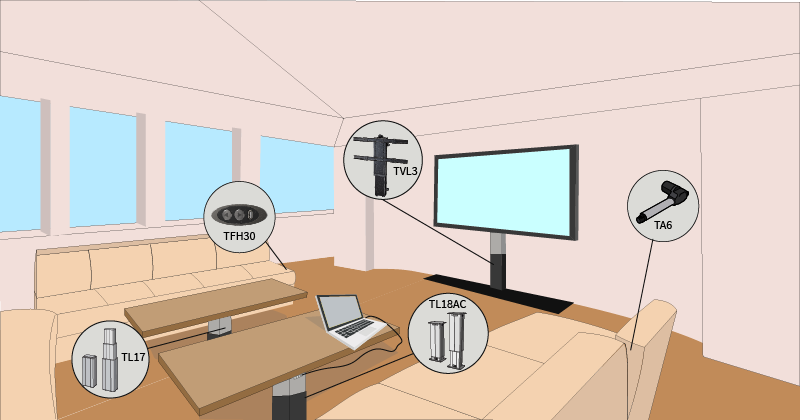 Our Solutions
TiMOTION has a variety of actuators that are appropriate for luxury and comfort in marine vessels. Combining smooth automatic movements to furniture creates elegant adjustable seating systems or reclining and headrest tilt options.
The TL17 lifting column is an ideal luxury upgrade. Including automatic movements for tables will make the furniture on your marine vessel height adjustable. The TL17 is also designed with complete stability in mind, which is essential to have on any boat.
The TL18AC electric lifting column is designed for height-adjustable desks, screens, and lifting tables. It features an extruded aluminum rectangular appearance and comes equipped with an AC plug to connect a computer, TV, or other devices directly. Additional options include the AC cable exit from the Top end or Topside and an Ethernet socket.
Our TVL3 series columns are efficient TV lift actuators. They are constructed of steel, available in three sizes, have remote control programming options, and are useful in a vessel to camouflage bulky electronics while increasing space optimization in compact vessel areas.
The TA6 series linear actuator is designed for seating applications such as recliners, lifting chairs, and couches. Its right-angle design reduces noise and allows for a comfortable fit into most applications. This actuator provides movement to various furniture areas for optimal comfort.
The TFH30 ergonomic hand control is designed with convenience in mind for beds, sofas, or recliners. This hand control allows the user to adjust inside furniture for optimal comfort easily. It can also come with an optional USB charging socket so that an electronic device can be charging near-by.
Why Choose TiMOTION for your Marine Vessel Actuation Needs?
TiMOTION is continually developing our products for specific customer's needs and unique industry applications. Our vertically integrated business model means that we can consistently provide a high level of customization and quality.
For more information about how TiMOTION's electric linear actuators and lifting columns can improve marine vessels' luxury and comfort, please contact your local sales team.