According to the WHO[1], "a person is disabled if his or her physical or mental integrity is temporarily or permanently impaired, either congenitally or as a result of age or accident, so that his or her autonomy, ability to attend a school or hold a job is compromised."
Today, 15% of the world's population suffers from a disability and 75 million people require a wheelchair to cope with a mobility disorder. These statistics tend to increase for several reasons: an aging population, increased related mobility disorders, chronic diseases, and increased lifestyle disorders (obesity, sedentary life…).
Therefore, the stakes are high. Society must plan to readapt accessibility for people with disabilities and industrial companies must design high-tech equipment to provide them with maximum autonomy, safety, and comfort.
Equipment for people with disabilities meets multiple needs:
Wheelchairs and converted vehicles to improve autonomy and access to public life;
Adjustable domestic equipment to improve autonomy and independence at home;
Rehabilitation units for people with motor or neurological injuries.
These specific types of equipment require robust and efficient electric actuators to provide a fluid and safe movement.
Ergonomic wheelchairs for more autonomy
The wheelchair provides disabled people with the necessary autonomy to move around from one place to another, going inside or outside. It eases access to public life (school, work, etc.) and fosters social integration. It can be equipped with several functions, according to needs, to bring even more sophistication. A height-adjustable wheelchair allows an ergonomic position when using a dining table, bar, desk, or work surface. For people with mild disabilities, a lifting wheelchair helps to set up for short trips, toilet, or installation in a bed or chair. A standing function allows the person to stand upright to reach objects up high, help blood circulation and avoid muscle stiffness. Finally, the tilt or leg rest features provide more daily comfort for users.
The wheelchair is essential to facilitate people with disabilities' daily life and enable them to be more independent. The more ergonomic and automated it is, the more mobility freedom the user enjoys, giving him a higher level of independence.
Electric linear actuators for wheelchair
For the wheelchair, TiMOTION provides a complete solution that will perfectly fit into the existing system. Our TL3 lifting column allows height adjustment. Our TA23, TA38M and TA16 electric actuators, particularly suitable for small furniture due to their small size, allow the tilt of the back and leg rest for greater comfort. Thanks to the TC14 control box, the actuators are operated synchronously with simple control.
Let's drive with the electric ramps!
The wheelchair allows you to move close to your home, but it is not sufficient for longer trips that require the use of a vehicle. Therefore, their accessibility must be redesigned to accommodate a disabled person and his or her wheelchair. This is where electric ramps and lift gates come in. Adjustable electric ramps allow easy access for people in wheelchairs. They can be installed and transported without difficulty and in complete safety. The alternative to the ramp is the lift gate. Its compact platform operates in height and better adapts to cities' limited spaces.
For disabled persons who are in a wheelchair but can stand up, an electric retractable step can ease the installation into the vehicle. The wheelchair, sometimes very heavy and cumbersome, can be installed in the boot using an articulated arm.
When a person with a disability is able to drive, it is possible to adjust the driver's seat (specific controls and space for the wheelchair, access ramp, etc.) to give him more autonomy.
These systems actuate by a simple control that can be integrated into the vehicle chassis or used wirelessly, making it easy to use for both third parties and disabled users.
Electric linear actuators for access ramp and lift gate
For this kind of application, TiMOTION offers one of its most robust electric actuators: the MA2. With a maximum load of 8 000 N in push and pull, it can support heavy loads. It is particularly suitable for outdoor environments and can cope with difficult conditions (weather, dust, humidity…). Its IP69K rating makes it even more efficient because it can be cleaned with high-pressure water jets.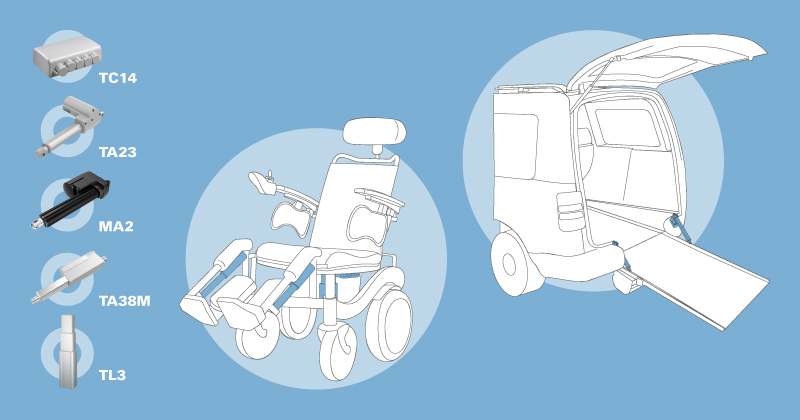 Freedom of movement in the house
Adapted domestic equipment is also important to improve disabled people's daily lives. All access and equipment must be redesigned to provide better autonomy to the user and guarantee comfort and safety in all rooms of the house.
Electric actuators can equip a healthcare bed to adjust height or legs, and back tilt to facilitate installation and lifting.
All worktops (table, kitchen worktop, bathroom sink) can be adjusted in height to facilitate access and allow an ergonomic position.
A chair can also be equipped with a lift function to facilitate installation and set-up. The reclining backrest and leg rest also provide greater comfort. Electric furniture lowered at the user's height provides easy access, especially in the kitchen.
In the bathroom, height-adjustable seats for toilets or showers will facilitate use and provide more autonomy and privacy for people with disabilities.
Electric linear actuators for home equipment
TiMOTION offers many solutions to automate the house and make it more accessible to people with reduced mobility. Read our dedicated article to learn more about automated home equipment.
Robotics at humans' service through rehabilitation units
Rehabilitation units are intended for people who have suffered severe neurological or motor trauma. These innovative structures offer rehabilitation with adapted devices. By automatically working on one or several body parts, they help strengthen muscles, improve blood circulation, reduce stiffness or neurological disorders and recover partial or total mobility skills.
These systems facilitate specialist work (physiotherapists, neuropsychologists…) and caregivers. Indeed, rehabilitation requires medical supervision with care in order to avoid repeated gestures for the caregiver. Moreover, the lack of enrollment doesn't always allow for optimal care.
Rehabilitation units require few human resources. A single person can supervise different practices on the same patient (verticalization, members' mobility, sensitization…). Their use also reduces the risk of error, making them more effective and providing greater safety. They can also be used at an early stage of healing to get positive results more quickly.
Lifting columns for rehabilitation units
To adjust rehabilitation equipment's height or tilt, TiMOTION offers columns with a quiet movement. Thanks to their great stability and 3-stage telescopic design, our TL3 and TL17 provide a large movement amplitude. They are programmable with our TC21 control box and simply operated by our ergonomic TH26 handset.
Facilitating access and use of equipment for all is a priority for healthcare manufacturers. The choice of electric systems is essential to allow smooth, silent, and safe movements. TiMOTION follows this guideline by manufacturing solid electric actuators that can support users' weight in complete safety and requires no maintenance. Our ergonomic handsets allow simplified and accessible use to any person.
To learn more about our products, contact your local sales department!
[1] World Health Organization