TiMOTION's TL52 electric lifting column is easy on the eyes!
TiMOTION's TL52 series electric lifting column is just what the doctor ordered for ophthalmic medical uses. Designed explicitly for equipment height adjustment, the TL52 can easily match your application's design and has a two-stage telescopic outer tube with a wide-top, narrow-bottom rectangular appearance.
Various Medical Applications Include:
Ophthalmic testing equipment
Eye and Vision care instruments
Medical seating and examination tables
Patient check-in arrival stations
Mobile medical carts and nursing workstations
For healthcare providers, operating medical equipment that seamlessly makes positional adjustments on command is a prerequisite to ensure a patient's comfort and safety and guarantee accurate readings.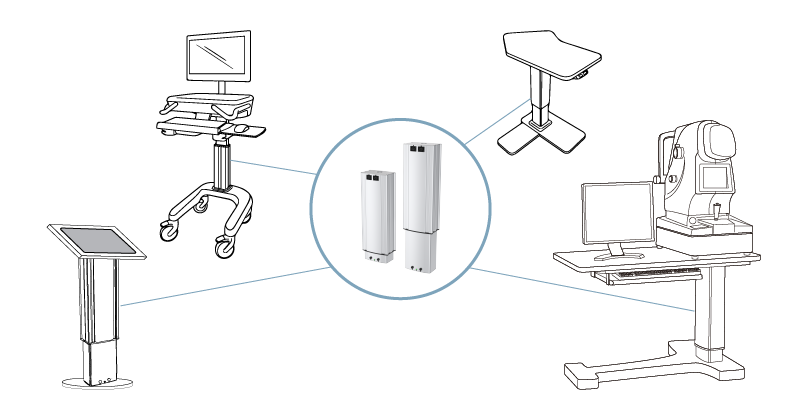 TiMOTION's TL52 series is the right prescription for many ophthalmic medical equipment applications.
The TL52 is available in Black and Silver and is designed as a direct cut system. Its built-in TA16 electric linear actuator eliminates the need for a control box, allowing quick height adjustments.
Offering both comfort and functionality to the user or medical professional, the TL52 comes outfitted with 3 optimally positioned AC plugs (2 output sockets & 1 input socket) that directly connect computers, monitors, or other necessary devices.
TL52 Key Features Include:
Max. Load - up to 3300N (push/pull)
Max. Speed - up to 38mm/s
Power outlet
Indicator light
Hand control slot

At TiMOTION, our Care Motion line offers a wide range of electric linear actuators and lifting columns adapted to the medical field.
Our lifting columns and electric actuators are easily integrated into ophthalmic table applications.
To learn more about the TL52 electric lifting column, please contact our sales team.