MA2T
Series
Atuadores lineares
TiMOTION's MA2T series electric linear actuator was specifically designed for applications that endure harsh working conditions, requiring exceptional durability. The MA2T is an ideal solution for applications such as agricultural, commercial, and industrial equipment.
Equipped with an onboard, embedded driver, the MA2T can be easily integrated with different control interfaces without need of an external control box.
The MA2T is available in two "T-smart" versions:
1) T-smart (Synchronized)
An integrated "T-smart" controller allows for synchronization of up to 8 actuators

2) Industrial Protocol
An integrated T-smart controller allows for integration with CAN bus SAE J1939 industrial interfaces, providing:
- Increased flexibility of programming and control
- Compatibility with existing systems
- Simplified wiring with fewer components
Both versions are compatible with our programmer (PGMA), allowing more flexibility, and enabling the user to adjust parameters such as speed or actuator stroke easily. Additionally, the PGMA also provides status monitoring, capturing usage and performance data for development or maintenance purposes.
Recursos gerais
Carga máxima: 8 000 N (impulso); 4 000 N (tração)

Velocidade máxima com carga máxima: 5.1mm/s

Velocidade máxima sem carga: 52.5mm/s

Dimensão mínima de instalação: ≥ Curso + 131mm

Classe de protecção (IP): IP69K

Curso: 25~1000mm

Saídas de sinal: Sensores Hall, sensor Reed no tubo externo

Opção: T-Smart

Tensão máxima do motor: 12/24V DC

Intervalo de temperatura de funcionamento: -40˚C ~ +85˚C

Intervalo de temperatura operacional com desempenho total: +5°C~+45°C

Função manual
Standard Dimension (mm)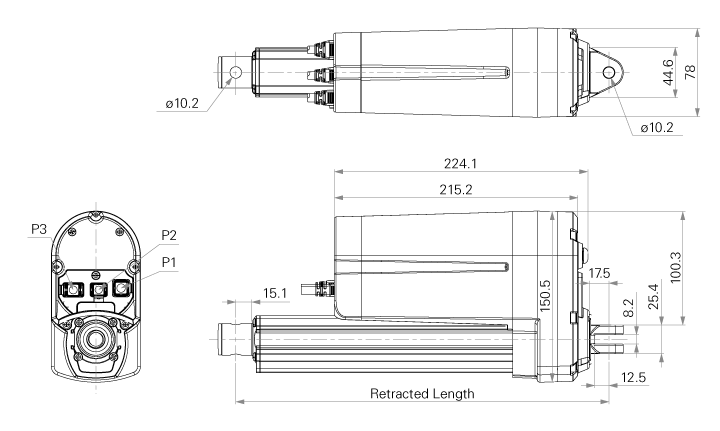 Power And Performance For Your Industrial Equipment - MA Series Electric Linear Actuators
MA Series Industrial Linear Actuators
Industrial Actuators and Related Applications
Descarregar documentos