MA2T
Series
Linear Actuators
TiMOTION's MA2T series electric linear actuator was specifically designed to endure harsh working conditions. The MA2T is an ideal solution for agricultural, industrial and commercial applications.
Embedded with an intelligent TiMOTION driver board, the MA2T can be easily integrated with different control interfaces without the need of an external control box, reducing the complexity of control and facilitating smarter operation.
The MA2T is available in three T-Smart alternatives:
1) T-Smart Advanced
The T-Smart Advanced alternative allows for synchronization of up to 8 actuators, as well as accurate position feedback through a variety of options (Hall, Hall-Pot., PWM).
2) T-Smart SAE J1939
This alternative provides seamless integration with CAN bus SAE J1939 interfaces, the standardized communication protocol commonly implemented in off-road vehicles and other industrial applications.
3) T-Smart Modbus
Modbus is a serial communication protocol predominantly used in industrial automation and process control. The T-Smart Modbus alternative can be smoothly incorporated into existing industrial systems.
All T-Smart alternatives are compatible with TiMOTION's software program PGMA, providing the user autonomy to adjust parameters such as speed, stroke limits, soft stop, soft start, and more. In addition, the PGMA provides real-time status monitoring, and gathers a comprehensive set of usage and performance data.
General Features
Max. load: 8,000N (push); 4,000N (pull)

Max. speed at max. load: 5.1mm/s

Max. speed at no load: 52.5mm/s

Retracted length: ≥ Stroke + 131mm

IP rating: IP69K

Stroke: 25~1000mm

Output signals: Hall sensors, Reed sensor on the outer tube

Options: T-Smart

Voltage: 12/24 V DC

Operational temperature range: -40˚C ~ +85˚C

Operational temperature range at full performance: +5°C~+45°C

Manual drive
Standard Dimension (mm)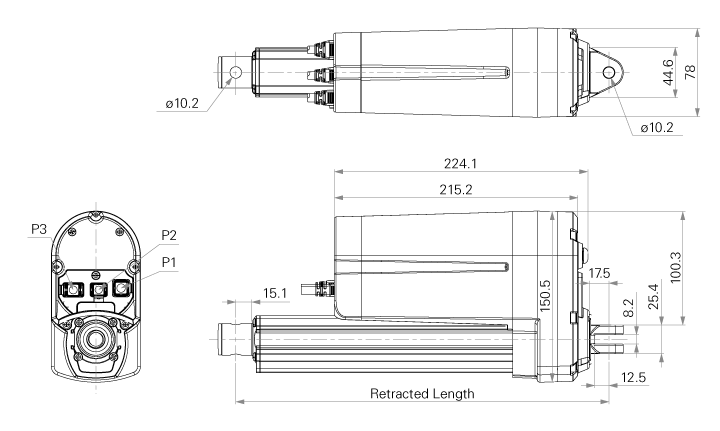 Power And Performance For Your Industrial Equipment - MA Series Electric Linear Actuators
MA Series Industrial Linear Actuators
Industrial Actuators and Related Applications
Document Downloads